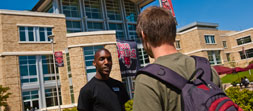 As soon as you set foot on our campus you will know you've found the place you can call home.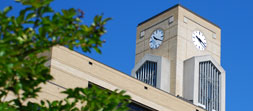 Our students are engaged in a wide range of academic pursuits that include degree programs in 160 undergraduate and graduate fields delivered by 6 different colleges.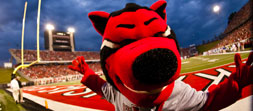 A-State offers unlimited possibilities for students to customize their experience while on campus.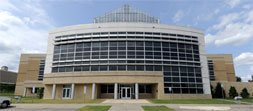 Research engages intellectual curiosity, satisfies the thirst for discovery, and provides an outlet for creativity.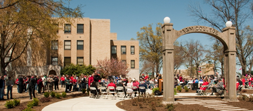 Marking its first hundred years, Arkansas State University continues to expand in exciting ways.
JONESBORO – Arkansas State University has released the list of students who completed degree requirements to graduate at Spring Commencement.
While the degree conferral date is May 16, the Spring Commencement ceremony was postponed to Saturday, Aug. 8, due to the coronavirus pandemic.
The university awarded diplomas at the associate, bachelor, master and doctoral levels, along with various program certificates, through the various colleges: Agriculture, Neil Griffin College of Business, Education and Behavioral Science, Engineering and Computer Science, Liberal Arts and Communication, Nursing and Health Professions, and Sciences and Mathematics, along with Undergraduate Studies.
Graduates with a perfect 4.0 GPA are designated Summa Cum Laude. Those with a GPA of 3.8-3.99 are Magna Cum Laude, and those with a GPA of 3.6-3.79 are Cum Laude.
The list of students who completed degree requirements for Spring Commencement are listed by state or territory, county, and hometown, followed by international students, with degree, major, honors and awards as verified by the Registrar's Office:
Alaska
AK, Fairbanks North Star, North Pole: Jill Roden Duddleston, Doctor of Physical Therapy, Physical Therapy
Alabama
AL, Franklin, Vina: David Luke Childers, Master of Science in Education, Special Education K-12
AL, Jefferson, Fultondale: Andrew T. Hunter, Master of Science in Nursing, Nurse Anesthesia
AL, Lauderdale, Florence: Addison Paige McCreless, Bachelor of Science, Strategic Communications
AL, Lee, Auburn: Eleanor Marguarite Mills, Master of Arts in Teaching, Teaching
AL, Madison, Huntsville: Casey Cargle Sanders, Master of Science in Education, Early Childhood Education
AL, Madison, Madison: Deborah L. Scott, Specialist in Education, Educational Leadership
AL, Madison, New Market: Robin B. Wright, Master of Science in Education, Early Childhood Education
AL, Mobile, Mobile: Mariana del Carmen Arredondo Dominguez, Bachelor of Science, Strategic Communications
AL, Mobile, Mobile: Bobby Joe Edmonds III, Bachelor of Science, Sport Management
AL, Shelby, Helena: Grayson Lynn Gladden, Bachelor of Science, Business Administration
AL, Tuscaloosa, Tuscaloosa: Shameka S. Tubbs, Bachelor of General Studies, General Studies
Arkansas
AR, Arkansas, Almyra: Wyatt R. Luebke, Bachelor of Science in Agriculture, Plant and Soil Science
AR, Arkansas, Dewitt: Caitlyn Abigail Baker, Associate of Science, A.S. En Route
AR, Arkansas, Dewitt: Sara Jane Thompson, Associate of Science, A.S. En Route
AR, Arkansas, Ethel: Taylor Emery Orman, Bachelor of Science in Agriculture, Agricultural Business
AR, Arkansas, Gillett: Zac Alan Horner, Bachelor of Science in Agriculture, Plant and Soil Science
AR, Arkansas, Humphrey: Taylor Ann Gilcrease, Associate of Science, A.S. En Route
AR, Arkansas, Stuttgart: Kelsi Dru Mashburn, Bachelor of General Studies, General Studies
AR, Arkansas, Stuttgart: Jess E. Crum, Bachelor of Music Education, Instrumental Music, Cum Laude
AR, Arkansas, Stuttgart: Taylor Nicole Fortenberry, Bachelor of Science, Marketing
AR, Arkansas, Stuttgart: Micah K. Mitchell, Bachelor of Science, Wildlife, Fisheries and Conser, Magna Cum Laude
AR, Arkansas, Stuttgart: Lance G. Oltmann, Bachelor of Science, Finance
AR, Arkansas, Stuttgart: Abby Peyten Carle, Bachelor of Science in Agriculture, Plant and Soil Science
AR, Arkansas, Stuttgart: Trevor B. Newkirk, Bachelor of Science in Agriculture, Plant and Soil Science
AR, Arkansas, Stuttgart: Kimberly B. Oliver, Bachelor of Science in Agriculture, Animal Science, Summa Cum Laude
AR, Ashley, Crossett: James Austin Canady, Master of Science in Education, Educational Leadership
AR, Ashley, Crossett: Penny Lee Martin, Master of Science in Education, Educational Leadership
AR, Ashley, Crossett: Ali Tran, Bachelor of Science, Interdisciplinary Studies, Honors Program
AR, Ashley, Hamburg: Peyton Alexander Knight, Bachelor of Arts, Political Science, Magna Cum Laude, Honors Program
AR, Ashley, Portland: Jennifer Hill, Bachelor of Science in Nursing, Nursing
AR, Baxter, Cotter: Emily M. Sublett, Bachelor of Science in Education, English, Cum Laude
AR, Baxter, Gamaliel: Evan Lee Hestley, Bachelor of Science, Management
AR, Baxter, Gassville: Jordan M. Crawford, Master of Science in Education, Special Ed GTC
AR, Baxter, Gassville: Shawna Marie Martin, Bachelor of Science, Strategic Communications, Magna Cum Laude
AR, Baxter, Gassville: Madison Lindsey Martin, Bachelor of Science in Nursing, Nursing
AR, Baxter, Gassville: Shawna Marie Martin, Certificate of Proficiency, Public Relations and Advertising
AR, Baxter, Henderson: Haley Rebecca Burgess, Bachelor of Science in Education, Elementary Education
AR, Baxter, Midway: Jennifer Lynn Bohrtz, Bachelor of Science in Nursing, Nursing
AR, Baxter, Mountain Home: Hannah Suzette Bartholomae, Certificate Program, Special Education Teacher
AR, Baxter, Mountain Home: Ashley McCall Stokes, Master of Business Administration, Business Administration
AR, Baxter, Mountain Home: Jacquelyn Rohr Albright, Master of Science in Education, Special Education K-12
AR, Baxter, Mountain Home: Megan Michelle Cantrell, Master of Science in Education, Educational Leadership
AR, Baxter, Mountain Home: Kerry Dean Kanatzar, Specialist in Education, Educational Leadership
AR, Baxter, Mountain Home: Michael Ross Coffey, Associate of Applied Science, Physical Therapist Assistant
AR, Baxter, Mountain Home: Meagan Michelle Gentry, Associate of Applied Science, Physical Therapist Assistant
AR, Baxter, Mountain Home: Haley Raelyn Troutman, Associate of Applied Science, Physical Therapist Assistant
AR, Baxter, Mountain Home: Avery Nicole Hodges, Bachelor of Arts, History, Magna Cum Laude
AR, Baxter, Mountain Home: Jaden A. McDonald, Bachelor of Arts, Political Science
AR, Baxter, Mountain Home: Katie Criner, Bachelor of General Studies, General Studies
AR, Baxter, Mountain Home: Sky-Lar B. Culver, Bachelor of General Studies, General Studies
AR, Baxter, Mountain Home: Lora Renee Stone, Bachelor of General Studies, General Studies
AR, Baxter, Mountain Home: Elizabeth Brie Justice, Bachelor of Science, Accounting
AR, Baxter, Mountain Home: Ashlee Kanani, Bachelor of Science, Management
AR, Baxter, Mountain Home: Amanda Paige Martin, Bachelor of Science, Marketing
AR, Baxter, Mountain Home: David Brian Wilson II, Bachelor of Science, Management
AR, Baxter, Mountain Home: Ashton Marie Jenkins, Bachelor of Science in Nursing, Nursing
AR, Baxter, Mountain Home: Katelyn M. Olson, Bachelor of Science in Nursing, Nursing
AR, Baxter, Mountain Home: Hanna E. Anthony, Bachelor of Science in Education, Elementary Education
AR, Baxter, Mountain Home: Summer Nicole Day, Bachelor of Science in Education, Elementary Education, Magna Cum Laude
AR, Baxter, Mountain Home: Whitney Nicole Frank, Bachelor of Science in Education, Elementary Education
AR, Baxter, Mountain Home: Robby L. Lockeby, Bachelor of Science in Education, Mid Level Education, Summa Cum Laude
AR, Baxter, Mountain Home: Bethany R. Morris, Bachelor of Science in Education, Elementary Education, Cum Laude
AR, Baxter, Norfork: Alyssa Grace Jeffery, Associate of Applied Science, Physical Therapist Assistant
AR, Baxter, Norfork: Amy M. Davis, Bachelor of Science in Education, Elementary Education
AR, Benton, Bella Vista: Audra Alane Lowery, Certificate Program, Special Education Teacher
AR, Benton, Bella Vista: Audra Alane Lowery, Master of Science in Education, Special Education K-12
AR, Benton, Bella Vista: Monica Elaine Roughton, Master of Science in Education, Special Education K-12
AR, Benton, Bentonville: Melissa Elaine Garner, Master of Science in Education, Reading
AR, Benton, Bentonville: Kimber Celeste Jungles, Master of Science in Education, Educational Leadership
AR, Benton, Bentonville: Brian Lee Ward, Master of Science in Education, Educational Leadership
AR, Benton, Bentonville: Leadra Lanae Morris-Martin, Specialist in Education, Educational Leadership
AR, Benton, Bentonville: Haley Alexis McCoy, Bachelor of Science, Marketing
AR, Benton, Cave Springs: Nathaniel Paul Little, Master of Science in Education, Educational Leadership
AR, Benton, Cave Springs: Tonyia Sue Tannehill, Bachelor of Arts, Criminology, Magna Cum Laude
AR, Benton, Centerton: Dana Elizabeth Pipkin, Master of Science in Education, Special Education K-12
AR, Benton, Decatur: Kimberly J. Landrum, Master of Science in Education, Educational Leadership
AR, Benton, Gentry: Ashley J. Early, Master of Science in Nursing, Nursing
AR, Benton, Rogers: Jessica Gibbs, Certificate Program, Special Education Teacher
AR, Benton, Rogers: Shelly A. Swilley, Certificate Program, Special Education Teacher
AR, Benton, Rogers: Rebekah Fisher, Master of Science in Education, Reading
AR, Benton, Rogers: Tiffani Dawn Hash, Master of Science in Education, Reading
AR, Benton, Rogers: Kristin Philhower, Specialist in Education, Educational Leadership
AR, Benton, Rogers: Lisa Kay Tilmon, Specialist in Education, Educational Leadership
AR, Benton, Rogers: Victoria Renee Stewart, Bachelor of Science in Nursing, Nursing
AR, Benton, Siloam Springs: Kendra Knoner, Specialist in Education, Educational Leadership
AR, Benton, Siloam Springs: Madison Alan Montgomery, Bachelor of Science, Finance
AR, Benton, Springdale: DaNell Marie Lagomarsino, Specialist in Education, Educational Leadership
AR, Benton, Springdale: Fuller Seth Brendan Chandler, Bachelor of Science, Interdisciplinary Studies
AR, Boone, Alpena: Ashley Lorraine Massengale, Specialist in Education, Educational Leadership
AR, Boone, Harrison: Jessica Lynn Holsted, Doctor of Physical Therapy, Physical Therapy
AR, Boone, Harrison: Kayla Michele Leal, Doctor of Physical Therapy, Physical Therapy
AR, Boone, Harrison: Derek Lee White, Master of Business Administration, Business Administration
AR, Boone, Harrison: Haley Markle, Master of Science, College Student Personnel Services
AR, Boone, Harrison: Alisha N. Dixon, Master of Science in Education, Reading
AR, Boone, Harrison: Dawn E. Mills, Master of Science in Education, Educational Leadership
AR, Boone, Harrison: Maribeth ODell, Master of Science in Education, Education Theory and Practice
AR, Boone, Harrison: Emmaline Rose Williams, Bachelor of Arts, English
AR, Boone, Harrison: Payton Nicole Tennison, Bachelor of Science, Health Studies
AR, Boone, Harrison: Seth Quentin Waters, Bachelor of Science, Global Supply Chain Management, Magna Cum Laude
AR, Boone, Harrison: Taylor Grace Coy, Bachelor of Science in Education, Elementary Education, Magna Cum Laude
AR, Boone, Harrison: Madison Jaymes Presley, Bachelor of Science in Education, Mid Level Education
AR, Boone, Omaha: Paige Nicole Ellis, Bachelor of Science, Strategic Communications, Magna Cum Laude
AR, Bradley, Warren: James Wynn Williams, Bachelor of General Studies, General Studies
AR, Carroll, Berryville: Candace I. Curtis, Master of Science in Education, Special Education K-12
AR, Carroll, Berryville: Christine Louise Graham, Specialist in Education, Educational Leadership
AR, Carroll, Berryville: Kimberly Dawn Ray, Specialist in Education, Educational Leadership
AR, Carroll, Berryville: Dayton Ruel Williams, Bachelor of Science in Agriculture, Animal Science
AR, Carroll, Huntsville: Keri Allison Tackett, Master of Science in Education, Educational Leadership
AR, Chicot, Lake Village: Madison Hicks, Bachelor of Arts, Criminology
AR, Clark, Arkadelphia: Mackenzie Edith Suggs, Bachelor of Science, Biological Sciences, Honors Program
AR, Clark, Gurdon: Regan M. Morehead, Master of Science in Education, Education Theory and Practice
AR, Clay, Corning: Katelyn E. Leonard, Bachelor of Fine Arts, Graphic Design
AR, Clay, Corning: Dalton Kelly Price, Bachelor of Science in Agriculture, Agricultural Business
AR, Clay, Corning: Kaitlin Michelle Johnson, Bachelor of Science in Nursing, Nursing, Magna Cum Laude
AR, Clay, Corning: Britney Nichole Hunt, Bachelor of Science in Education, Elementary Education
AR, Clay, Greenway: Huston E. Highfill, Bachelor of Science in Agriculture, Plant and Soil Science
AR, Clay, Piggott: Kourtney Lynn Chadwell, Associate of Arts, A.A. En Route
AR, Clay, Piggott: Bret Michael Fuller, Associate of Science, A.S. En Route
AR, Clay, Piggott: Emily Grayson Murray, Associate of Science, A.S. En Route
AR, Clay, Piggott: Logan Andrew Dixon, Bachelor of Arts, Criminology
AR, Clay, Piggott: Cody James Crittenden, Bachelor of Fine Arts, Graphic Design
AR, Clay, Piggott: Megan Danielle VanderKooi, Bachelor of General Studies, General Studies, Cum Laude
AR, Clay, Piggott: Caleb J. Benbrook, Bachelor of Science, Computer Science
AR, Clay, Piggott: Anna Marie McMillon, Bachelor of Science, Accounting, Summa Cum Laude
AR, Clay, Piggott: Noah B. Smith, Bachelor of Science, Chemistry
AR, Clay, Piggott: Elizabeth Sue Richardson, Bachelor of Science in Agriculture, Animal Science
AR, Clay, Piggott: Peyton Drew Haley, Bachelor of Science in Nursing, Nursing
AR, Clay, Piggott: Mariah LynAnn Brown, Bachelor of Science in Education, Elementary Education
AR, Clay, Pollard: Charlena D. Bagwell, Master of Science in Nursing, Nursing
AR, Clay, Rector: Madison Nichole Cate, Master of Science in Education, Special Ed GTC
AR, Clay, Rector: Jackie Lynn Clements, Master of Science in Education, Educational Leadership
AR, Clay, Rector: Sara Nichole Rabjohn, Master of Science in Education, Reading
AR, Clay, Rector: Shelby Ximena Ward, Associate of Arts, A.A. En Route
AR, Clay, Rector: Sarah Annie Shaw, Bachelor of General Studies, General Studies, Magna Cum Laude
AR, Clay, Rector: Kathryn A. Anderson, Bachelor of Science, Psychology
AR, Clay, Rector: Rocky Tarrell Blades, Bachelor of Science, Business Administration
AR, Clay, Rector: Brian Thomas Hufty, Bachelor of Science in Mechanical Engineering, Mechanical Engineering, Magna Cum Laude, Honors Program
AR, Clay, Rector: Kathryn A. Anderson, Certificate of Proficiency, Neuropsychological Testing
AR, Clay, Success: Alexeia Racquel Haywood, Associate of Science, A.S. En Route
AR, Cleburne, Drasco: Cassidy Jaden Kubli, Master of Social Work, Social Work
AR, Cleburne, Greers Ferry: Casey Rebecca Carr, Master of Science in Education, Educational Leadership
AR, Cleburne, Greers Ferry: Devin D. Carr, Master of Science in Education, Educational Leadership
AR, Cleburne, Heber Springs: Roxanne Marguerite Anderton, Master of Science in Education, Reading
AR, Cleburne, Heber Springs: Kory Christopher Mullens, Master of Science in Education, Educational Leadership
AR, Cleburne, Heber Springs: Patricia A. Waller, Master of Science in Nursing, Nursing
AR, Cleburne, Heber Springs: Abigail Grace Herring, Bachelor of Arts, Criminology
AR, Cleburne, Heber Springs: Madeline M. King, Bachelor of Science in Agriculture, Agricultural Business
AR, Cleburne, Heber Springs: Savannah Marie Candau, Bachelor of Science in Nursing, Nursing
AR, Cleburne, Heber Springs: Hailey Morgan Crowder, Bachelor of Science in Nursing, Nursing, Cum Laude, Honors Program
AR, Cleburne, Heber Springs: Laura Lee Rawls, Bachelor of Science in Nursing, Nursing, Cum Laude, Honors Program
AR, Cleburne, Heber Springs: Erin Taylor Rezanka, Bachelor of Science in Education, Elementary Education, Magna Cum Laude
AR, Cleburne, Higden: William Wallace Bodron, Bachelor of Science, Strategic Communications, Magna Cum Laude
AR, Cleburne, Pangburn: Kaly Lynn Beede, Bachelor of Fine Arts, Art, Magna Cum Laude
AR, Cleburne, Pangburn: Austin Dean Beede, Bachelor of Science in Agriculture, Agricultural Business, Cum Laude
AR, Cleburne, Pangburn: Paige Elizabeth Rogers, Bachelor of Science in Education, Elementary Education
AR, Cleburne, Quitman: Ashley N. Schulz, Doctor of Philosophy, Environmental Sciences
AR, Cleburne, Quitman: Douglas Leroy Johnson jr., Associate of Applied Science, Physical Therapist Assistant
AR, Cleveland, Rison: Billy W. Reed, Specialist in Education, Educational Leadership
AR, Cleveland, Rison: Austin A. Slater, Bachelor of Science, Strategic Communications
AR, Columbia, Magnolia: Carlesha Nicole Larry, Master of Science in Education, Educational Leadership
AR, Columbia, Magnolia: Haley Brooke Smith, Master of Science in Education, Reading
AR, Columbia, Magnolia: Briana R. Hardiman, Bachelor of General Studies, General Studies
AR, Conway, Morrilton: Kayla Brooke Sutton, Master of Science in Nursing, Nursing
AR, Conway, Springfield: Heather Mae Wojtarowicz, Associate of Science, A.S. En Route
AR, Conway, Springfield: Heather Mae Wojtarowicz, Bachelor of Arts, Sociology, Honors Program
AR, Conway, Springfield: Heather Mae Wojtarowicz, Bachelor of Science, Strategic Communications, Honors Program
AR, Conway, Springfield: Heather Mae Wojtarowicz, Certificate of Proficiency, Nonprofit Communication
AR, Conway, Springfield: Heather Mae Wojtarowicz, Certificate of Proficiency, Social Media Management
AR, Craighead, Bay: Angela D. Burgess, Master of Science in Nursing, Nursing
AR, Craighead, Bay: Christy L. House, Bachelor of Arts, Communication Studies
AR, Craighead, Bay: Matthew A. Willard, Bachelor of Arts, History
AR, Craighead, Bay: Jodi LeAnn Moore, Bachelor of Science, Strategic Communications, Magna Cum Laude
AR, Craighead, Bay: Molly Elizabeth Parish, Bachelor of Science, Business Administration, Cum Laude, Honors Program
AR, Craighead, Black Oak: Lizette Aylin Vasquez, Associate of Science, A.S. En Route
AR, Craighead, Black Oak: Keri D. Shrable, Bachelor of Social Work, Social Work
AR, Craighead, Bono: Kristen Nicole Smith, Master of Science, Exercise Science
AR, Craighead, Bono: John Michael Hall, Associate of Arts, A.A. En Route
AR, Craighead, Bono: Madison Paige Newman, Associate of Arts, A.A. En Route
AR, Craighead, Bono: Destiny Skianne Hopper, Associate of Science, A.S. En Route
AR, Craighead, Bono: Jerry Wayne Davis Jr., Bachelor of Arts, Computer Science
AR, Craighead, Bono: Holly Jennifer McEuen, Bachelor of Science, Creative Media Production
AR, Craighead, Bono: Brooke Akers Marshall, Bachelor of Social Work, Social Work
AR, Craighead, Bono: Kelsey R. Plunkett, Bachelor of Science in Education, Elementary Education
AR, Craighead, Brookland: Nicole Gabrielle Logan, Master of Arts, English
AR, Craighead, Brookland: Kristin Kylle Scott, Master of Business Administration, Business Administration
AR, Craighead, Brookland: Mohd Kotaiba M. Abugazleh, Master of Science, Environmental Sciences
AR, Craighead, Brookland: Tyler Alan Gates, Master of Science in Agriculture, General Agriculture
AR, Craighead, Brookland: Whitney Renee Foster, Specialist in Education, Psychology and Counseling
AR, Craighead, Brookland: Pamela S. Kay, Associate in Science, Accounting
AR, Craighead, Brookland: Mason Lee Covey, Associate of Arts, A.A. En Route
AR, Craighead, Brookland: Rebecca Lynn Loveless, Associate of Arts, A.A. En Route
AR, Craighead, Brookland: Bryan Jordan Carmer, Bachelor of Arts, History
AR, Craighead, Brookland: Nicholas D. Herring, Bachelor of Science, Biological Sciences
AR, Craighead, Brookland: Cora LeAnn Hill, Bachelor of Science, Interdisciplinary Studies, Magna Cum Laude, Honors Program
AR, Craighead, Brookland: Olivia F. Metzgar, Bachelor of Science, Communication Disorders, Magna Cum Laude, Honors Program
AR, Craighead, Brookland: Ashlyn Lou Hufstedler Powell, Bachelor of Science, Accounting, Cum Laude, Honors Program
AR, Craighead, Brookland: Rebecca L. Treat, Bachelor of Science in Agriculture, Agricultural Business
AR, Craighead, Brookland: Daniel Evan Baxter, Bachelor of Science in Mechanical Engineering, Mechanical Engineering
AR, Craighead, Brookland: Valerie A. Roark, Bachelor of Science in Nursing, Nursing
AR, Craighead, Brookland: Lauren Abigail Simmons, Bachelor of Science in Nursing, Nursing
AR, Craighead, Brookland: Jessica Katie Edwards, Bachelor of Social Work, Social Work
AR, Craighead, Brookland: Page Nicole Hunter, Bachelor of Social Work, Social Work
AR, Craighead, Caraway: Taylor Ann Archer, Associate of Applied Science, Physical Therapist Assistant
AR, Craighead, Cash: Cody Delaine Kidd, Bachelor of Science, Psychology
AR, Craighead, Cash: Cheyenne A. Lawrence, Bachelor of Science, Psychology
AR, Craighead, Egypt: Jaden Breanna Baker, Bachelor of Arts, Sociology, Cum Laude
AR, Craighead, Jonesboro: Stephen Ray Evans, Certificate Program, Addiction Studies
AR, Craighead, Jonesboro: Susan Ashley Ginn, Certificate Program, Addiction Studies
AR, Craighead, Jonesboro: Laura Jean Harmon, Certificate Program, Addiction Studies
AR, Craighead, Jonesboro: Steven Austin Harmon, Certificate Program, Play Therapy
AR, Craighead, Jonesboro: Sierra Nicole Martinez, Certificate Program, Addiction Studies
AR, Craighead, Jonesboro: Ashlyn Rose Pillow, Certificate Program, Addiction Studies
AR, Craighead, Jonesboro: Nicole Renae Potts, Certificate Program, Addiction Studies
AR, Craighead, Jonesboro: Christopher Todd Russell, Certificate Program, Addiction Studies
AR, Craighead, Jonesboro: Chaney E. Weaver, Certificate Program, Addiction Studies
AR, Craighead, Jonesboro: Kimberly Anne Sexton Cooper, Doctor of Education, Educational Leadership
AR, Craighead, Jonesboro: Valarie Lashell Hilson, Doctor of Education, Educational Leadership
AR, Craighead, Jonesboro: Erika Krennerich Chudy, Doctor of Education, Educational Leadership
AR, Craighead, Jonesboro: Shaquita M. Renelique, Doctor of Education, Educational Leadership
AR, Craighead, Jonesboro: Allie Elizabeth Clark, Doctor of Physical Therapy, Physical Therapy
AR, Craighead, Jonesboro: Bethany Faith Davis, Doctor of Physical Therapy, Physical Therapy
AR, Craighead, Jonesboro: Clare Anastasia Doss, Doctor of Physical Therapy, Physical Therapy
AR, Craighead, Jonesboro: MaKenzie J. Hudspeth, Doctor of Physical Therapy, Physical Therapy
AR, Craighead, Jonesboro: Colt Aaron Huggins, Doctor of Physical Therapy, Physical Therapy
AR, Craighead, Jonesboro: Joe Edd Looney, III, Doctor of Physical Therapy, Physical Therapy
AR, Craighead, Jonesboro: Thomas Leonard Sustich, Doctor of Physical Therapy, Physical Therapy
AR, Craighead, Jonesboro: Houston Tyler Talmage, Doctor of Physical Therapy, Physical Therapy
AR, Craighead, Jonesboro: Yaswanth Valiveti, Master Engineering Management, Engineering Management
AR, Craighead, Jonesboro: Krystopher Alexander Coulter, Master of Arts, English
AR, Craighead, Jonesboro: Erika Beth Isbill, Master of Arts, History
AR, Craighead, Jonesboro: Laura Lynn Chatman, Master of Arts in Teaching, Teaching
AR, Craighead, Jonesboro: Brianna L. Frazier, Master of Arts in Teaching, Teaching
AR, Craighead, Jonesboro: Carneshia Marquita Hood, Master of Arts in Teaching, Teaching
AR, Craighead, Jonesboro: Danielle Marie Bradley, Master of Arts in Teaching, Teaching
AR, Craighead, Jonesboro: Rukshal Bohara, Master of Business Administration, Business Administration
AR, Craighead, Jonesboro: Melanie Brooke Edens, Master of Business Administration, Business Administration
AR, Craighead, Jonesboro: Aaron Ty Keller, Master of Business Administration, Business Administration
AR, Craighead, Jonesboro: Ryan Michael Miller, Master of Business Administration, Business Administration
AR, Craighead, Jonesboro: Catherine Elizabeth Naylor, Master of Business Administration, Business Administration
AR, Craighead, Jonesboro: Shawn Yong Crawford, Master of Music, Music Performance
AR, Craighead, Jonesboro: Ashlyn Marie Johnson, Master of Public Administration, Public Administration
AR, Craighead, Jonesboro: Gregory Francis Umhoefer, Master of Public Administration, Public Administration
AR, Craighead, Jonesboro: Tyesha M. Dawson, Master of Science, College Student Personnel Services
AR, Craighead, Jonesboro: Pamela Soledad Diaz-Lagos, Master of Science, College Student Personnel Services
AR, Craighead, Jonesboro: Mandria Leann Hammett, Master of Science, College Student Personnel Services
AR, Craighead, Jonesboro: Brandon Jacob Higdon, Master of Science, Psychological Science
AR, Craighead, Jonesboro: Bharath Varma Kucharlapati, Master of Science, Computer Science
AR, Craighead, Jonesboro: TommyShawn Patrick Long, Master of Science, College Student Personnel Services
AR, Craighead, Jonesboro: Unika Nicole Seals, Master of Science, College Student Personnel Services
AR, Craighead, Jonesboro: Amber Nicole Williams, Master of Science, Early Childhood Services
AR, Craighead, Jonesboro: Joseph Andrew Youtz, Master of Science, Biology
AR, Craighead, Jonesboro: Garrett Macon Andrews, Master of Science in Education, Educational Leadership
AR, Craighead, Jonesboro: Brenna Anthony, Master of Science in Education, Educational Leadership
AR, Craighead, Jonesboro: Justin Briar Becton, Master of Science in Education, Educational Leadership
AR, Craighead, Jonesboro: Lee Katherine Caldwell, Master of Science in Education, Education Theory and Practice
AR, Craighead, Jonesboro: Kasey D. Cobb, Master of Science in Education, Educational Leadership
AR, Craighead, Jonesboro: Randall A. Coleman, Master of Science in Education, Educational Leadership
AR, Craighead, Jonesboro: Angela M. Greenhaw, Master of Science in Education, Educational Leadership
AR, Craighead, Jonesboro: Kristen Dianne Scarlett, Master of Science in Education, Reading
AR, Craighead, Jonesboro: Maribel Alvarado, Master of Science in Nursing, Nursing
AR, Craighead, Jonesboro: Courtney Brook Deaton, Master of Science in Nursing, Nursing
AR, Craighead, Jonesboro: Summer Renee Black, Master of Science in Nursing, Nurse Anesthesia
AR, Craighead, Jonesboro: Frances Evonne Butler, Master of Science in Nursing, Nursing
AR, Craighead, Jonesboro: Stephanie Lynn Gage, Master of Science in Nursing, Nursing
AR, Craighead, Jonesboro: Gary D. Hinds, Master of Science in Nursing, Nursing
AR, Craighead, Jonesboro: Monica A. Hinds, Master of Science in Nursing, Nursing
AR, Craighead, Jonesboro: David Daniel Joel Hoffman II, Master of Science in Nursing, Nursing
AR, Craighead, Jonesboro: Elizabeth Jean McQuay, Master of Science in Nursing, Nursing
AR, Craighead, Jonesboro: Clara Love Jones, Master of Science in Nursing, Nursing
AR, Craighead, Jonesboro: Haley Lauren Kennedy, Master of Science in Nursing, Nursing
AR, Craighead, Jonesboro: Sayed Eyedn Khosrowshahi, Master of Science in Nursing, Nurse Anesthesia
AR, Craighead, Jonesboro: Michael Dale Lance II, Master of Science in Nursing, Nurse Anesthesia
AR, Craighead, Jonesboro: Katelyn D. Lumpkin, Master of Science in Nursing, Nursing
AR, Craighead, Jonesboro: Adrienne R. McCutcheon, Master of Science in Nursing, Nursing
AR, Craighead, Jonesboro: Holly Lynn McGuire, Master of Science in Nursing, Nursing
AR, Craighead, Jonesboro: Wanda Faye Mooney, Master of Science in Nursing, Nursing
AR, Craighead, Jonesboro: Hadley Andrew Owens, Master of Science in Nursing, Nursing
AR, Craighead, Jonesboro: Avril Alison Parker, Master of Science in Nursing, Nurse Anesthesia
AR, Craighead, Jonesboro: Jarrett A. Powell, Master of Science in Nursing, Nursing
AR, Craighead, Jonesboro: Thomas Carl Shelton, Master of Science in Nursing, Nursing
AR, Craighead, Jonesboro: Kaitlyn Soffray Simmons, Master of Science in Nursing, Nursing
AR, Craighead, Jonesboro: Mandi Lynn Travis, Master of Science in Nursing, Nursing
AR, Craighead, Jonesboro: Aleshia Gabrail Williams, Master of Science in Nursing, Nursing
AR, Craighead, Jonesboro: Cebrina Swanson Zirbel, Master of Science in Nursing, Nursing
AR, Craighead, Jonesboro: Amanda C. Bell, Master of Social Work, Social Work
AR, Craighead, Jonesboro: Samantha Leeann Brown, Master of Social Work, Social Work
AR, Craighead, Jonesboro: Carmen Lynette Cobbs, Master of Social Work, Social Work
AR, Craighead, Jonesboro: Sarah Grace Eberwein, Master of Social Work, Social Work
AR, Craighead, Jonesboro: Stephen Ray Evans, Master of Social Work, Social Work
AR, Craighead, Jonesboro: Susan Ashley Ginn, Master of Social Work, Social Work
AR, Craighead, Jonesboro: Savannah Faith Hancock, Master of Social Work, Social Work
AR, Craighead, Jonesboro: Laura Jean Harmon, Master of Social Work, Social Work
AR, Craighead, Jonesboro: Zelda A. Jones, Master of Social Work, Social Work
AR, Craighead, Jonesboro: Sierra Nicole Martinez, Master of Social Work, Social Work
AR, Craighead, Jonesboro: Lisa Elaine Craiglow, Master of Social Work, Social Work
AR, Craighead, Jonesboro: Ashlyn Rose Pillow, Master of Social Work, Social Work
AR, Craighead, Jonesboro: Astrid Cecilia Pineda Stringfellow, Master of Social Work, Social Work
AR, Craighead, Jonesboro: Nicole Renae Potts, Master of Social Work, Social Work
AR, Craighead, Jonesboro: Christopher Todd Russell, Master of Social Work, Social Work
AR, Craighead, Jonesboro: Ian David Tucker, Master of Social Work, Social Work
AR, Craighead, Jonesboro: Chaney E. Weaver, Master of Social Work, Social Work
AR, Craighead, Jonesboro: Cassandra D. White, Master of Social Work, Social Work
AR, Craighead, Jonesboro: Timothy Alexander Burks, Specialist in Education, Psychology and Counseling
AR, Craighead, Jonesboro: Gabriela Marisol Flores Munoz, Specialist in Education, Psychology and Counseling
AR, Craighead, Jonesboro: Desiree Deshe Fowler, Specialist in Education, Psychology and Counseling
AR, Craighead, Jonesboro: Steven Austin Harmon, Specialist in Education, Psychology and Counseling
AR, Craighead, Jonesboro: Dana R. Sutton, Specialist in Education, Educational Leadership
AR, Craighead, Jonesboro: Ruth Ann Baker, Associate in General Studies, General Studies
AR, Craighead, Jonesboro: Kimberly J. Lochner, Associate in General Studies, General Studies
AR, Craighead, Jonesboro: Cody Michael Smith, Associate in General Studies, General Studies
AR, Craighead, Jonesboro: Brittany Alliese Turner, Associate in General Studies, General Studies
AR, Craighead, Jonesboro: Caitlin McKenzie Vinson, Associate in General Studies, General Studies
AR, Craighead, Jonesboro: Jessica Jean Smith, Associate in Science, Technology
AR, Craighead, Jonesboro: Wade Allyn Walker, Associate in Science, Computer and Information Tec
AR, Craighead, Jonesboro: LaAngelo D. Albright, Associate of Applied Science, Physical Therapist Assistant
AR, Craighead, Jonesboro: Whitley A. Curtis, Associate of Applied Science, Physical Therapist Assistant
AR, Craighead, Jonesboro: Max Timothy Dacus, Associate of Applied Science, Physical Therapist Assistant
AR, Craighead, Jonesboro: Mikah Rose Finnicum, Associate of Applied Science, Physical Therapist Assistant
AR, Craighead, Jonesboro: Boyd W. Hall, Associate of Applied Science, Physical Therapist Assistant
AR, Craighead, Jonesboro: Olivia Claire Clark, Associate of Arts, A.A. En Route
AR, Craighead, Jonesboro: Catherine Lynn Fleming, Associate of Arts, A.A. En Route
AR, Craighead, Jonesboro: Jessica Michelle James, Associate of Arts, A.A. En Route
AR, Craighead, Jonesboro: Andrew William Gant Kosinski, Associate of Arts, A.A. En Route
AR, Craighead, Jonesboro: Weston Curtiss Lovins, Associate of Arts, A.A. En Route
AR, Craighead, Jonesboro: Paige Robinson, Associate of Arts, A.A. En Route
AR, Craighead, Jonesboro: Nathan Adam Simons, Associate of Arts, A.A. En Route
AR, Craighead, Jonesboro: Sharece Danielle Smith, Associate of Arts, A.A. En Route
AR, Craighead, Jonesboro: Jonathan Wayne White, Associate of Arts, A.A. En Route
AR, Craighead, Jonesboro: Abeer Saleh Al-Jaad, Associate of Science, A.S. En Route
AR, Craighead, Jonesboro: Bailey Elizabeth Coles, Associate of Science, A.S. En Route
AR, Craighead, Jonesboro: Chloe Nicole Conaway, Associate of Science, A.S. En Route
AR, Craighead, Jonesboro: Elizabeth Grace Farish, Associate of Science, A.S. En Route
AR, Craighead, Jonesboro: Ronald Joseph Fratesi, Associate of Science, A.S. En Route
AR, Craighead, Jonesboro: Felipe Alonso Guevara, Associate of Science, A.S. En Route
AR, Craighead, Jonesboro: Lewis Tyler Harrell, Associate of Science, A.S. En Route
AR, Craighead, Jonesboro: Odessia L. Haywood, Associate of Science, A.S. En Route
AR, Craighead, Jonesboro: Robert Howard Hudson, Associate of Science, A.S. En Route
AR, Craighead, Jonesboro: Taylor Renee Kifer, Associate of Science, A.S. En Route
AR, Craighead, Jonesboro: Clayton Drake Lenderman, Associate of Science, A.S. En Route
AR, Craighead, Jonesboro: Weston Ray Newcomb, Associate of Science, A.S. En Route
AR, Craighead, Jonesboro: Racquel N. Phillips, Associate of Science, A.S. En Route
AR, Craighead, Jonesboro: Nicholas Grant Richardson, Associate of Science, A.S. En Route
AR, Craighead, Jonesboro: Jaylee Renae Tribble, Associate of Science, A.S. En Route
AR, Craighead, Jonesboro: Saraid Berenice Vasquez, Associate of Science, A.S. En Route
AR, Craighead, Jonesboro: Sinquia Lavett Vaughn, Associate of Science, A.S. En Route
AR, Craighead, Jonesboro: Abbeegayl G. Anderson, Associate of Science, A.S. En Route
AR, Craighead, Jonesboro: John Mark Collin Webb, Associate of Science, A.S. En Route
AR, Craighead, Jonesboro: Anna Grace Anders, Bachelor of Arts, Chemistry, Summa Cum Laude, Honors Program
AR, Craighead, Jonesboro: Cody James Barnett, Bachelor of Arts, Environmental Studies
AR, Craighead, Jonesboro: Michael W. Bradford, Jr., Bachelor of Arts, History
AR, Craighead, Jonesboro: Sarah May Clem, Bachelor of Arts, English
AR, Craighead, Jonesboro: Gianna Reid Confer, Bachelor of Arts, English, Cum Laude
AR, Craighead, Jonesboro: Amy Brooke Faughn, Bachelor of Arts, Theatre, Cum Laude
AR, Craighead, Jonesboro: Josephine Lillian Garcia, Bachelor of Arts, English
AR, Craighead, Jonesboro: Zhedrick D. Jackson, Bachelor of Arts, World Languages and Culture
AR, Craighead, Jonesboro: Tangula R. Jones, Bachelor of Arts, Criminology, Cum Laude
AR, Craighead, Jonesboro: Drew Vaiden Roberson, Bachelor of Arts, Political Science, Magna Cum Laude
AR, Craighead, Jonesboro: Joseph Michael Clark Thomas, Bachelor of Arts, Computer Science
AR, Craighead, Jonesboro: Lakesha Reshae Waterford, Bachelor of Arts, Criminology
AR, Craighead, Jonesboro: Eli Nicholas Webb, Bachelor of Arts, Theatre
AR, Craighead, Jonesboro: Samuel David White, Bachelor of Arts, Economics, Honors Program
AR, Craighead, Jonesboro: Lauren Ann Wilcox, Bachelor of Arts, Theatre
AR, Craighead, Jonesboro: Easton Reese Adams, Bachelor of Fine Arts, Art
AR, Craighead, Jonesboro: Sarah Annalee Foster, Bachelor of Fine Arts, Art
AR, Craighead, Jonesboro: Xing H. Grubbs, Bachelor of Fine Arts, Art, Cum Laude
AR, Craighead, Jonesboro: Olivia Elizabeth Lawshe, Bachelor of General Studies, General Studies
AR, Craighead, Jonesboro: Cameron James Chandler, Bachelor of General Studies, General Studies
AR, Craighead, Jonesboro: Natalie Ashton Gulley, Bachelor of General Studies, General Studies, Cum Laude
AR, Craighead, Jonesboro: Cecilia Lorraine Barris-Smith, Bachelor of General Studies, General Studies
AR, Craighead, Jonesboro: Kollin Alexander Stone, Bachelor of General Studies, General Studies
AR, Craighead, Jonesboro: Alexandra Nicole Tomlinson, Bachelor of General Studies, General Studies
AR, Craighead, Jonesboro: Katelyn Genice Watkins, Bachelor of General Studies, General Studies
AR, Craighead, Jonesboro: Max Christopher Hughes, Bachelor of Music Education, Instrumental Music, Magna Cum Laude, Honors Program
AR, Craighead, Jonesboro: Samuel Kenwood Johnston, Bachelor of Music Education, Instrumental Music
AR, Craighead, Jonesboro: Tyler Scott Remagen, Bachelor of Music Education, Instrumental Music
AR, Craighead, Jonesboro: Anna Marie Rougeau, Bachelor of Music Education, Instrumental Music, Magna Cum Laude, Honors Program
AR, Craighead, Jonesboro: Olivia Adams Sanders, Bachelor of Music Education, Vocal Music, Cum Laude
AR, Craighead, Jonesboro: Jemel Kate Cotoniel Adaya, Bachelor of Science, Biological Sciences
AR, Craighead, Jonesboro: Saud Alhomidi Alsabilah, Bachelor of Science, Computer and Information Tec
AR, Craighead, Jonesboro: Anna Grace Anders, Bachelor of Science, Biological Sciences, Summa Cum Laude, Honors Program
AR, Craighead, Jonesboro: Zachary Tyler Baker, Bachelor of Science, Exercise Science
AR, Craighead, Jonesboro: SkylarLee Bobo, Bachelor of Science, Computer and Information Tec
AR, Craighead, Jonesboro: Sydney Elise Brand, Bachelor of Science, Health Studies
AR, Craighead, Jonesboro: Chloe SueAnna Brewster, Bachelor of Science, Psychology
AR, Craighead, Jonesboro: Noah Hayes Burden, Bachelor of Science, Business Administration
AR, Craighead, Jonesboro: Matthew Alan Burns, Bachelor of Science, Clinical Laboratory Science
AR, Craighead, Jonesboro: Alec Michael Carter, Bachelor of Science, Finance, Magna Cum Laude
AR, Craighead, Jonesboro: Madison Grace Coats, Bachelor of Science, Communication Disorders
AR, Craighead, Jonesboro: Kirsten Layne Cooney, Bachelor of Science, Biological Sciences, Cum Laude
AR, Craighead, Jonesboro: Jonathan S. Crain, Bachelor of Science, Global Supply Chain Management
AR, Craighead, Jonesboro: Abby Emmalene Crouch, Bachelor of Science, Accounting, Honors Program
AR, Craighead, Jonesboro: William Coy Davenport, Bachelor of Science, Creative Media Production
AR, Craighead, Jonesboro: Troy Aaron Davidson, Bachelor of Science, Biological Sciences, Cum Laude
AR, Craighead, Jonesboro: Jeremy David DeLon, Bachelor of Science, Exercise Science, Magna Cum Laude, Honors Program
AR, Craighead, Jonesboro: Elisha Elaine Doane, Bachelor of Science, Psychology
AR, Craighead, Jonesboro: Emily Brooks Doggett, Bachelor of Science, Exercise Science, Magna Cum Laude
AR, Craighead, Jonesboro: Hannah Courtney Dunton, Bachelor of Science, Strategic Communications
AR, Craighead, Jonesboro: Zachary Noah Ellenburg, Bachelor of Science, Mathematics
AR, Craighead, Jonesboro: Amy Brooke Faughn, Bachelor of Science, Psychology, Cum Laude
AR, Craighead, Jonesboro: Lawson Hayes Fincher, Bachelor of Science, Biological Sciences
AR, Craighead, Jonesboro: Kyle Adam Foushee, Bachelor of Science, Psychology
AR, Craighead, Jonesboro: Melissa Frangie Machado, Bachelor of Science, Biological Sciences, Cum Laude
AR, Craighead, Jonesboro: Jennifer Elizabeth Giddings, Bachelor of Science, Communication Disorders, Cum Laude
AR, Craighead, Jonesboro: Abigail S. Grappe, Bachelor of Science, Interdisciplinary Studies, Cum Laude
AR, Craighead, Jonesboro: Whitnee RaeAnn Guthrie, Bachelor of Science, Communication Disorders, Magna Cum Laude
AR, Craighead, Jonesboro: Lindsey Anne Hall, Bachelor of Science, Biological Sciences, Cum Laude, University Honors
AR, Craighead, Jonesboro: Aubrey Hamilton Hansen, Bachelor of Science, Creative Media Production, Magna Cum Laude, Honors Program
AR, Craighead, Jonesboro: Samuel Turner Harvey, Bachelor of Science, Finance
AR, Craighead, Jonesboro: John Clayborn Heern II, Bachelor of Science, Mathematics, Cum Laude, University Honors
AR, Craighead, Jonesboro: Crystal Marie Hill, Bachelor of Science, Communication Disorders
AR, Craighead, Jonesboro: Loc Duc Ho, Bachelor of Science, Computer Science, Magna Cum Laude
AR, Craighead, Jonesboro: Zachary Carter Hoggard, Bachelor of Science, Finance
AR, Craighead, Jonesboro: Shauna Dale Holt, Bachelor of Science, Creative Media Production
AR, Craighead, Jonesboro: Ashley L. Honeycutt, Bachelor of Science, Communication Disorders, Magna Cum Laude
AR, Craighead, Jonesboro: Steven Cory Huffine, Bachelor of Science, Computer Science
AR, Craighead, Jonesboro: Emma M. Johnson, Bachelor of Science, Psychology
AR, Craighead, Jonesboro: Meagan Elizabeth Johnson, Bachelor of Science, Strategic Communications, Magna Cum Laude
AR, Craighead, Jonesboro: Alissa Marie Lee, Bachelor of Science, Psychology
AR, Craighead, Jonesboro: Kristopher Saul Lee, Bachelor of Science, Clinical Laboratory Science
AR, Craighead, Jonesboro: Yuan-Che Liu, Bachelor of Science, Management
AR, Craighead, Jonesboro: Jakara Richele Lockhart, Bachelor of Science, Communication Disorders
AR, Craighead, Jonesboro: Austin Zane Lott, Bachelor of Science, Creative Media Production
AR, Craighead, Jonesboro: Christine DeShawn Mathes, Bachelor of Science, Communication Disorders, Magna Cum Laude
AR, Craighead, Jonesboro: Austin P. Meeks, Bachelor of Science, Psychology, Magna Cum Laude
AR, Craighead, Jonesboro: Sharika Dominique Minor, Bachelor of Science, Mathematics
AR, Craighead, Jonesboro: Jacob Shea Murry, Bachelor of Science, Creative Media Production
AR, Craighead, Jonesboro: Taylor Lauren Newman, Bachelor of Science, Psychology
AR, Craighead, Jonesboro: Kolton Mark Overturf, Bachelor of Science, Creative Media Production
AR, Craighead, Jonesboro: Adam J. Parker, Bachelor of Science, Psychology
AR, Craighead, Jonesboro: Torianna M. Pate, Bachelor of Science, Accounting
AR, Craighead, Jonesboro: Brittney Shanice Patton, Bachelor of Science, Creative Media Production
AR, Craighead, Jonesboro: Eleanor Morgan Allen, Bachelor of Science, Interdisciplinary Studies, Cum Laude, Honors Program
AR, Craighead, Jonesboro: Emma A. Raulston, Bachelor of Science, Marketing
AR, Craighead, Jonesboro: Kenyatta Sheree Robinson, Bachelor of Science, Marketing
AR, Craighead, Jonesboro: Krista Diane Robinson, Bachelor of Science, Interdisciplinary Studies
AR, Craighead, Jonesboro: Raven Tonay Scarbough-Brown, Bachelor of Science, Communication Disorders
AR, Craighead, Jonesboro: Rileigh Elizabeth Smith, Bachelor of Science, Health Studies
AR, Craighead, Jonesboro: Eleanor Nell Stafford, Bachelor of Science, Strategic Communications, Cum Laude
AR, Craighead, Jonesboro: Benjamin James Tinsley, Bachelor of Science, Accounting, Magna Cum Laude, Honors Program
AR, Craighead, Jonesboro: Amy L. Tipton, Bachelor of Science, Psychology
AR, Craighead, Jonesboro: Joshua Allan Tubbs, Bachelor of Science, Technology, Magna Cum Laude
AR, Craighead, Jonesboro: Erika N. Tuck, Bachelor of Science, Interdisciplinary Studies
AR, Craighead, Jonesboro: Maronica R. Versie, Bachelor of Science, Finance
AR, Craighead, Jonesboro: Samuel R. Vickers, Bachelor of Science, Business Administration
AR, Craighead, Jonesboro: Samuel J. Whitmire, Bachelor of Science, Mathematics, Summa Cum Laude, University Honors
AR, Craighead, Jonesboro: Tanner J. Wilkie, Bachelor of Science, Business Administration
AR, Craighead, Jonesboro: Braxton Williams IV, Bachelor of Science, Management
AR, Craighead, Jonesboro: Justin D. Williams, Bachelor of Science, Business Administration
AR, Craighead, Jonesboro: Jundong Xu, Bachelor of Science, Finance
AR, Craighead, Jonesboro: Xintian Yin, Bachelor of Science, Psychology
AR, Craighead, Jonesboro: Emily A. Zane, Bachelor of Science, Health Studies
AR, Craighead, Jonesboro: Caleb Bryan Cox, Bachelor of Science in Agriculture, Plant and Soil Science
AR, Craighead, Jonesboro: William B. Huggins, Bachelor of Science in Agriculture, Agricultural Business
AR, Craighead, Jonesboro: John W. Lipsky, Bachelor of Science in Agriculture, Agricultural Business
AR, Craighead, Jonesboro: Brandon S. Rogers, Bachelor of Science in Agriculture, Plant and Soil Science
AR, Craighead, Jonesboro: Colton Lane Tosh, Bachelor of Science in Agriculture, Agricultural Business
AR, Craighead, Jonesboro: Kristen Jade Wright, Bachelor of Science in Agriculture, Animal Science
AR, Craighead, Jonesboro: Hussain Ali Hussain AlKhulaif, Bachelor of Science in Civil Engineering, Civil Engineering
AR, Craighead, Jonesboro: Omar Alhallak, Bachelor of Science in Civil Engineering, Civil Engineering
AR, Craighead, Jonesboro: Taylor L. Hopper, Bachelor of Science in Civil Engineering, Civil Engineering
AR, Craighead, Jonesboro: Ameer Alkhalifah, Bachelor of Science in Mechanical Engineering, Mechanical Engineering
AR, Craighead, Jonesboro: Rebecca Lee Chen, Bachelor of Science in Mechanical Engineering, Mechanical Engineering, Summa Cum Laude
AR, Craighead, Jonesboro: Hayden Robert Joyce, Bachelor of Science in Mechanical Engineering, Mechanical Engineering
AR, Craighead, Jonesboro: Dustin Van Tran, Bachelor of Science in Mechanical Engineering, Mechanical Engineering
AR, Craighead, Jonesboro: Lindsey N. Adams, Bachelor of Science in Nursing, Nursing
AR, Craighead, Jonesboro: Sadia Ahmed, Bachelor of Science in Nursing, Nursing
AR, Craighead, Jonesboro: Rebecca Elaine Bailey, Bachelor of Science in Nursing, Nursing
AR, Craighead, Jonesboro: Allyson Chaise Ballard, Bachelor of Science in Nursing, Nursing, Cum Laude
AR, Craighead, Jonesboro: Lindsay S. Baney, Bachelor of Science in Nursing, Nursing
AR, Craighead, Jonesboro: Josie Elizabeth Butkovich, Bachelor of Science in Nursing, Nursing, Cum Laude
AR, Craighead, Jonesboro: Bailey A. Callens, Bachelor of Science in Nursing, Nursing
AR, Craighead, Jonesboro: Alannah Christine Davis, Bachelor of Science in Nursing, Nursing, Cum Laude
AR, Craighead, Jonesboro: Edith Ahidee Gonzalez-Gomez, Bachelor of Science in Nursing, Nursing
AR, Craighead, Jonesboro: Rebekah Guiltner, Bachelor of Science in Nursing, Nursing
AR, Craighead, Jonesboro: Nicholas Tyler Harris, Bachelor of Science in Nursing, Nursing, Magna Cum Laude
AR, Craighead, Jonesboro: Shelby Lee Johnson, Bachelor of Science in Nursing, Nursing, Cum Laude
AR, Craighead, Jonesboro: Meagan Renee Lard, Bachelor of Science in Nursing, Nursing
AR, Craighead, Jonesboro: Alexandra Lynn Matthews, Bachelor of Science in Nursing, Nursing
AR, Craighead, Jonesboro: Cali L. Milligan, Bachelor of Science in Nursing, Nursing
AR, Craighead, Jonesboro: Lauren Elizabeth Needham, Bachelor of Science in Nursing, Nursing
AR, Craighead, Jonesboro: Anna Leigh Powell, Bachelor of Science in Nursing, Nursing, Summa Cum Laude
AR, Craighead, Jonesboro: Jakob Dakota Raby, Bachelor of Science in Nursing, Nursing
AR, Craighead, Jonesboro: Allyson Payton Stevens, Bachelor of Science in Nursing, Nursing
AR, Craighead, Jonesboro: DaKota C. Wilkerson, Bachelor of Science in Nursing, Nursing
AR, Craighead, Jonesboro: Haley Morgan Black, Bachelor of Social Work, Social Work
AR, Craighead, Jonesboro: Charity Swandae Brown, Bachelor of Social Work, Social Work
AR, Craighead, Jonesboro: Scott Wayne Hutton, Bachelor of Social Work, Social Work
AR, Craighead, Jonesboro: Stephanie Karin Lachat, Bachelor of Social Work, Social Work
AR, Craighead, Jonesboro: Samuel M. O'Neal, Bachelor of Social Work, Social Work
AR, Craighead, Jonesboro: Katelyn Grace Ratley, Bachelor of Social Work, Social Work, Cum Laude
AR, Craighead, Jonesboro: Elizabeth Nicole Rose, Bachelor of Social Work, Social Work, Cum Laude
AR, Craighead, Jonesboro: Tanicia La'Juan Sloan, Bachelor of Social Work, Social Work
AR, Craighead, Jonesboro: Hannah N. Worsham, Bachelor of Social Work, Social Work, Cum Laude
AR, Craighead, Jonesboro: Ashley Elizabeth Bass, Bachelor of Science in Education, Elementary Education
AR, Craighead, Jonesboro: Kylie Alexandra Brickey, Bachelor of Science in Education, Mid Level Education, Magna Cum Laude, Honors Program
AR, Craighead, Jonesboro: Leticia Alexis Caballero, Bachelor of Science in Education, Elementary Education
AR, Craighead, Jonesboro: John Logan Carter, Bachelor of Science in Education, Social Science
AR, Craighead, Jonesboro: Carlee Grace Collins, Bachelor of Science in Education, Elementary Education
AR, Craighead, Jonesboro: Ashlea McAlister, Bachelor of Science in Education, English
AR, Craighead, Jonesboro: Hannah Davis Simino, Bachelor of Science in Education, English, Cum Laude, Honors Program
AR, Craighead, Jonesboro: Karley N. DuBar, Bachelor of Science in Education, Mid Level Education, Cum Laude
AR, Craighead, Jonesboro: Anna J. Ganong, Bachelor of Science in Education, Mathematics
AR, Craighead, Jonesboro: John Clayborn Heern II, Bachelor of Science in Education, Mathematics, Cum Laude, University Honors
AR, Craighead, Jonesboro: LeRay Anne Kious, Bachelor of Science in Education, Mid Level Education, Summa Cum Laude
AR, Craighead, Jonesboro: Kathryn Anastasia Lambert, Bachelor of Science in Education, Social Science
AR, Craighead, Jonesboro: Jazmine Dale Marie McGough, Bachelor of Science in Education, Mathematics
AR, Craighead, Jonesboro: Kailey Elizabeth Prince, Bachelor of Science in Education, Elementary Education
AR, Craighead, Jonesboro: Claire Ashley Reid, Bachelor of Science in Education, Elementary Education, Magna Cum Laude
AR, Craighead, Jonesboro: Jacob B. Scurlock, Bachelor of Science in Education, Social Science
AR, Craighead, Jonesboro: Mallory N. Stormer, Bachelor of Science in Education, English
AR, Craighead, Jonesboro: JeLynn Paige Tatum, Bachelor of Science in Education, Physical Education
AR, Craighead, Jonesboro: Amelia Grace Worsham, Bachelor of Science in Education, Social Science
AR, Craighead, Jonesboro: Chloe SueAnna Brewster, Certificate of Proficiency, Neuropsychological Testing
AR, Craighead, Jonesboro: Noah Hayes Burden, Certificate of Proficiency, Free Enterprise
AR, Craighead, Jonesboro: Kyle Adam Foushee, Certificate of Proficiency, Neuropsychological Testing
AR, Craighead, Jonesboro: Eleanor Nell Stafford, Certificate of Proficiency, Social Media Management
AR, Craighead, Lake City: Hollie O. Goodson, Doctor of Education, Educational Leadership
AR, Craighead, Lake City: Aaron Walker Baldridge, Doctor of Physical Therapy, Physical Therapy
AR, Craighead, Lake City: Chloe Jean Reese, Associate of Science, A.S. En Route
AR, Craighead, Lake City: Gavin Cain Anderson, Bachelor of Arts, History
AR, Craighead, Lake City: Sam Allen Meurer, Bachelor of Arts, English, Magna Cum Laude, Honors Program
AR, Craighead, Lake City: Rosemarie D. Varner, Bachelor of Arts, Criminology
AR, Craighead, Lake City: Timothy Kirk Arquitt Jr., Bachelor of Fine Arts, Graphic Design
AR, Craighead, Lake City: Blake Aaron Hall, Bachelor of General Studies, General Studies
AR, Craighead, Lake City: Sydney Lynea Higgins, Bachelor of Science, Communication Disorders, Summa Cum Laude, Honors Program
AR, Craighead, Lake City: William Grant Mason, Bachelor of Science in Agriculture, Agricultural Business
AR, Craighead, Lake City: Caden Todd Qualls, Bachelor of Science in Agriculture, Agricultural Business
AR, Craighead, Lake City: Rocklan W. A. McCall, Bachelor of Science in Electrical Engineering, Electrical Engineering, Summa Cum Laude, University Honors
AR, Craighead, Lake City: Brandye Lynette Garner, Bachelor of Science in Nursing, Nursing
AR, Craighead, Lake City: Sam Allen Meurer, Certificate of Proficiency, Digital Humanities
AR, Craighead, Monette: Katie Shannon Evans, Certificate Program, Special Education Director
AR, Craighead, Monette: Bradley Tyler Sanders, Master Engineering Management, Engineering Management
AR, Craighead, Monette: Pacia D. Miller, Master of Science in Education, Educational Leadership
AR, Craighead, Monette: Madison Nicole Birdno, Master of Science in Nursing, Nursing
AR, Craighead, Monette: Taylor S. Long, Master of Science in Nursing, Nursing
AR, Craighead, Monette: Olevia Danielle Fleming, Bachelor of Arts, Criminology, Summa Cum Laude
AR, Craighead, State University: Casey Robert Gilbert, Master of Business Administration, Business Administration
AR, Craighead, State University: Conrad Davis Ray, Master of Business Administration, Business Administration
AR, Craighead, State University: Jameika F. Harris, Master of Public Administration, Public Administration
AR, Craighead, State University: Kenneth Craig Nichols, Master of Science, Mathematics
AR, Craighead, State University: Shanita Marie Sanders, Master of Science, College Student Personnel Services
AR, Craighead, State University: Brandie L. Tibbs, Bachelor of Arts, History
AR, Craighead, State University: Kari J. Brumley, Bachelor of General Studies, General Studies
AR, Craighead, State University: Jada Alexandria Chandler, Bachelor of Science, Psychology
AR, Craighead, State University: Trenton Christian Ellis-Brewer, Bachelor of Science, Sport Management
AR, Craighead, State University: Seanna L. Horn, Bachelor of Science, Accounting, Cum Laude
AR, Craighead, State University: James Mark Lewis Jr., Bachelor of Science, Business Administration
AR, Craighead, State University: Meoshe Michelle Morgan, Bachelor of Science, Management
AR, Craighead, State University: Megan Riley Ross, Bachelor of Science, Psychology
AR, Craighead, State University: Charles Joseph Thweatt, Bachelor of Science, Strategic Communications
AR, Craighead, State University: Kathryn Casey Crutcher, Bachelor of Science, Disaster Preparedness and Emergency Management, Magna Cum Laude, Honors Program
AR, Craighead, State University: Anelia Anne Wise, Bachelor of Science, Biological Sciences
AR, Craighead, State University: Casey LeeAnn Johnson, Bachelor of Science in Nursing, Nursing
AR, Craighead, State University: Amber S'emone Wolfe, Bachelor of Social Work, Social Work
AR, Craighead, State University: James Mark Lewis Jr., Certificate of Proficiency, Free Enterprise
AR, Craighead, State University: Charles Joseph Thweatt, Certificate of Proficiency, Social Media Management
AR, Crawford, Alma: Tammy L. Gardner, Master of Science in Education, Reading
AR, Crawford, Alma: Larry Anthony Hood, Master of Science in Education, Educational Leadership
AR, Crawford, Alma: Deanna Nicole Jones, Bachelor of Arts, Criminology
AR, Crawford, Cedarville: Anna Michelle Bowerman-Stewart, Certificate Program, Gifted Talented Creative Teach
AR, Crawford, Mulberry: Savannah Lynn Earls, Bachelor of Science in Nursing, Nursing, Cum Laude
AR, Crawford, Van Buren: Emily Nicole Johnson, Certificate Program, Special Education Director
AR, Crawford, Van Buren: Rebecca Ann Gipson, Master of Science in Education, Special Education K-12
AR, Crawford, Van Buren: Rachel Freeman, Specialist in Education, Educational Leadership
AR, Crittenden, Crawfordsville: Mekei M. Furlow, Bachelor of Arts, Criminology
AR, Crittenden, Crawfordsville: Spencer Austin McElrath, Bachelor of Science, Mathematics
AR, Crittenden, Crawfordsville: Amauri Q. Nathan, Bachelor of Science, Health Studies
AR, Crittenden, Earle: Sophia Sanders-Hughes, Specialist in Education, Educational Leadership
AR, Crittenden, Earle: Jalen De'Andre Crayton, Associate of Arts, A.A. En Route
AR, Crittenden, Marion: Corey Lynn Herndon, Master of Accountancy, Accounting
AR, Crittenden, Marion: Laura Ann Buralli, Master of Arts in Teaching, Teaching
AR, Crittenden, Marion: Madison Rhea Weaver, Master of Business Administration, Business Administration
AR, Crittenden, Marion: Madison Brogdon Ferguson, Master of Science in Nursing, Nursing
AR, Crittenden, Marion: Kayla B. Mazzanti, Master of Science in Nursing, Nurse Anesthesia
AR, Crittenden, Marion: Robin Lynne Phillips, Master of Science in Nursing, Nursing
AR, Crittenden, Marion: Heather N. Porterfield, Master of Science in Nursing, Nursing
AR, Crittenden, Marion: Peyton Wiggins Courtney, Master of Science in Nursing, Nursing
AR, Crittenden, Marion: Amelia Irene Butler, Associate in General Studies, General Studies
AR, Crittenden, Marion: Lauren E. Adams, Bachelor of Arts, History, Cum Laude
AR, Crittenden, Marion: Joshua Joseph Marrow, Bachelor of Arts, Criminology
AR, Crittenden, Marion: Lisa K. Miller, Bachelor of Arts, Criminology
AR, Crittenden, Marion: Cole Nathaneil Bledsoe, Bachelor of Science, Biological Sciences
AR, Crittenden, Marion: Jennifer Lynne Burton, Bachelor of Science, Disaster Preparedness and Emergency Management
AR, Crittenden, Marion: Rebecca Dale Northcutt, Bachelor of Science, Exercise Science
AR, Crittenden, Marion: Brooke Jordan VanSickle, Bachelor of Science, Business Administration
AR, Crittenden, Marion: James Grant Bennett, Bachelor of Science in Agriculture, Plant and Soil Science
AR, Crittenden, Marion: Rachel Elizabeth Benson, Bachelor of Science in Education, Mid Level Education, Magna Cum Laude
AR, Crittenden, Marion: Katherine E. Koons, Bachelor of Science in Education, Elementary Education, Cum Laude
AR, Crittenden, Marion: Kristen E. Stokes, Bachelor of Science in Education, Elementary Education
AR, Crittenden, Proctor: Leatha Johnson Moore, Master of Science, Media Management
AR, Crittenden, Proctor: Kaya P. Barber, Associate in General Studies, General Studies
AR, Crittenden, Proctor: Hayley Louise Nowlin, Bachelor of Science in Education, Elementary Education
AR, Crittenden, West Memphis: Jasmine R. Thomas, Associate of Arts, A.A. En Route
AR, Crittenden, West Memphis: Carolyn Chrestman, Bachelor of General Studies, General Studies
AR, Crittenden, West Memphis: Jerrica Queensha Macklin, Bachelor of General Studies, General Studies
AR, Crittenden, West Memphis: Anna Rae Dries, Bachelor of Science, Health Studies, Cum Laude
AR, Crittenden, West Memphis: Hayden G. Spears, Bachelor of Science in Agriculture, Agricultural Business
AR, Crittenden, West Memphis: Sydney Ivy Johnson, Bachelor of Science in Education, Elementary Education
AR, Crittenden, West Memphis: Katy Grace King, Bachelor of Science in Education, Mid Level Education
AR, Crittenden, West Memphis: Emma Gadberry Stewart, Bachelor of Science in Education, Special Education, Cum Laude
AR, Cross, Cherry Valley: Summer Nicole Armstrong, Associate of Applied Science, Physical Therapist Assistant
AR, Cross, Cherry Valley: Jacquelyn D. Henley, Bachelor of Arts, Sociology
AR, Cross, Cherry Valley: Darla K. Thomas, Bachelor of Science, Psychology
AR, Cross, Parkin: Hershel Darne' Davis, Master of Science in Education, Educational Leadership
AR, Cross, Parkin: Destiny Ciera Mason, Master of Social Work, Social Work
AR, Cross, Wynne: Joshua Warren Pagan, Master of Science, Sport Administration
AR, Cross, Wynne: Jessica L. Goins, Master of Science in Education, Reading
AR, Cross, Wynne: Samantha LeAmber Hogland, Master of Science in Education, Special Education K-12
AR, Cross, Wynne: Natalie Kay Boeckmann, Master of Science in Nursing, Nursing
AR, Cross, Wynne: Gavin Hunt Moore, Associate of Science, A.S. En Route
AR, Cross, Wynne: Sydney Marie Ratliff, Bachelor of Arts, Communication Studies
AR, Cross, Wynne: Olivia Faith Brewington, Bachelor of Science, Strategic Communications, Cum Laude
AR, Cross, Wynne: Zhane Lynmeisha Hope Buckley, Bachelor of Science, Psychology
AR, Cross, Wynne: Johanna Renea Cannon, Bachelor of Science, Biological Sciences, Magna Cum Laude
AR, Cross, Wynne: Calli Brooke Martin, Bachelor of Science, Psychology
AR, Cross, Wynne: Brooks Hayden Tuell, Bachelor of Science, Finance
AR, Cross, Wynne: William M. Watson III, Bachelor of Science, Accounting
AR, Cross, Wynne: Bailee N. Baskins, Bachelor of Science in Education, Elementary Education, Magna Cum Laude
AR, Cross, Wynne: Blair Caraline McClanahan, Bachelor of Science in Education, Mathematics, Cum Laude
AR, Cross, Wynne: Olivia Faith Brewington, Certificate of Proficiency, Nonprofit Communication
AR, Cross, Wynne: Matthew H. Miller, Certificate of Proficiency, Public Relations and Advertising
AR, Desha, Dumas: Debbie Denise Rucker-Stewart, Specialist in Education, Educational Leadership
AR, Desha, Dumas: Mckinley Dontavious James, Bachelor of Science, Marketing
AR, Desha, Dumas: Sydney Shepherd Luna, Bachelor of Science, Health Studies
AR, Desha, Dumas: Leah Grace Coffield, Bachelor of Science in Electrical Engineering, Electrical Engineering
AR, Desha, Mcgehee: Morgan M. Reeves, Bachelor of Science, Communication Disorders, Cum Laude
AR, Drew, Monticello: Zachery T. Birdsong, Master of Public Administration, Public Administration
AR, Drew, Monticello: Rebecca Lynne Jenkins, Bachelor of Science, Finance
AR, Drew, Wilmar: Ashley Brook Berryman, Bachelor of Arts, Communication Studies
AR, Faulkner, Conway: Katrina Patrice Moore, Master of Public Administration, Public Administration
AR, Faulkner, Conway: Logan A. Horton, Master of Science, Media Management
AR, Faulkner, Conway: Mattison M. Weaver, Master of Science, Sport Administration
AR, Faulkner, Conway: Lori Lea Cole, Master of Science in Education, Special Education K-12
AR, Faulkner, Conway: Daniel Joseph Holcomb, Master of Science in Education, Educational Leadership
AR, Faulkner, Conway: Melissa Anne West, Master of Science in Education, Educational Leadership
AR, Faulkner, Conway: Alex W. Ebmeyer, Master of Science in Nursing, Nurse Anesthesia
AR, Faulkner, Conway: Lindsey Carlene McConnell, Master of Science in Nursing, Nurse Anesthesia
AR, Faulkner, Conway: Andrew Loyd Osmon, Master of Science in Nursing, Nurse Anesthesia
AR, Faulkner, Conway: Ashley Tallent, Master of Science in Nursing, Nursing
AR, Faulkner, Conway: Ashley Elizabeth Martins, Specialist in Education, Psychology and Counseling
AR, Faulkner, Conway: Laura J. Archer, Associate in General Studies, General Studies
AR, Faulkner, Conway: Erin Elizabeth Bradley, Bachelor of Science, Accounting, Cum Laude, University Honors
AR, Faulkner, Conway: Timon Earyl Gause, Bachelor of Science, Psychology
AR, Faulkner, Conway: Zachary Mitchell Ward, Bachelor of Science, Psychology, Honors Program
AR, Faulkner, Conway: Austin C. Tucker, Bachelor of Science in Agriculture, Agricultural Business
AR, Faulkner, Conway: Paige Jordan Ashcraft, Bachelor of Science in Nursing, Nursing, Cum Laude, Honors Program
AR, Faulkner, Conway: Joseph Scott Austin, Bachelor of Science in Nursing, Nursing, Cum Laude, University Honors
AR, Faulkner, Conway: Amy Lynn Fortner, Bachelor of Science in Nursing, Nursing
AR, Faulkner, Conway: Abigale M. Moore, Bachelor of Science in Nursing, Nursing
AR, Faulkner, Conway: Shannon Kristi Tolleson, Bachelor of Science in Nursing, Nursing
AR, Faulkner, Enola: Cady Anna McEntire, Bachelor of Science in Education, Mid Level Education
AR, Faulkner, Greenbrier: Joshua P. Creel, Master of Science in Education, Educational Leadership
AR, Faulkner, Greenbrier: Payton M. Edmondson, Master of Science in Education, Educational Leadership
AR, Faulkner, Greenbrier: Tasha N. Foshee, Master of Science in Education, Special Education K-12
AR, Faulkner, Greenbrier: Michael Edward Wells, Specialist in Education, Educational Leadership
AR, Faulkner, Greenbrier: Grace Adela Marie Hawk, Bachelor of Arts, Chemistry, Cum Laude, Honors Program
AR, Faulkner, Greenbrier: Matthew Vaden Wilcox, Bachelor of General Studies, General Studies
AR, Faulkner, Greenbrier: Grace Adela Marie Hawk, Bachelor of Science, Biological Sciences, Cum Laude, Honors Program
AR, Faulkner, Guy: Brianna Lynne Duncan, Bachelor of Science in Education, Elementary Education
AR, Faulkner, Twin Groves: Javon J. Young, Bachelor of Science, Management
AR, Faulkner, Vilonia: Deborah Ann Knowles, Doctor of Education, Educational Leadership
AR, Faulkner, Vilonia: Cathy Lea Riggins, Doctor of Education, Educational Leadership
AR, Faulkner, Vilonia: Jessica A. Padgett, Master of Arts in Teaching, Teaching
AR, Faulkner, Vilonia: Andrea L. Pruitt, Bachelor of Science, Accounting, Cum Laude
AR, Franklin, Charleston: Kelsey R. Noble, Master of Science in Education, Reading
AR, Franklin, Ozark: Travis Blake Poole, Specialist in Education, Educational Leadership
AR, Fulton, Mammoth Spring: Julia Annette Chance, Certificate Program, Addiction Studies
AR, Fulton, Mammoth Spring: Julia Annette Chance, Master of Social Work, Social Work
AR, Fulton, Mammoth Spring: Michelle Dianne Tupper, Master of Social Work, Social Work
AR, Fulton, Mammoth Spring: Nikki D. Cunningham, Specialist in Education, Educational Leadership
AR, Fulton, Mammoth Spring: Alizaye Allen S. Sampson, Associate of Science, A.S. En Route
AR, Fulton, Salem: Samantha J. Eubanks, Master of Science in Education, Special Education K-12
AR, Fulton, Salem: Callie A. Marsh, Bachelor of Arts, Political Science
AR, Fulton, Salem: Billy Jack Ashley, Bachelor of Science, Wildlife, Fisheries and Conser
AR, Fulton, Salem: Abbie Kate Hammond, Bachelor of Science in Education, Elementary Education
AR, Fulton, Viola: Kiersten Nichole Moore, Associate of Applied Science, Physical Therapist Assistant
AR, Fulton, Viola: Emily Rae Perryman, Associate of Applied Science, Physical Therapist Assistant
AR, Fulton, Viola: Brianna Dawn McGehee, Bachelor of Social Work, Social Work, Cum Laude
AR, Fulton, Viola: Renea Houghtaling, Bachelor of Science in Education, Elementary Education
AR, Fulton, Viola: Kassandra Diane Woody, Bachelor of Science in Education, Mid Level Education
AR, Garland, Hot Springs: Aundrea Lee Michelle Allen, Doctor of Physical Therapy, Physical Therapy
AR, Garland, Hot Springs: LesLee Ann Jones, Master of Science, Early Childhood Services
AR, Garland, Hot Springs: Tiffany Nicole Hardin, Master of Science in Education, Educational Leadership
AR, Garland, Hot Springs: Jennifer Joyce McCullah, Master of Science in Education, Reading
AR, Garland, Hot Springs: Blake Condley, Specialist in Education, Educational Leadership
AR, Garland, Hot Springs: Jon B. Starr, Specialist in Education, Educational Leadership
AR, Garland, Hot Springs: Searci Bethlena Moore, Associate of Arts, A.A. En Route
AR, Garland, Hot Springs: Katie Renae Ashing, Associate of Science, A.S. En Route
AR, Garland, Hot Springs: Caden James Freeland, Bachelor of Arts, Criminology
AR, Garland, Hot Springs: Sarah M. Linderman, Bachelor of Arts, Sociology
AR, Garland, Hot Springs: Courtney Lynn Porter, Bachelor of Arts, Criminology
AR, Garland, Hot Springs: Charles E. Bartholomae, Bachelor of Science, Psychology
AR, Garland, Hot Springs: Sarah Renee Jones, Bachelor of Science, Health Promotion
AR, Garland, Hot Springs: Parker Kendall Knapp, Bachelor of Science, Biological Sciences, Cum Laude, Honors Program
AR, Garland, Hot Springs: Makenna Marie Sisson, Bachelor of Science, Communication Disorders, Cum Laude
AR, Garland, Hot Springs: Jacob Michael Thomas, Bachelor of Science, Strategic Communications
AR, Garland, Hot Springs: Dillon Edward Lechak, Bachelor of Science in Agriculture, Animal Science
AR, Garland, Hot Springs: Kiziah Jane Gordon, Bachelor of Science in Nursing, Nursing
AR, Garland, Hot Springs Village: Brenda Kay Keith Reynolds, Master of Science, Early Childhood Services
AR, Garland, Hot Springs Village: Laikin Meeks, Master of Science in Education, Special Ed GTC
AR, Garland, Mountain Pine: Kyle Austin Allen, Bachelor of Science, Business Administration
AR, Garland, Pearcy: Caleb Seth Marsh, Doctor of Physical Therapy, Physical Therapy
AR, Garland, Pearcy: Kaitlyn Nicole Moody, Bachelor of Science, Mathematics, Magna Cum Laude, Honors Program
AR, Garland, Pearcy: Aubrey L. Miller, Bachelor of Science in Agriculture, Animal Science, Magna Cum Laude, University Honors
AR, Garland, Royal: Shayn Michael Goodling, Bachelor of Science, Wildlife, Fisheries and Conser
AR, Garland, Royal: Ashlen C. Portwood, Bachelor of Science in Nursing, Nursing
AR, Grant, Grapevine: Nathanael Keith Grimes, Bachelor of Arts, History, Magna Cum Laude, University Honors
AR, Grant, Grapevine: Dylan Hunter Allbritton, Bachelor of Science, Biological Sciences, Honors Program
AR, Grant, Sheridan: Lakyn Renee Williams, Master of Public Administration, Public Administration
AR, Grant, Sheridan: Courtney Michelle Bradley, Master of Science in Education, Reading
AR, Grant, Sheridan: Hannah L. Ware, Master of Science in Nursing, Nurse Anesthesia
AR, Grant, Sheridan: Nicholas Andrew Ware, Master of Science in Nursing, Nurse Anesthesia
AR, Grant, Sheridan: Anna Marie Handloser, Associate of Arts, A.A. En Route
AR, Grant, Sheridan: Christine Nicole Thompson, Associate of Science, A.S. En Route
AR, Grant, Sheridan: Jacob Wayne Atnip, Bachelor of General Studies, General Studies
AR, Grant, Sheridan: Nicholas Garrett Smith, Bachelor of Science, Business Administration
AR, Greene, Beech Grove: Madison Danielle Goins, Associate of Science, A.S. En Route
AR, Greene, Beech Grove: Dylan Zachary Clark, Bachelor of Science, Computer and Information Tec
AR, Greene, Bono: Emily Grace Diamond, Associate of Science, A.S. En Route
AR, Greene, Jonesboro: Kaitlyn Elizabeth Thompson, Associate of Science, A.S. En Route
AR, Greene, Lafe: Chance Danielle Winn, Bachelor of Science in Education, English, Magna Cum Laude
AR, Greene, Marmaduke: Alex R. Edwards, Certificate Program, Addiction Studies
AR, Greene, Marmaduke: Alex R. Edwards, Master of Social Work, Social Work
AR, Greene, Marmaduke: Natalie Kate Lentz, Associate of Applied Science, Physical Therapist Assistant
AR, Greene, Marmaduke: Evan Todd Pillow, Associate of Science, A.S. En Route
AR, Greene, Marmaduke: Shayla Nicole Scott, Associate of Science, A.S. En Route
AR, Greene, Marmaduke: Lucas Adam Dixon, Bachelor of Science in Nursing, Nursing
AR, Greene, Paragould: Krystal Lynn Armstrong, Certificate Program, Addiction Studies
AR, Greene, Paragould: Desirae Antonette Barnes, Certificate Program, Addiction Studies
AR, Greene, Paragould: Maddison Gabrielle Griggs, Certificate Program, Addiction Studies
AR, Greene, Paragould: Matt Edward McGowan, Certificate Program, Superintendent
AR, Greene, Paragould: Cortney L. Parker, Certificate Program, Addiction Studies
AR, Greene, Paragould: Ashley Renae Robbins, Certificate Program, Building-Level Administration
AR, Greene, Paragould: Catherine A. Butler, Master of Arts, Biological Sciences
AR, Greene, Paragould: Stephanie Michelle Lintz, Master of Arts, Sociology
AR, Greene, Paragould: Kingston L. Edgar, Master of Arts in Teaching, Teaching
AR, Greene, Paragould: Shelby Suzanne Cole, Master of Business Administration, Business Administration
AR, Greene, Paragould: Mark Steven Gilland, Master of Science, Computer Science
AR, Greene, Paragould: Kristen Kaylee Mangrum, Master of Science, Sport Administration
AR, Greene, Paragould: Brandon Wesley Sims, Master of Science, Computer Science
AR, Greene, Paragould: James Derek Henson, Master of Science in Education, Educational Leadership
AR, Greene, Paragould: Dakota Davis Weatherley, Master of Science in Education, Educational Leadership
AR, Greene, Paragould: Ashlie Rae Davis, Master of Science in Nursing, Nursing
AR, Greene, Paragould: Sarah E. Dulaney, Master of Science in Nursing, Nursing
AR, Greene, Paragould: Bridgette LeAnn Fender, Master of Science in Nursing, Nursing
AR, Greene, Paragould: Jason R. Gill, Master of Science in Nursing, Nursing
AR, Greene, Paragould: Allison Nicole Hitt, Master of Science in Nursing, Nursing
AR, Greene, Paragould: Casey LeAnna Johnson, Master of Science in Nursing, Nursing
AR, Greene, Paragould: Tabetha L. Johnson, Master of Science in Nursing, Nursing
AR, Greene, Paragould: Lacey Jo Songer, Master of Science in Nursing, Nursing
AR, Greene, Paragould: Brittany M. Spence, Master of Science in Nursing, Nursing
AR, Greene, Paragould: Phillip Stokes Jr., Master of Science in Nursing, Nursing
AR, Greene, Paragould: Britten Wayne Williams, Master of Science in Nursing, Nursing
AR, Greene, Paragould: Krystal Lynn Armstrong, Master of Social Work, Social Work
AR, Greene, Paragould: Desirae Antonette Barnes, Master of Social Work, Social Work
AR, Greene, Paragould: Maddison Gabrielle Griggs, Master of Social Work, Social Work
AR, Greene, Paragould: Cortney L. Parker, Master of Social Work, Social Work
AR, Greene, Paragould: McKenzie Marie Duckert, Associate in General Studies, General Studies
AR, Greene, Paragould: Amy Michelle Elkins, Associate in General Studies, General Studies
AR, Greene, Paragould: Matilyn Star Mace, Associate in General Studies, General Studies
AR, Greene, Paragould: Ashton Derika Hunt, Associate of Applied Science, Physical Therapist Assistant
AR, Greene, Paragould: Jonna L. Manley, Associate of Applied Science, Physical Therapist Assistant
AR, Greene, Paragould: Samantha J. Wray, Associate of Applied Science, Physical Therapist Assistant
AR, Greene, Paragould: Cecily Dawn White, Associate of Arts, A.A. En Route
AR, Greene, Paragould: Katelyn Wiles Buhler, Associate of Science, A.S. En Route
AR, Greene, Paragould: Kaylee Agnes Collins, Associate of Science, A.S. En Route
AR, Greene, Paragould: Samantha Michele Flanery, Associate of Science, A.S. En Route
AR, Greene, Paragould: Savanna Renee Magallanes, Associate of Science, A.S. En Route
AR, Greene, Paragould: Sydney Nicole Manchester, Associate of Science, A.S. En Route
AR, Greene, Paragould: Marshall Price McPhink, Associate of Science, A.S. En Route
AR, Greene, Paragould: Drake Anthony Plunkett, Associate of Science, A.S. En Route
AR, Greene, Paragould: Shelby Elizabeth Carson, Bachelor of Arts, Criminology
AR, Greene, Paragould: Mollie Katherine Mason, Bachelor of Arts, History, Cum Laude, University Honors
AR, Greene, Paragould: Karlee Elizabeth Midgett, Bachelor of Arts, History
AR, Greene, Paragould: Timothy Michael Sutton, Bachelor of Arts, Political Science
AR, Greene, Paragould: Tyler Alexander Lee, Bachelor of Fine Arts, Graphic Design
AR, Greene, Paragould: Emily A. Walker, Bachelor of Fine Arts, Art
AR, Greene, Paragould: Alexis Layne Benson, Bachelor of General Studies, General Studies
AR, Greene, Paragould: Alexis Chantel Cox, Bachelor of General Studies, General Studies
AR, Greene, Paragould: Rachel Michele Gramling, Bachelor of General Studies, General Studies
AR, Greene, Paragould: Gabrielle Anne Krumholz, Bachelor of General Studies, General Studies
AR, Greene, Paragould: Tayla Raeann Arnold, Bachelor of Science, Health Studies
AR, Greene, Paragould: Stanley Whitfield Broadaway, Bachelor of Science, Accounting, Honors Program
AR, Greene, Paragould: Madeline Avery Cole, Bachelor of Science, Accounting
AR, Greene, Paragould: Zachary Steven Dees, Bachelor of Science, Psychology, Magna Cum Laude
AR, Greene, Paragould: Alton Roland Irwin III, Bachelor of Science, Health Studies
AR, Greene, Paragould: Jonathan William Wade Martin, Bachelor of Science, Business Administration
AR, Greene, Paragould: Rebecca Ashley Martin, Bachelor of Science, Chemistry, Magna Cum Laude
AR, Greene, Paragould: Jacob J. Penny, Bachelor of Science, Business Administration
AR, Greene, Paragould: Emily E. Pogue, Bachelor of Science, Communication Disorders
AR, Greene, Paragould: Taylor Christine Reddick, Bachelor of Science, Biological Sciences
AR, Greene, Paragould: Will Ray Robbins, Bachelor of Science, Biological Sciences, Magna Cum Laude, Honors Program
AR, Greene, Paragould: Austin James Shelton, Bachelor of Science, Accounting, Magna Cum Laude
AR, Greene, Paragould: Andrew W. Sims, Bachelor of Science, Computer Science
AR, Greene, Paragould: Sydnie Claire Walker, Bachelor of Science, Psychology
AR, Greene, Paragould: Ryan Christopher Wiseman, Bachelor of Science, Computer and Information Tec
AR, Greene, Paragould: Christopher Logan Allred, Bachelor of Science in Agriculture, Plant and Soil Science
AR, Greene, Paragould: Mallory Gabrielle Clay, Bachelor of Science in Agriculture, Animal Science
AR, Greene, Paragould: Xylon Joseph Hollis, Bachelor of Science in Agriculture, Plant and Soil Science
AR, Greene, Paragould: Joshua Tyler Kaiser, Bachelor of Science in Agriculture, Plant and Soil Science
AR, Greene, Paragould: Michael Lewis Morales, Bachelor of Science in Agriculture, Plant and Soil Science
AR, Greene, Paragould: Savannah Caroline Wells, Bachelor of Science in Agriculture, Animal Science, Summa Cum Laude
AR, Greene, Paragould: Landon Kyle Long, Bachelor of Science in Electrical Engineering, Electrical Engineering
AR, Greene, Paragould: Audrey S. Lee, Bachelor of Science in Nursing, Nursing
AR, Greene, Paragould: Jessica Sher'ee Bishop, Bachelor of Social Work, Social Work, Cum Laude
AR, Greene, Paragould: Karlie Mique Droke, Bachelor of Social Work, Social Work
AR, Greene, Paragould: Brenton Paul Ezell, Bachelor of Social Work, Social Work, Magna Cum Laude
AR, Greene, Paragould: Savannah Lee Keeling, Bachelor of Social Work, Social Work
AR, Greene, Paragould: Angelica Lauren Burrow, Bachelor of Science in Education, Elementary Education
AR, Greene, Paragould: Kiana Carol Cole, Bachelor of Science in Education, Physical Education, Cum Laude
AR, Greene, Paragould: Michaela M. Moore, Bachelor of Science in Education, Elementary Education, Magna Cum Laude
AR, Greene, Paragould: Margaret Myrick Schreit, Bachelor of Science in Education, Elementary Education
AR, Greene, Paragould: Amber R. Whitaker, Bachelor of Science in Education, Elementary Education, Cum Laude
AR, Greene, Paragould: Rachel Allison Worthington, Bachelor of Science in Education, Elementary Education
AR, Greene, Paragould: Zachary Steven Dees, Certificate of Proficiency, Neuropsychological Testing
AR, Hot Spring, Amity: Shelly Renea Wheeler, Certificate Program, Gifted Talented Director
AR, Hot Spring, Malvern: Leslie L. Harper, Master of Science in Education, Special Education K-12
AR, Hot Spring, Malvern: Connor B. Scroggins, Bachelor of Music, Music, Summa Cum Laude, University Honors
AR, Howard, Nashville: Deanna Marie Triplet, Bachelor of General Studies, General Studies
AR, Howard, Nashville: Keeaundra Nicole Richardson, Bachelor of Social Work, Social Work
AR, Independence, Batesville: Zelda R. Epperson-May, Doctor of Nursing Practice, Nursing Practice
AR, Independence, Batesville: Tiffany M. Guinnip, Master of Science, Strategic Communications
AR, Independence, Batesville: Crystal Denise Shutt, Master of Science, Early Childhood Services
AR, Independence, Batesville: Celena A. Anderson, Master of Science in Education, Special Education K-12
AR, Independence, Batesville: Brett Louis Difani, Master of Science in Education, Educational Leadership
AR, Independence, Batesville: Taira Leigh Trusty, Master of Science in Education, Reading
AR, Independence, Batesville: Jenny Lee Keller, Master of Science in Nursing, Nursing
AR, Independence, Batesville: Cassondra Nichole Frey, Master of Social Work, Social Work
AR, Independence, Batesville: Jeanie Marie Johnson, Specialist in Education, Educational Leadership
AR, Independence, Batesville: Alexandrea Emily McNabb, Associate of Science, A.S. En Route
AR, Independence, Batesville: Alexandria Danielle Agee, Bachelor of Science, Biological Sciences
AR, Independence, Batesville: Kaylee Larae Crowl, Bachelor of Science, Communication Disorders, Magna Cum Laude
AR, Independence, Batesville: Kolin S. Rose, Bachelor of Science, Computer and Information Tec
AR, Independence, Batesville: Zachary Alexander Waugh, Bachelor of Science, Biological Sciences, Cum Laude, Honors Program
AR, Independence, Batesville: Kyler Dwayne Dickey, Bachelor of Science in Electrical Engineering, Electrical Engineering, Magna Cum Laude, University Honors
AR, Independence, Batesville: Nicholas James Garcia, Bachelor of Science in Mechanical Engineering, Mechanical Engineering, Magna Cum Laude, Honors Program
AR, Independence, Batesville: Alexus Marie Lawellin, Bachelor of Science in Nursing, Nursing, Cum Laude
AR, Independence, Batesville: Griffin Bentley McCowan, Bachelor of Science in Nursing, Nursing
AR, Independence, Batesville: Jessica Kay Parker, Bachelor of Science in Education, Elementary Education
AR, Independence, Batesville: Denver Lynn Worley, Bachelor of Science in Education, Social Science, Cum Laude, Honors Program
AR, Independence, Cave City: Amber Lea Clements-Fore, Doctor of Nursing Practice, Nursing Practice
AR, Independence, Cord: Nicole Donna Johnson, Master of Science in Education, English
AR, Independence, Desha: Anna Allison Collins, Bachelor of Science in Nursing, Nursing
AR, Independence, Floral: Caylee A. McGuire, Bachelor of Science in Agriculture, Animal Science
AR, Independence, Newark: Megan Brooke McClain, Associate of Applied Science, Physical Therapist Assistant
AR, Independence, Rosie: Hunter B. Cummings, Bachelor of Arts, English
AR, Independence, Rosie: Brenna Chaelyn Wolfe, Bachelor of Science in Education, Physical Education
AR, Independence, Sulphur Rock: Brittany Marie Scrivner, Associate of Science, A.S. En Route
AR, Independence, Sulphur Rock: Kimberly N. Williams, Bachelor of Science, Finance
AR, Izard, Brockwell: Andrew Richard Walker, Bachelor of Science in Education, Physical Education
AR, Izard, Calico Rock: Emily Suzette Brown, Master of Science in Nursing, Nursing
AR, Izard, Calico Rock: Kimberly Lynn Morehead, Bachelor of Science in Education, Elementary Education, Magna Cum Laude
AR, Izard, Guion: Shonna Marie Arnold, Certificate Program, Play Therapy
AR, Izard, Guion: Shonna Marie Arnold, Specialist in Education, Psychology and Counseling
AR, Izard, Horseshoe Bend: Kali Sierra Koelling, Associate of Science, A.S. En Route
AR, Izard, Melbourne: Ashley Suzanne Johnson, Master of Arts in Teaching, Teaching
AR, Izard, Melbourne: Jonathan I. Guiltner, Bachelor of Arts, Political Science, Summa Cum Laude
AR, Izard, Pineville: Timi Lynn Killian, Bachelor of Science, Accounting, Cum Laude, Honors Program
AR, Izard, Pineville: Casey Dell Whitfield, Bachelor of Science, Strategic Communications
AR, Izard, Violet Hill: Lacey Cheyenne Moody, Master of Social Work, Social Work
AR, Izard, Violet Hill: Jennifer L. Callahan, Bachelor of Science in Nursing, Nursing
AR, Jackson, Newport: William Dean Bowen, Doctor of Physical Therapy, Physical Therapy
AR, Jackson, Newport: Kaelin Delaine Hutchinson, Master of Social Work, Social Work
AR, Jackson, Newport: Casey E. Burnside, Specialist in Education, Educational Leadership
AR, Jackson, Newport: Sara Elizabeth Baker, Associate of Applied Science, Physical Therapist Assistant
AR, Jackson, Newport: Diana Huynh, Bachelor of Science, Psychology, Magna Cum Laude, Honors Program
AR, Jackson, Newport: Sarah E. Leonard, Bachelor of Science, Exercise Science
AR, Jackson, Newport: Dalton W. Menley, Bachelor of Science, Business Administration
AR, Jackson, Newport: James Matthew Strange, Bachelor of Science, Technology
AR, Jackson, Newport: Kathryn Elizabeth Howard, Bachelor of Science in Nursing, Nursing
AR, Jackson, Swifton: Bryan Paul Moss, Bachelor of General Studies, General Studies, Magna Cum Laude
AR, Jackson, Swifton: Tatum Morgan Roberson, Bachelor of Science, Communication Disorders, Cum Laude
AR, Jackson, Swifton: Julianna Grace Smith, Bachelor of Science, Business Administration
AR, Jackson, Tuckerman: Thomas Brandon Gates, Master of Science in Education, Educational Leadership
AR, Jackson, Tuckerman: Krystyn C. Vaughan, Master of Science in Nursing, Nursing
AR, Jackson, Tuckerman: Timothy Michael Duane Richmond, Specialist in Education, Educational Leadership
AR, Jackson, Tuckerman: Megan Shyanne Brunner, Associate of Applied Science, Physical Therapist Assistant
AR, Jackson, Tuckerman: Shelby Ann Gardner, Bachelor of Science, Health Studies
AR, Jackson, Tuckerman: Andrew Logan Shoffner, Bachelor of Science, Computer and Information Tec
AR, Jefferson, Pine Bluff: Taylor N. Wilkes, Doctor of Physical Therapy, Physical Therapy
AR, Jefferson, Pine Bluff: Megan Michelle Boyce, Master of Science in Education, Educational Leadership
AR, Jefferson, Pine Bluff: LaKesha D. Foote, Master of Science in Education, Special Ed GTC
AR, Jefferson, Pine Bluff: Kelli Cooper Gershner, Master of Science in Education, Reading
AR, Jefferson, Pine Bluff: Sheena Veretta Earl, Specialist in Education, Educational Leadership
AR, Jefferson, Pine Bluff: Vashanti C. Williams, Specialist in Education, Educational Leadership
AR, Jefferson, Pine Bluff: Brittany S. Turner, Bachelor of General Studies, General Studies
AR, Jefferson, Pine Bluff: Craig Douglas Boone, Jr., Bachelor of Science, Business Administration
AR, Jefferson, Pine Bluff: John Micah Cottrell, Bachelor of Science in Mechanical Engineering, Mechanical Engineering
AR, Jefferson, Pine Bluff: Bryanah Madison Crane, Bachelor of Science in Nursing, Nursing
AR, Jefferson, White Hall: Lauren Grace Belt, Doctor of Education, Educational Leadership
AR, Jefferson, White Hall: Rebekah Marie Dixon, Specialist in Education, Educational Leadership
AR, Jefferson, White Hall: Bryce Allen Moore, Bachelor of Arts, Theatre, Cum Laude
AR, Jefferson, White Hall: Hannah L. Stone, Bachelor of Arts, English
AR, Jefferson, White Hall: Tarendeep Thind, Bachelor of Arts, Chemistry, Magna Cum Laude, Honors Program
AR, Jefferson, White Hall: DeVonte' LaRon Buckner, Bachelor of Science, Finance
AR, Jefferson, White Hall: Tarendeep Thind, Bachelor of Science, Biological Sciences, Magna Cum Laude, Honors Program
AR, Jefferson, White Hall: Rian A. Thomas, Bachelor of Science, Interdisciplinary Studies, Cum Laude
AR, Jefferson, White Hall: Anna Lynn Tietz, Bachelor of Science, Strategic Communications
AR, Jefferson, White Hall: Haley Noelle Brown, Bachelor of Science in Nursing, Nursing, Cum Laude
AR, Jefferson, White Hall: Leah Deann Gillette, Bachelor of Science in Nursing, Nursing, Cum Laude
AR, Johnson, Clarksville: Taylor Nichols, Master of Science in Education, Early Childhood Education
AR, Johnson, Clarksville: Amber Ostendorf, Master of Science in Education, Special Education K-12
AR, Johnson, Coal Hill: Katherine D. M. Caples, Bachelor of Science in Education, English
AR, Johnson, Hartman: Kasey K. Sisk, Master of Science in Education, Early Childhood Education
AR, Lawrence, Alicia: Samuel David Light, Bachelor of Science in Agriculture, Animal Science
AR, Lawrence, Black Rock: Preston Blake Aaron, Bachelor of Science in Agriculture, Agricultural Business
AR, Lawrence, imboden: Amanda G. Harris, Master of Public Administration, Public Administration
AR, Lawrence, Imboden: Riley P. Jenkins, Specialist in Education, Educational Leadership
AR, Lawrence, Imboden: Allen Michael Ryals, Bachelor of Arts, English
AR, Lawrence, Imboden: Shayla B. Dickson, Bachelor of General Studies, General Studies
AR, Lawrence, Imboden: Laura Michelle Easley, Bachelor of Science, Business Administration
AR, Lawrence, Imboden: Casey B. Middlecoff, Bachelor of Science, Management
AR, Lawrence, Lynn: Caleb Austin Jones, Bachelor of Science, Computer Science
AR, Lawrence, Smithville: David T. Oliver, Bachelor of Science in Nursing, Nursing
AR, Lawrence, Smithville: Jessica A. Walling, Bachelor of Science, Accounting
AR, Lawrence, Strawberry: Samantha Jill Parker, Master of Social Work, Social Work
AR, Lawrence, Strawberry: Ashley Sue Holder, Specialist in Education, Educational Leadership
AR, Lawrence, Strawberry: Myrtle F. Wright, Bachelor of Science in Nursing, Nursing
AR, Lawrence, Walnut Ridge: Andrew Ryan Duckworth, Master of Arts, English
AR, Lawrence, Walnut Ridge: Breydon Dale Weitkamp, Associate of Applied Science, Physical Therapist Assistant
AR, Lawrence, Walnut Ridge: Cassie Elizabeth Craig, Associate of Arts, A.A. En Route
AR, Lawrence, Walnut Ridge: Martin Lee Crisler, Bachelor of Arts, Chemistry
AR, Lawrence, Walnut Ridge: Leslie Woodard, Bachelor of General Studies, General Studies
AR, Lawrence, Walnut Ridge: Hope Ashton Lemmons, Bachelor of Science, Communication Disorders, Magna Cum Laude
AR, Lawrence, Walnut Ridge: Jenifer Michele Tribble, Bachelor of Science in Nursing, Nursing
AR, Lawrence, Walnut Ridge: Stephan Nicole Petty, Bachelor of Science in Education, Elementary Education
AR, Lee, Aubrey: Sarah G. Rhodes, Bachelor of Arts, History
AR, Lee, Marianna: Brittney Marky'a Hansberry, Associate of Science, A.S. En Route
AR, Lincoln, Dumas: Jakob Dylan Brewer, Bachelor of Science in Agriculture, Agricultural Business
AR, Lincoln, Star City: Jordan Leigh Grayson, Bachelor of Science, Clinical Laboratory Science
AR, Little River, Ashdown: Angela S. Owings, Master of Science in Education, Reading
AR, Little River, Ashdown: Bradley W. Isenberg, Bachelor of Science, Technology
AR, Little River, Ashdown: Madeline Marie Chandler, Bachelor of Science in Nursing, Nursing
AR, Little River, Foreman: Hunter Blake Corbell, Master of Science in Education, Educational Leadership
AR, Logan, Booneville: Emalee Maebeth Brown, Specialist in Education, Educational Leadership
AR, Lonoke, Austin: Meagan Elizabeth Coronado, Master of Science in Education, Educational Leadership
AR, Lonoke, Austin: Christy L. Wheeler, Master of Science in Education, Reading
AR, Lonoke, Austin: David R. Potter, Bachelor of General Studies, General Studies, Magna Cum Laude
AR, Lonoke, Austin: Chance Marley Fletcher, Bachelor of Science, Business Administration
AR, Lonoke, Austin: Maegan Danielle Hutchins, Bachelor of Science, Business Administration
AR, Lonoke, Austin: Madison Grace Walker, Bachelor of Science in Nursing, Nursing
AR, Lonoke, Cabot: Zachariah A. McNiel, Master of Business Administration, Business Administration
AR, Lonoke, Cabot: Allison Ann McMullen Potratz, Master of Public Administration, Public Administration
AR, Lonoke, Cabot: Miranda Christine Perry, Master of Science, Mathematics
AR, Lonoke, Cabot: Briona Slaughter, Master of Science, Early Childhood Services
AR, Lonoke, Cabot: Jordan S. Schnebly, Master of Science in Nursing, Nurse Anesthesia
AR, Lonoke, Cabot: Emily Paige Ford, Master of Social Work, Social Work
AR, Lonoke, Cabot: Cassandra Lea Jackson, Specialist in Education, Educational Leadership
AR, Lonoke, Cabot: Spencer Mason White, Associate in General Studies, General Studies
AR, Lonoke, Cabot: Natalie Michelle Way, Associate of Arts, A.A. En Route
AR, Lonoke, Cabot: Ronald Wayne Bettis, Associate of Science, A.S. En Route
AR, Lonoke, Cabot: Lhen Mikhaela Olegario, Associate of Science, A.S. En Route
AR, Lonoke, Cabot: Ambrynne Elizabeth Ward, Associate of Science, A.S. En Route
AR, Lonoke, Cabot: Emily R. Richards, Bachelor of Fine Arts, Art
AR, Lonoke, Cabot: Morgan Dale Boroughs, Bachelor of Music Education, Instrumental Music, Magna Cum Laude, Honors Program
AR, Lonoke, Cabot: Alyssa Marie Perry, Bachelor of Music Education, Instrumental Music, Summa Cum Laude, University Honors
AR, Lonoke, Cabot: Cameron J. Hulett, Bachelor of Science, Computer and Information Tec
AR, Lonoke, Cabot: Emily Mae Neumann, Bachelor of Science, Strategic Communications
AR, Lonoke, Cabot: Shelby Danielle Thompson, Bachelor of Science, Strategic Communications, Cum Laude
AR, Lonoke, Cabot: Courtney Shea Gibson, Bachelor of Science in Agriculture, Animal Science, Honors Program
AR, Lonoke, Cabot: Ciera Diane Kingan, Bachelor of Science in Agriculture, Animal Science
AR, Lonoke, Cabot: Stephanie Anne McCraw, Bachelor of Science in Nursing, Nursing
AR, Lonoke, Cabot: Courtney J. Branscum, Bachelor of Science in Education, Mid Level Education, Cum Laude
AR, Lonoke, Cabot: Kaeleigh LaVae Colston, Bachelor of Science in Education, Elementary Education
AR, Lonoke, Cabot: Alexis S. Mckedy, Bachelor of Science in Education, Mid Level Education, Magna Cum Laude
AR, Lonoke, Cabot: Ashley Lynn Gwynne, Bachelor of Science in Education, Mid Level Education
AR, Lonoke, Cabot: Svetlana G. Staley, Bachelor of Science in Education, Elementary Education, Cum Laude
AR, Lonoke, Cabot: Emily Mae Neumann, Certificate of Proficiency, Social Media Management
AR, Lonoke, Carlisle: Steven Andrew Chambers, Bachelor of Science, Biological Sciences, Cum Laude, Honors Program
AR, Lonoke, Carlisle: Zachary Ryan Downen, Bachelor of Science, Disaster Preparedness and Emergency Management
AR, Lonoke, Carlisle: Peyton Elizabeth Hitchings, Bachelor of Science in Nursing, Nursing, Magna Cum Laude
AR, Lonoke, England: Lynde Brooke Biggs, Master of Science, Early Childhood Services
AR, Lonoke, England: Mary Haley Henderson, Associate of Science, A.S. En Route
AR, Lonoke, Jacksonville: Thomas Patrick Hickam Jr., Bachelor of Science, Technology, Magna Cum Laude
AR, Lonoke, Lonoke: Carrie Lee Mitchell, Certificate Program, Special Education Teacher
AR, Lonoke, Lonoke: Madison M. James, Doctor of Physical Therapy, Physical Therapy
AR, Lonoke, Lonoke: Erin Marie Hicks, Master of Science in Education, Early Childhood Education
AR, Lonoke, Lonoke: Samantha E. Taylor, Master of Science in Education, Reading
AR, Lonoke, Lonoke: Kari Nicole Williamson, Master of Science in Nursing, Nursing
AR, Lonoke, Lonoke: Lauren Elizabeth Bunting, Associate of Arts, A.A. En Route
AR, Lonoke, Lonoke: Zackary Keeton Murray, Associate of Science, A.S. En Route
AR, Lonoke, Lonoke: Rebecca Helen Smith, Bachelor of Arts, Communication Studies
AR, Lonoke, Lonoke: Talon S. Lackey, Bachelor of Science, Technology
AR, Lonoke, Lonoke: Heather Payne, Bachelor of Science, Biological Sciences, Magna Cum Laude
AR, Lonoke, Lonoke: Gracie Anne Pasley, Bachelor of Social Work, Social Work
AR, Lonoke, Lonoke: Jessica Marie Woolfolk, Bachelor of Science in Education, Mid Level Education
AR, Lonoke, Scott: Ashley Jaramillo, Bachelor of Science in Education, Elementary Education
AR, Lonoke, Ward: Brock Ryley Bunting, Master of Science in Education, Education Theory and Practice
AR, Lonoke, Ward: Jerod Mason Wheeler, Associate of Science, A.S. En Route
AR, Lonoke, Ward: Kashalan Kaprise Franklin, Bachelor of General Studies, General Studies
AR, Lonoke, Ward: Marion A. Witkowski, Bachelor of Science, Business Administration
AR, Lonoke, Ward: Mary Melissa Andrews, Bachelor of Science in Nursing, Nursing
AR, Lonoke, Ward: Haleigh N. Churchwell, Bachelor of Science in Nursing, Nursing
AR, Marion, Flippin: Kierstyn P. Latchaw, Associate of Applied Science, Physical Therapist Assistant
AR, Marion, Flippin: Ashley Shayne Johnson, Bachelor of Arts, Criminology, Cum Laude
AR, Marion, Flippin: Emily Helen Pokorny, Bachelor of Arts, Criminology, Magna Cum Laude
AR, Marion, Flippin: Shelby Renee Fischer, Bachelor of Science, Accounting
AR, Marion, Flippin: Caleb Wesley Howse, Bachelor of Social Work, Social Work
AR, Marion, Flippin: Makayla Marie Brannon, Bachelor of Science in Education, Elementary Education, Magna Cum Laude
AR, Marion, Flippin: Heather Curtis, Bachelor of Science in Education, Elementary Education
AR, Marion, Flippin: Marlie Rose Flippin, Bachelor of Science in Education, Elementary Education
AR, Marion, Yellville: Angela Jean Myers-Obermire, Master of Science in Nursing, Nursing
AR, Marion, Yellville: Charles Dwight Grissum, Bachelor of Science, Finance, Magna Cum Laude
AR, Marion, Yellville: Mikayla Larin Goulet, Bachelor of Science in Nursing, Nursing
AR, Marion, Yellville: Adrienne Paige Frye, Bachelor of Science in Nursing, Nursing
AR, Marion, Yellville: Kacy J. Monroe, Bachelor of Science in Education, Mid Level Education, Cum Laude
AR, Miller, Fouke: Jennifer L. Breedlove, Master of Science in Education, Special Education K-12
AR, Mississippi, Blytheville: Pershauna Danielle Johnson, Master of Music, Music Performance
AR, Mississippi, Blytheville: Alyssa Leeann Boonpeth, Associate of Science, A.S. En Route
AR, Mississippi, Blytheville: Tyler F. Haynes, Bachelor of General Studies, General Studies
AR, Mississippi, Blytheville: AnnaBeth Renee Dickey, Bachelor of Science, Accounting
AR, Mississippi, Blytheville: Kelsey Renee Fields, Bachelor of Science, Clinical Laboratory Science
AR, Mississippi, Blytheville: Christopher Jamal Adams, Bachelor of Social Work, Social Work
AR, Mississippi, Blytheville: Tenika Nicole Luster, Bachelor of Social Work, Social Work
AR, Mississippi, Blytheville: John David Wright, Bachelor of Science in Education, Physical Education
AR, Mississippi, Etowah: Lauren D. Lance, Master of Science in Nursing, Nursing
AR, Mississippi, Gosnell: Blake Allen McDaniel, Associate of Science, A.S. En Route
AR, Mississippi, Joiner: Stormy D. Shankle, Associate of Applied Science, Physical Therapist Assistant
AR, Mississippi, Joiner: Christopher Stinnett Crawford, Bachelor of Science, Exercise Science
AR, Mississippi, Keiser: Corbin Layne Smith, Associate of Applied Science, Physical Therapist Assistant
AR, Mississippi, Leachville: Emily M. Allen, Master of Science in Nursing, Nursing
AR, Mississippi, Leachville: Luis Alejandro Talavera, Associate of Science, A.S. En Route
AR, Mississippi, Leachville: Madison G. Brown, Bachelor of Science, Communication Disorders, Magna Cum Laude
AR, Mississippi, Leachville: Ashley Meredith Field, Bachelor of Science in Education, Elementary Education, Cum Laude
AR, Mississippi, Lepanto: Curry Lynn Sexton, Associate of Applied Science, Physical Therapist Assistant
AR, Mississippi, Lepanto: Rachel Christina Worsham, Bachelor of Science, Communication Disorders, Magna Cum Laude
AR, Mississippi, Luxora: Rossie Nicole Thomas, Bachelor of Science in Nursing, Nursing
AR, Mississippi, Manila: Morgan Bliss Noble, Master of Science in Nursing, Nursing
AR, Mississippi, Manila: Karley Brooke Moore, Master of Science in Nursing, Nursing
AR, Mississippi, Manila: Adriana Garcia, Master of Social Work, Social Work
AR, Mississippi, Manila: Kimberly Stallings Hart, Specialist in Education, Educational Leadership
AR, Mississippi, Manila: Sarah Kinsey Craig, Bachelor of Science, Health Studies
AR, Mississippi, Manila: Dustin Edward Ogden, Bachelor of Science, Mathematics
AR, Mississippi, Manila: Juliane Veach, Bachelor of Social Work, Social Work
AR, Mississippi, Manila: Alexander Michael Richard, Bachelor of Science in Education, Social Science
AR, Mississippi, Manila: Jessica D. Weiss, Bachelor of Science in Education, Elementary Education, Magna Cum Laude
AR, Mississippi, Osceola: Terrica LaCree Simmons, Associate of Arts, A.A. En Route
AR, Mississippi, Osceola: Meghan Michelle Haynes, Bachelor of General Studies, General Studies
AR, Mississippi, Osceola: Mary Katelyn Record, Bachelor of Science, Biological Sciences, Magna Cum Laude, Honors Program
AR, Mississippi, Osceola: Caitlyn Brianne Hill, Bachelor of Science in Nursing, Nursing
AR, Mississippi, Osceola: Douglas R. Meurer, Bachelor of Science in Education, Mid Level Education
AR, Mississippi, Wilson: Madison Nicole Goble, Bachelor of Science, Biological Sciences, Cum Laude, Honors Program
AR, Mississippi, Wilson: Danielle F. Johnson, Bachelor of Science, Business Administration
AR, Monroe, Brinkley: Angela Marie Harris, Bachelor of Science in Education, English, Magna Cum Laude, Honors Program
AR, Monroe, Clarendon: Emily Marie Beadles, Associate of Science, A.S. En Route
AR, Monroe, Clarendon: Chancellor Lee Vent, Bachelor of Science in Education, Physical Education
AR, Montgomery, Norman: Joshua David Ferrell, Master of Science in Education, Educational Leadership
AR, Ouachita, Camden: Kyla Lanette Frazier, Associate of Science, A.S. En Route
AR, Ouachita, Sparkman: Teona Sharese Ford, Master of Science, Early Childhood Services
AR, Perry, Houston: Baylee Rhea Nahlen, Bachelor of Science in Education, Elementary Education, Magna Cum Laude
AR, Phillips, Helena: Josh A. Hodges, Master of Science in Nursing, Nursing
AR, Phillips, Helena: Terra Autmn Boose, Associate of Arts, A.A. En Route
AR, Phillips, Helena: John Deandrew Williams, Bachelor of Arts, Criminology
AR, Phillips, Marvell: Lucas Alex Schaffhauser, Associate of Science, A.S. En Route
AR, Phillips, Poplar Grove: Jarrod Arnold Chandler, Master of Science, Sport Administration
AR, Phillips, Poplar Grove: Lauren A. Huff, Master of Science in Nursing, Nursing
AR, Phillips, Turner: Anna Camille Bonner, Associate of Science, A.S. En Route
AR, Phillips, West Helena: Mary Austyn Reyna, Bachelor of Science in Nursing, Nursing, Cum Laude
AR, Pike, Kirby: Jennifer Michelle West, Master of Science in Education, Special Ed GTC
AR, Poinsett, Harrisburg: Haley Jo Lovell, Doctor of Physical Therapy, Physical Therapy
AR, Poinsett, Harrisburg: Tricia Brown, Associate in General Studies, General Studies
AR, Poinsett, Harrisburg: Collin A. Whitlatch, Associate of Science, A.S. En Route
AR, Poinsett, Harrisburg: Landon Kale Bates, Bachelor of Fine Arts, Art, Cum Laude
AR, Poinsett, Harrisburg: Joshua W. Fallon, Bachelor of Science, Health Studies
AR, Poinsett, Harrisburg: Katelan Mae Faulkner, Bachelor of Science, Communication Disorders
AR, Poinsett, Harrisburg: Elizabeth Mae Leonard, Bachelor of Science, Communication Disorders, Cum Laude
AR, Poinsett, Harrisburg: Megan Clair Orr, Bachelor of Science, Communication Disorders
AR, Poinsett, Harrisburg: Alexandria Paige Traynom, Bachelor of Science in Nursing, Nursing
AR, Poinsett, Harrisburg: Maegan L. Carlson, Bachelor of Social Work, Social Work
AR, Poinsett, Harrisburg: Hannah M. Lawrey, Bachelor of Social Work, Social Work
AR, Poinsett, Harrisburg: Kennedy Mildred Rose Capps, Bachelor of Science in Education, Elementary Education, Magna Cum Laude
AR, Poinsett, Lepanto: David Scott Smith, Master of Science in Nursing, Nursing
AR, Poinsett, Lepanto: Breana Rose Laden, Associate of Arts, A.A. En Route
AR, Poinsett, Lepanto: Olivia Grace Smith, Associate of Arts, A.A. En Route
AR, Poinsett, Lepanto: Cameron B. Evance, Bachelor of Arts, English
AR, Poinsett, Lepanto: Gwendolyn Dawn Sam Smith, Bachelor of General Studies, General Studies
AR, Poinsett, Lepanto: Zachary A. Constant, Bachelor of Science, Business Administration
AR, Poinsett, Lepanto: Brittany LeAnne Stephens, Bachelor of Science in Education, Elementary Education, Cum Laude
AR, Poinsett, Marked Tree: Sarah Leeann Adams, Associate of Science, A.S. En Route
AR, Poinsett, Marked Tree: Kassi Lynn Posey, Bachelor of Science, Strategic Communications
AR, Poinsett, Marked Tree: Kassi Lynn Posey, Certificate of Proficiency, Nonprofit Communication
AR, Poinsett, Trumann: Rachel Erin Hendrix, Master of Science, College Student Personnel Services
AR, Poinsett, Trumann: Erica Jane Jordan, Master of Science in Nursing, Nursing
AR, Poinsett, Trumann: Hailey A. Prince, Master of Science in Nursing, Nursing
AR, Poinsett, Trumann: Brittany Nicole London, Specialist in Education, Educational Leadership
AR, Poinsett, Trumann: Mary K. Johnson, Associate in Science, Accounting
AR, Poinsett, Trumann: John Paul Lowery, Associate of Arts, A.A. En Route
AR, Poinsett, Trumann: Haley Ann Veteto, Associate of Arts, A.A. En Route
AR, Poinsett, Trumann: Whitney Shae Holman, Associate of Science, A.S. En Route
AR, Poinsett, Trumann: Dakota Cheynne Purvis, Associate of Science, A.S. En Route
AR, Poinsett, Trumann: Whitley Jo Fore, Bachelor of Arts, Theatre
AR, Poinsett, Trumann: Jacob A. Rathbun, Bachelor of Arts, History
AR, Poinsett, Trumann: April Michelle Smallman, Bachelor of General Studies, General Studies
AR, Poinsett, Trumann: Austin Mitchell McMasters, Bachelor of Science, Business Administration
AR, Poinsett, Trumann: Katie Leigh Ann Bray, Bachelor of Science in Nursing, Nursing
AR, Poinsett, Trumann: Andrea L. Oldman, Bachelor of Science in Education, Elementary Education, Magna Cum Laude
AR, Poinsett, Trumann: Jacob A. Rathbun, Certificate of Proficiency, Museum Studies
AR, Poinsett, Tyronza: Courtney Dawn Hardin, Associate of Science, A.S. En Route
AR, Poinsett, Tyronza: Kimberly Nicole Hardin, Associate of Science, A.S. En Route
AR, Poinsett, Weiner: Caitlyn N. Lyerly, Bachelor of Music, Music
AR, Poinsett, Weiner: Cody Jamison Howard, Bachelor of Science in Agriculture, Plant and Soil Science
AR, Poinsett, Weiner: Lora Michelle Sullins, Bachelor of Science in Nursing, Nursing, Cum Laude
AR, Polk, Hatfield: Cassie Nicole Evans, Certificate Program, Special Education Director
AR, Pope, Dover: Mitchell B. Wilson, Master of Science in Education, Educational Leadership
AR, Pope, Russellville: Steven M. Minniear, Master of Science in Education, Educational Leadership
AR, Pope, Russellville: Leslie Marie Moore, Master of Science in Education, Reading
AR, Pope, Russellville: Blake Adam Young, Master of Science in Education, Educational Leadership
AR, Pope, Russellville: Erin Rebekah Heikes, Bachelor of Science, Interdisciplinary Studies, Summa Cum Laude, University Honors
AR, Prairie, Des Arc: Lauren Ashton Mapps, Associate of Science, A.S. En Route
AR, Prairie, Des Arc: Ashton Breighanne York, Bachelor of General Studies, General Studies
AR, Prairie, Des Arc: Shelby L. Williams, Bachelor of Science in Education, Elementary Education, Cum Laude
AR, Prairie, Devalls Bluff: Matthew Ray Lawman, Bachelor of Arts, Criminology
AR, Pulaski, Bigelow: Nathan Thomas Luyet, Associate of Arts, A.A. En Route
AR, Pulaski, Cammack Village: Rebekkah Faith Ferguson, Master of Science in Education, Reading
AR, Pulaski, Jacksonville: Brandon Montgomery Pluskett, Master of Arts, Political Science
AR, Pulaski, Jacksonville: Patricia Marie Goodman, Master of Science in Education, Curriculum and Instruction
AR, Pulaski, Jacksonville: Julie Suzanne Estes, Specialist in Education, Educational Leadership
AR, Pulaski, Jacksonville: Pamela Springer, Specialist in Education, Educational Leadership
AR, Pulaski, Jacksonville: Skyler R. Keeton, Associate of Arts, A.A. En Route
AR, Pulaski, Jacksonville: Carson M. Sanders, Associate of Arts, A.A. En Route
AR, Pulaski, Jacksonville: Wilburn Nathanial Crews, Bachelor of Arts, Criminology
AR, Pulaski, Jacksonville: Faith Elizabeth Carr, Bachelor of Science, Psychology
AR, Pulaski, Jacksonville: Maya Joi Coleman, Bachelor of Science, Health Studies
AR, Pulaski, Jacksonville: Cathy Beel Crymes, Bachelor of Science, Business Administration
AR, Pulaski, Jacksonville: Shelby C. Moseley, Bachelor of Science, Wildlife, Fisheries and Conser, Magna Cum Laude, Honors Program
AR, Pulaski, Jacksonville: Khagji V. Warren, Bachelor of Science, Marketing, Cum Laude, Honors Program
AR, Pulaski, Jacksonville: Amber Lynn Bajorek, Bachelor of Social Work, Social Work
AR, Pulaski, Jacksonville: Brandyce P. Hardfield, Bachelor of Science in Education, Mid Level Education, Cum Laude
AR, Pulaski, Jacksonville: Kelly Nicole Sanchez, Bachelor of Science in Education, Mid Level Education
AR, Pulaski, Little Rock: Brian Seth Medlen, Certificate Program, Special Education Teacher
AR, Pulaski, Little Rock: Christopher Bernard Templeton Ivy, Doctor of Nursing Practice, Nursing Practice
AR, Pulaski, Little Rock: Brittney Nicole Blake, Master of Arts, Communication Studies
AR, Pulaski, Little Rock: Roosevelt Barnett, Master of Business Administration, Business Administration
AR, Pulaski, Little Rock: Sharon D. Palmer, Master of Public Administration, Public Administration
AR, Pulaski, Little Rock: Brianna Chontall Jackson, Master of Science in Education, Educational Leadership
AR, Pulaski, Little Rock: Tianka Renne Sheard, Master of Science in Education, Educational Leadership
AR, Pulaski, Little Rock: Kara Ashley Siemens, Master of Science in Education, Curriculum and Instruction
AR, Pulaski, Little Rock: Chandra Nicole Williams-Davis, Master of Science in Education, Special Education K-12
AR, Pulaski, Little Rock: Eric Louis Sessions, Master of Science in Nursing, Nurse Anesthesia
AR, Pulaski, Little Rock: Teresa L. Thomas, Specialist in Education, Educational Leadership
AR, Pulaski, Little Rock: Lisa Terri Walker, Specialist in Education, Educational Leadership
AR, Pulaski, Little Rock: Andrekion Javon Hall, Associate of Arts, A.A. En Route
AR, Pulaski, Little Rock: Bryce Alexander Eckerd, Associate of Science, A.S. En Route
AR, Pulaski, Little Rock: Hayley Morgan Knapp, Associate of Science, A.S. En Route
AR, Pulaski, Little Rock: Madison Nicole Powell, Associate of Science, A.S. En Route
AR, Pulaski, Little Rock: Griffin Woodall, Associate of Science, A.S. En Route
AR, Pulaski, Little Rock: Edward Jarrod Finley, Bachelor of Arts, Criminology
AR, Pulaski, Little Rock: Sydney Marie Washington, Bachelor of Arts, Criminology
AR, Pulaski, Little Rock: Nicholas Craig Noel, Bachelor of General Studies, General Studies
AR, Pulaski, Little Rock: Ian Michael Bacic, Bachelor of Science, Wildlife, Fisheries and Conser, Magna Cum Laude
AR, Pulaski, Little Rock: Brooke Victoria Buckner, Bachelor of Science, Multimedia Journalism
AR, Pulaski, Little Rock: Skyy LaDawn Clark, Bachelor of Science, Interdisciplinary Studies
AR, Pulaski, Little Rock: John David B. Henry, Bachelor of Science, Accounting
AR, Pulaski, Little Rock: Sean Patrick Hightower, Bachelor of Science, Finance
AR, Pulaski, Little Rock: Amari D. James, Bachelor of Science, Business Administration
AR, Pulaski, Little Rock: Auriel Onrae McCoy, Bachelor of Science, Health Promotion
AR, Pulaski, Little Rock: Jessica Nicole Parr, Bachelor of Science, Chemistry
AR, Pulaski, Little Rock: Brandon Scott Porter, Bachelor of Science, Sport Management, Cum Laude
AR, Pulaski, Little Rock: Olivia Morse Rizzardi, Bachelor of Science, Strategic Communications
AR, Pulaski, Little Rock: Linnea Brittany Wall, Bachelor of Science, Environmental Science
AR, Pulaski, Little Rock: Brett Cooper, Bachelor of Science in Agriculture, Agricultural Business
AR, Pulaski, Little Rock: Joy Lynette Banks, Bachelor of Science in Nursing, Nursing
AR, Pulaski, Little Rock: Ardrianna Handy, Bachelor of Science in Nursing, Nursing
AR, Pulaski, Little Rock: Alexander James Lipe, Bachelor of Science in Nursing, Nursing
AR, Pulaski, Little Rock: Bianca Latrice Harris, Bachelor of Social Work, Social Work
AR, Pulaski, Little Rock: Mitchel Indiana Brown, Bachelor of Science in Education, Mid Level Education
AR, Pulaski, Little Rock: Carinna Kalker Coletti, Bachelor of Science in Education, Elementary Education, Magna Cum Laude, University Honors
AR, Pulaski, Little Rock: Kyle P. Walker, Bachelor of Science in Education, Social Science, Magna Cum Laude, University Honors
AR, Pulaski, Maumelle: John Spencer Beall, Certificate Program, Special Education Teacher
AR, Pulaski, Maumelle: Olivia Luallen, Master of Science in Education, Educational Leadership
AR, Pulaski, Maumelle: Anna Kathryn Wingfield, Master of Science in Education, Reading
AR, Pulaski, Maumelle: Ryan Daniel McCullough, Associate of Applied Science, Physical Therapist Assistant
AR, Pulaski, Maumelle: Mackenzie Elizabeth Whitehead, Associate of Science, A.S. En Route
AR, Pulaski, Maumelle: Dale Lyndsay Hindman, Bachelor of Fine Arts, Art
AR, Pulaski, Maumelle: Sean Michael Adams, Bachelor of Science, Sport Management, Cum Laude
AR, Pulaski, Maumelle: Alec R. Bishop, Bachelor of Science, Sport Management
AR, Pulaski, Maumelle: Andrew Allen Elmore, Bachelor of Science, Marketing, Cum Laude
AR, Pulaski, Maumelle: Hannah Jean Irvin, Bachelor of Science, Interdisciplinary Studies
AR, Pulaski, Maumelle: Eliza K. Richmond, Bachelor of Science, Management, Cum Laude
AR, Pulaski, Maumelle: Amanda Michele Strack, Bachelor of Science, Health Studies, Cum Laude
AR, Pulaski, Maumelle: Eric James Thessing, Bachelor of Science, Finance, Cum Laude
AR, Pulaski, Mayflower: Rachael Grace Honeycutt, Bachelor of Arts, Political Science
AR, Pulaski, North Little Rock: Ashley Lauren Blockburger, Doctor of Physical Therapy, Physical Therapy
AR, Pulaski, North Little Rock: Ryan Westley Craig, Master of Arts, Political Science
AR, Pulaski, North Little Rock: Raniqua D'onna Cantrell, Master of Public Administration, Public Administration
AR, Pulaski, North Little Rock: Kiah L. Hall, Master of Public Administration, Public Administration
AR, Pulaski, North Little Rock: Jovan Haynes, Master of Public Administration, Public Administration
AR, Pulaski, North Little Rock: Bradley J. Kilbury, Master of Science in Education, Educational Leadership
AR, Pulaski, North Little Rock: Dustin Vance Larison, Master of Science in Education, Educational Leadership
AR, Pulaski, North Little Rock: Dwight D. Kelly, Specialist in Education, Educational Leadership
AR, Pulaski, North Little Rock: Lindsey Rae Burris, Bachelor of Arts, Chemistry
AR, Pulaski, North Little Rock: Chrystal Brandice Combs, Bachelor of Arts, Criminology
AR, Pulaski, North Little Rock: Aaliyah M. Green, Bachelor of Arts, Chemistry
AR, Pulaski, North Little Rock: Pornpawee Pramethong, Bachelor of Arts, Communication Studies, Cum Laude
AR, Pulaski, North Little Rock: Hayley Anna Scott, Bachelor of Arts, Theatre, Cum Laude, Honors Program
AR, Pulaski, North Little Rock: Lindsey M. Womack, Bachelor of Arts, Communication Studies
AR, Pulaski, North Little Rock: Lindsey Rae Burris, Bachelor of Science, Biological Sciences
AR, Pulaski, North Little Rock: Cranston Derrick Murphy Sr., Bachelor of Science, Strategic Communications
AR, Pulaski, North Little Rock: Presley Grace Smith, Bachelor of Science, Computer and Information Tec
AR, Pulaski, North Little Rock: Aleeza Stephanie Alexandra van Geemen, Bachelor of Science, Health Studies
AR, Pulaski, North Little Rock: Taylor Simone Coulter, Bachelor of Social Work, Social Work
AR, Pulaski, Paron: Dalton Randall Boyles, Associate of Science, A.S. En Route
AR, Pulaski, Paron: Matthew Aaron McGhee, Bachelor of Science, Business Administration
AR, Pulaski, Roland: Jennifer Nicole Dillon, Master of Science in Nursing, Nurse Anesthesia
AR, Pulaski, Roland: Steven Gerald Holmquist, Bachelor of Arts, Communication Studies, Magna Cum Laude
AR, Pulaski, Sherwood: Alexis Rheinhardt, Master of Science in Education, Special Education K-12
AR, Pulaski, Sherwood: Sandra Dawn Sanders, Master of Science in Education, Reading
AR, Pulaski, Sherwood: Allison W. Smith, Master of Science in Education, Early Childhood Education
AR, Pulaski, Sherwood: Stephanie Nicholle Thompson, Specialist in Education, Reading
AR, Pulaski, Sherwood: Akeira Janee' Baker, Associate in General Studies, General Studies
AR, Pulaski, Sherwood: Tykia D. Robinson, Associate of Applied Science, Physical Therapist Assistant
AR, Pulaski, Sherwood: Christa Kai McLean, Associate of Arts, A.A. En Route
AR, Pulaski, Sherwood: Shuntoria Corae Shipman, Associate of Science, A.S. En Route
AR, Pulaski, Sherwood: Nicholas James Lukas, Associate of Science, A.S. En Route
AR, Pulaski, Sherwood: Timothy J. Hopson, Bachelor of Arts, Criminology
AR, Pulaski, Sherwood: Rebecca Lauren Johnson, Bachelor of Arts, English, Magna Cum Laude
AR, Pulaski, Sherwood: Hadleigh Jo'Ann Cahoone, Bachelor of Science, Business Administration
AR, Pulaski, Sherwood: DeShawn Antwoine Cooney, Bachelor of Science, Biological Sciences
AR, Pulaski, Sherwood: Michael Arthur Gates, Bachelor of Science, Biological Sciences
AR, Pulaski, Sherwood: Cassandra Alexis Heck, Bachelor of Science, Communication Disorders
AR, Pulaski, Sherwood: Kaci Renee Long, Bachelor of Science, Health Studies
AR, Pulaski, Sherwood: Mary Isabel Murry, Bachelor of Science, Psychology
AR, Pulaski, Sherwood: Aaron L. Tierney, Bachelor of Science, Disaster Preparedness and Emergency Management, Cum Laude
AR, Pulaski, Sherwood: Brianna Alyce Downing, Bachelor of Science in Nursing, Nursing
AR, Pulaski, Sherwood: Darla Grace Miller, Bachelor of Science in Nursing, Nursing
AR, Randolph, Maynard: Ashley Kincade, Associate of Arts, A.A. En Route
AR, Randolph, Maynard: Haley Jo Peoples, Associate of Arts, A.A. En Route
AR, Randolph, Pocahontas: Tanner Britt, Certificate Program, Addiction Studies
AR, Randolph, Pocahontas: Mark J. Blackwell, Master of Science in Education, Educational Leadership
AR, Randolph, Pocahontas: Chelsea Autumn Bennett, Master of Science in Nursing, Nursing
AR, Randolph, Pocahontas: Mily Maxine Haskiell, Master of Social Work, Social Work
AR, Randolph, Pocahontas: Tanner Britt, Master of Social Work, Social Work
AR, Randolph, Pocahontas: Meghan Christine Vandergriff, Specialist in Education, Psychology and Counseling
AR, Randolph, Pocahontas: Brandon Jacob Little, Associate of Arts, A.A. En Route
AR, Randolph, Pocahontas: Mallory Nicole Wilson, Associate of Science, A.S. En Route
AR, Randolph, Pocahontas: Amber Rose Harris, Bachelor of Arts, English, Magna Cum Laude
AR, Randolph, Pocahontas: Mykala Davida Smith, Bachelor of Fine Arts, Art, Cum Laude
AR, Randolph, Pocahontas: Baylee Mae Inman, Bachelor of Science, Psychology, Cum Laude
AR, Randolph, Pocahontas: Megan Jo Johnson, Bachelor of Science, Psychology
AR, Randolph, Pocahontas: Dagan McCluskey, Bachelor of Science, Creative Media Production
AR, Randolph, Pocahontas: Jane Grace Harris, Bachelor of Science in Agriculture, Animal Science
AR, Randolph, Pocahontas: Zachary Tyler Huffman, Bachelor of Science in Agriculture, Agricultural Business
AR, Randolph, Pocahontas: Kristina Lee Tretenburg, Bachelor of Science in Agriculture, Animal Science
AR, Randolph, Pocahontas: Jared Wren, Bachelor of Science in Agriculture, Plant and Soil Science
AR, Randolph, Pocahontas: Meredith Pearl Pipkin, Bachelor of Science in Nursing, Nursing, Cum Laude
AR, Randolph, Pocahontas: Jessica Carol Woods, Bachelor of Science in Nursing, Nursing
AR, Randolph, Pocahontas: Sydney Nicole Palmer, Bachelor of Science in Education, Special Education
AR, Randolph, Warm Springs: Dharma Lee Blackwell, Bachelor of Science in Nursing, Nursing, Cum Laude
AR, Saint Francis, Colt: Andrew Cameron Coleman, Bachelor of Music Education, Instrumental Music
AR, Saint Francis, Colt: Kayle Brooke Myers, Bachelor of Science, Communication Disorders, Magna Cum Laude
AR, Saint Francis, Forrest City: Eleanor Mae Fondren, Certificate Program, Addiction Studies
AR, Saint Francis, Forrest City: Kimi L. Mason, Master of Public Administration, Public Administration
AR, Saint Francis, Forrest City: Michael Joe Bean Jr., Master of Science, College Student Personnel Services
AR, Saint Francis, Forrest City: Kerri L. Gray, Master of Science in Education, Reading
AR, Saint Francis, Forrest City: Eleanor Mae Fondren, Master of Social Work, Social Work
AR, Saint Francis, Forrest City: Shannon Shenel Williams, Specialist in Education, Educational Leadership
AR, Saint Francis, Forrest City: Kylie Danielle Huckaba, Associate of Science, A.S. En Route
AR, Saint Francis, Forrest City: Mahasan Marie Guyton, Bachelor of Arts, Sociology
AR, Saint Francis, Forrest City: Adam Arrington Hoy, Bachelor of Arts, English
AR, Saint Francis, Forrest City: Evetta F. Whitby, Bachelor of Arts, Criminology
AR, Saint Francis, Forrest City: Pearlie White, Bachelor of Arts, Criminology
AR, Saint Francis, Forrest City: Kenya Renee Hamlin, Bachelor of General Studies, General Studies
AR, Saint Francis, Forrest City: Roth Puthea In, Bachelor of Science, Computer Science, Cum Laude
AR, Saint Francis, Forrest City: Jeffrey Tyler Ratton, Bachelor of Science, Computer Science
AR, Saint Francis, Forrest City: Zachary R. Stevens, Bachelor of Science, Clinical Laboratory Science
AR, Saint Francis, Forrest City: Richard Temple III, Bachelor of Science in Education, Physical Education
AR, Saint Francis, Goodwin: Dominique Nicole Weaver-Burgess, Bachelor of Science in Nursing, Nursing
AR, Saint Francis, Heth: Kimberly Diane Small, Associate of Science, A.S. En Route
AR, Saint Francis, Heth: LaToya Michelle Small, Bachelor of Arts, Criminology
AR, Saint Francis, Heth: Joy Maxine Springhart, Bachelor of Science in Education, Elementary Education, Magna Cum Laude
AR, Saint Francis, Hughes: Lloyd Austin Thomas, Bachelor of Arts, Computer Science
AR, Saint Francis, Palestine: Terri Jo Knowlton, Master of Science in Education, Educational Leadership
AR, Saint Francis, Wheatley: Alyssa Caroline Foster, Bachelor of Science in Education, Elementary Education
AR, Saline, Alexander: Spencer Edward Adami, Master of Arts, English
AR, Saline, Alexander: Richard Rishaad Wrightner, Master of Science in Education, Educational Leadership
AR, Saline, Alexander: Sharat Perumpallil Sasi, Master of Science in Nursing, Nurse Anesthesia
AR, Saline, Alexander: Victoria Shawn Carter, Specialist in Education, Educational Leadership
AR, Saline, Alexander: Jadyn Denae' Lewis, Associate of Science, A.S. En Route
AR, Saline, Alexander: Zoey Grace Smith, Bachelor of Arts, Communication Studies, Magna Cum Laude, Honors Program
AR, Saline, Alexander: Laney Brooke Gilliam, Bachelor of Fine Arts, Graphic Design
AR, Saline, Alexander: Zachary A. Jackson, Bachelor of General Studies, General Studies
AR, Saline, Alexander: Marlicia Treophia Black, Bachelor of Science, Clinical Laboratory Science
AR, Saline, Alexander: Blake Hayden Carnahan, Bachelor of Science, Marketing, Magna Cum Laude, University Honors
AR, Saline, Alexander: Drew Warren Carnahan, Bachelor of Science, Finance, Magna Cum Laude, University Honors
AR, Saline, Alexander: Kara Virginia Moser, Bachelor of Science, Communication Disorders
AR, Saline, Alexander: Jaret W. Jacobs, Bachelor of Science in Agriculture, Agricultural Business
AR, Saline, Alexander: Lauren Marie Hart, Bachelor of Science in Nursing, Nursing, Cum Laude
AR, Saline, Alexander: Hannah Mae Shelby, Bachelor of Science in Education, English, Magna Cum Laude, Honors Program
AR, Saline, Benton: Janelle Smith, Certificate Program, Special Education Teacher
AR, Saline, Benton: Cassandra Maureen Beaumont, Master of Science in Nursing, Nurse Anesthesia
AR, Saline, Benton: Jenna Marie Hutchins, Master of Science in Nursing, Nurse Anesthesia
AR, Saline, Benton: Caleb C. Tolbert, Master of Science in Nursing, Nurse Anesthesia
AR, Saline, Benton: Matthew K. Baxley, Specialist in Education, Educational Leadership
AR, Saline, Benton: Sarah E. Morphis, Specialist in Education, Educational Leadership
AR, Saline, Benton: Charlotte Ann Pounders, Specialist in Education, Educational Leadership
AR, Saline, Benton: Kaitlyn Alexandra Meister, Associate of Arts, A.A. En Route
AR, Saline, Benton: Abigail Rose Barlow, Associate of Science, A.S. En Route
AR, Saline, Benton: Samuel Patrick Bell, Bachelor of Arts, Economics, Cum Laude, Honors Program
AR, Saline, Benton: Samantha Donnae' Hostetler, Bachelor of Arts, History
AR, Saline, Benton: Bryce Lawson Jefferson, Bachelor of Arts, Economics, Magna Cum Laude
AR, Saline, Benton: Jake W. Scoggins, Bachelor of Arts, Criminology
AR, Saline, Benton: Taylor R. Capel, Bachelor of General Studies, General Studies
AR, Saline, Benton: Jack T. Jumper, Bachelor of General Studies, General Studies
AR, Saline, Benton: Madalyn M. Toler, Bachelor of General Studies, General Studies
AR, Saline, Benton: Gracen Elizabeth Caddy, Bachelor of Science, Marketing
AR, Saline, Benton: Kynlee B. Cunningham, Bachelor of Science, Psychology, Magna Cum Laude, Honors Program
AR, Saline, Benton: Shadeanna Desir'ea Gatlin, Bachelor of Science, Mathematics
AR, Saline, Benton: Sydney Jones, Bachelor of Science, Health Studies
AR, Saline, Benton: Chase H. Nix, Bachelor of Science, Finance
AR, Saline, Benton: Paige Elizabeth Willett, Bachelor of Science, Biological Sciences, Cum Laude, Honors Program
AR, Saline, Benton: Jared Barker, Bachelor of Science in Nursing, Nursing
AR, Saline, Benton: Claire Marie Gilbow, Bachelor of Science in Nursing, Nursing, Cum Laude, Honors Program
AR, Saline, Benton: Nikki L. LaSage, Bachelor of Science in Nursing, Nursing, Cum Laude, Honors Program
AR, Saline, Benton: Edye K. Portwood, Bachelor of Science in Nursing, Nursing
AR, Saline, Benton: Adrienne R. Lasage, Bachelor of Science in Education, English, Magna Cum Laude
AR, Saline, Benton: Samantha Donnae' Hostetler, Certificate of Proficiency, Digital Humanities
AR, Saline, Bryant: Heather Tacy Siobhan Bentley, Master of Science in Education, Early Childhood Education
AR, Saline, Bryant: Leslie Ann Manchester, Specialist in Education, Educational Leadership
AR, Saline, Bryant: William R. Prescott, Specialist in Education, Educational Leadership
AR, Saline, Bryant: Melissa Michelle Reeves, Specialist in Education, Educational Leadership
AR, Saline, Bryant: Austin Perry Hampton, Associate of Science, A.S. En Route
AR, Saline, Bryant: Jamie Renee Cheek, Bachelor of Science, Exercise Science, Magna Cum Laude, University Honors
AR, Saline, Bryant: Kinley Davenport, Bachelor of Science, Environmental Science, Cum Laude, University Honors
AR, Saline, Bryant: Kaelob Miles Lee, Bachelor of Science, Health Studies
AR, Saline, Bryant: Kendall Jelyn Selig, Bachelor of Science in Nursing, Nursing
AR, Saline, Bryant: Emily Ruth Buck, Bachelor of Social Work, Social Work
AR, Saline, Hensley: Ellie Jo Mayberry, Associate of Science, A.S. En Route
AR, Saline, Hensley: Kendall Alayne Lucas, Bachelor of Science, Health Studies, Cum Laude, Honors Program
AR, Saline, Hensley: Calvin Douglas Tackett, Bachelor of Science, Accounting
AR, Saline, Hensley: Robyn D Reed, Bachelor of Science in Nursing, Nursing, Cum Laude
AR, Saline, Little Rock: Kaci M. Squires, Bachelor of Science in Agriculture, Animal Science, Summa Cum Laude
AR, Saline, Mabelvale: Skylar Kaylee Davis, Bachelor of Science, Exercise Science, Magna Cum Laude, Honors Program
AR, Saline, Mabelvale: Sarah Nichole Hutchinson, Bachelor of Science, Psychology
AR, Saline, Mabelvale: Abbey Sue Bradbury, Bachelor of Science in Nursing, Nursing
AR, Saline, Mabelvale: Jacob T. Nanthalangsy, Bachelor of Science in Nursing, Nursing
AR, Saline, Mabelvale: John Collin Norris, Bachelor of Science in Education, English
AR, Scott, Waldron: Julie May Woodral, Master of Science in Education, Special Ed GTC
AR, Scott, Waldron: Zachary Allen Hale, Bachelor of Social Work, Social Work, Cum Laude
AR, Searcy, Leslie: Caitlin B. Carter, Bachelor of Science in Nursing, Nursing
AR, Searcy, Marshall: Jaden Nicole Johns, Bachelor of Arts, Sociology, Magna Cum Laude
AR, Searcy, Marshall: Crystal M. Smith, Bachelor of Arts, Sociology
AR, Sebastian, Barling: Courtney A. Burdick, Master of Science in Education, Educational Leadership
AR, Sebastian, Fort Smith: Giavanna Marie Berklund, Associate of Science, A.S. En Route
AR, Sebastian, Fort Smith: Abigail Marie Barr, Bachelor of Arts, Political Science, Cum Laude, Honors Program
AR, Sebastian, Fort Smith: Hayle LaShae Bluebird-Burnett, Bachelor of Science in Education, English, Magna Cum Laude
AR, Sebastian, Greenwood: Lillian Rachelle Watkins, Certificate Program, Special Education Teacher
AR, Sebastian, Greenwood: Teresa Kay Beam, Master of Science in Education, Early Childhood Education
AR, Sebastian, Greenwood: Ashley Richey, Master of Science in Education, Educational Leadership
AR, Sebastian, Greenwood: Hayley Nicole Wilkinson, Associate of Science, A.S. En Route
AR, Sebastian, Huntington: Megan Lawrence, Master of Science in Education, Reading
AR, Sebastian, Lavaca: Kendra Michelle Coughran, Bachelor of General Studies, General Studies
AR, Sebastian, Mansfield: Meghan Danielle Estep, Master of Science in Education, Educational Leadership
AR, Sevier, De Queen: Justin M Brophy, Master of Science in Education, Educational Leadership
AR, Sharp, Ash Flat: Marly Leandra Russell, Associate of Applied Science, Physical Therapist Assistant
AR, Sharp, Cave City: Randi Michele Wright, Doctor of Nursing Practice, Nursing Practice
AR, Sharp, Cave City: Michael D. Robinson, Associate of Arts, A.A. En Route
AR, Sharp, Cave City: Savannah H. Williams, Bachelor of Science, Psychology, Cum Laude
AR, Sharp, Cave City: Hannah Grace Cunningham, Bachelor of Science in Education, Mid Level Education, Summa Cum Laude
AR, Sharp, Cherokee Village: Patrick Alexander Roberto, Master of Science, Biology
AR, Sharp, Cherokee Village: Richard A. Wulff, Master of Science in Education, Educational Leadership
AR, Sharp, Cherokee Village: Dawn Marie Trivitt, Specialist in Education, Educational Leadership
AR, Sharp, Cherokee Village: Hope Searles, Associate of Arts, A.A. En Route
AR, Sharp, Evening Shade: Shelby Grace Hopkins, Bachelor of Science in Nursing, Nursing, Cum Laude
AR, Sharp, Hardy: Emily Marie Evans, Associate of Science, A.S. En Route
AR, Sharp, Hardy: Isabella Noelle Gordon, Bachelor of Science, Psychology
AR, Stone, Mountain View: Jessika Lavonne Gammill, Master of Science in Education, Educational Leadership
AR, Stone, Mountain View: Jason W. Long, Bachelor of General Studies, General Studies
AR, Union, El Dorado: Kelsie N. Crawford, Master of Science in Education, Educational Leadership
AR, Union, El Dorado: Candace L. Hassinger, Bachelor of Science, Business Administration
AR, Union, El Dorado: Jordan Neely McVay, Bachelor of Science, Disaster Preparedness and Emergency Management, Magna Cum Laude
AR, Union, Lawson: Callie Shea Caldwell, Master of Science in Education, Special Ed GTC
AR, Van Buren, Clinton: Robin E. Huggins, Certificate Program, Special Education Teacher
AR, Washington, Elkins: Angela Mae Hutson, Specialist in Education, Educational Leadership
AR, Washington, Farmington: Kristin Wagoner Macedo, Master of Science in Education, Early Childhood Education
AR, Washington, Farmington: Kimberly Gail Runnels, Bachelor of Arts, Chemistry
AR, Washington, Fayetteville: Travis Lane Vance, Certificate Program, Special Education Teacher
AR, Washington, Fayetteville: Sarah Applegate Williamson, Certificate Program, Building-Level Administration
AR, Washington, Fayetteville: Sharon Janetta Busteed, Master of Science in Education, Educational Leadership
AR, Washington, Fayetteville: Patricia Cairel Poore, Master of Science in Education, Education Theory and Practice
AR, Washington, Fayetteville: Braxton Kane McGhee, Bachelor of Arts, Criminology
AR, Washington, Fayetteville: Spencer Howard Boudrey, Bachelor of General Studies, General Studies
AR, Washington, Fayetteville: Courtney Christine Schaal, Bachelor of Science, Strategic Communications
AR, Washington, Fayetteville: Colby A. Sigears, Bachelor of Science, Multimedia Journalism
AR, Washington, Prairie Grove: Ashley Howard, Certificate Program, Building-Level Administration
AR, Washington, Prairie Grove: Shannon Marie Chase, Bachelor of Arts, Sociology
AR, Washington, Prairie Grove: Torrey Ellis Erbes, Bachelor of Science, Disaster Preparedness and Emergency Management
AR, Washington, Springdale: Terri Annette Mackey, Master of Science in Education, Reading
AR, Washington, Springdale: Shelly Bewley, Specialist in Education, Educational Leadership
AR, Washington, Springdale: Sarah Jane Jewell, Specialist in Education, Educational Leadership
AR, Washington, Springdale: Genevieve C. Lyons, Specialist in Education, Reading
AR, Washington, Springdale: Catherine Peters, Specialist in Education, Educational Leadership
AR, Washington, Springdale: Patrick Anthony Scott, Specialist in Education, Educational Leadership
AR, Washington, Springdale: Hannah Elizabeth Davis, Bachelor of Science, Sport Management
AR, Washington, Tontitown: Rebecca Susanne Green, Certificate Program, Special Education Teacher
AR, White, Bald Knob: Madison Elizabeth Watson, Bachelor of Science, Communication Disorders
AR, White, Bald Knob: Katelyn M. Rutherford, Bachelor of Science in Education, Mid Level Education
AR, White, Beebe: Lauren Faith Gunter, Master of Science in Education, Educational Leadership
AR, White, Beebe: Lindsay Beacham, Master of Science in Nursing, Nursing
AR, White, Beebe: Brooke Ashley Grant, Specialist in Education, Educational Leadership
AR, White, Beebe: Tyler Deshaun Long, Associate of Arts, A.A. En Route
AR, White, Beebe: Taylor Hope McGraw, Bachelor of Science, Communication Disorders, Summa Cum Laude, Honors Program
AR, White, Beebe: Alfonso Mares Ramirez, Bachelor of Science, Computer and Information Tec
AR, White, Beebe: Jarrod Haden Rogers, Bachelor of Science, Interdisciplinary Studies, Magna Cum Laude, Honors Program
AR, White, Beebe: Stephine M. Swiney, Bachelor of Science, Accounting
AR, White, Beebe: Brooke LeAnn Jackson, Bachelor of Science in Education, Elementary Education
AR, White, Bradford: Jeia R. Cowell, Associate of Applied Science, Physical Therapist Assistant
AR, White, El Paso: Tiffany V Ray, Bachelor of Science in Nursing, Nursing
AR, White, El Paso: Ryan Harrell Lewis, Bachelor of Science in Education, Elementary Education, Magna Cum Laude
AR, White, Judsonia: Griffin Taylor Dunn, Bachelor of Science, Business Administration, Cum Laude
AR, White, Judsonia: Cassidie B. Lowe, Bachelor of Science, Accounting
AR, White, Judsonia: Madison Nicole Chandler, Bachelor of Social Work, Social Work
AR, White, Judsonia: Megan Leigh Sherman, Bachelor of Science in Education, Elementary Education
AR, White, McRae: Donald H. Smith, Bachelor of Science in Nursing, Nursing
AR, White, Pangburn: Rebecca Ann Jackson, Master of Science in Education, Reading
AR, White, Pangburn: Easten Dillard Vernon, Master of Science in Education, Educational Leadership
AR, White, Rose Bud: Matthew J. Bane, Bachelor of Arts, Sociology
AR, White, Rose Bud: Noah A. White, Bachelor of Arts, Criminology
AR, White, Searcy: Tanya Diane Webb, Certificate Program, Addiction Studies
AR, White, Searcy: Harold David Niederbrach, Master of Music, Music Performance
AR, White, Searcy: Emily Katlyn Johnson, Master of Science, Psychological Science
AR, White, Searcy: Aaron Lewis Wallace, Master of Science in Education, Educational Leadership
AR, White, Searcy: Mistie D. Vannatter, Master of Science in Nursing, Nursing
AR, White, Searcy: Tanya Diane Webb, Master of Social Work, Social Work
AR, White, Searcy: Madison Elizabeth Futrell, Specialist in Education, Psychology and Counseling
AR, White, Searcy: Andrew J. Sills, Specialist in Education, Educational Leadership
AR, White, Searcy: Grace Elizabeth Quillen, Associate of Arts, A.A. En Route
AR, White, Searcy: Henry Han Nguyen, Associate of Science, A.S. En Route
AR, White, Searcy: Allison Paige Shipman, Associate of Science, A.S. En Route
AR, White, Searcy: Ashley Elizabeth Brooks, Bachelor of Arts, Criminology
AR, White, Searcy: Brandi D. Iglehart, Bachelor of Arts, Criminology, Cum Laude
AR, White, Searcy: Ashley Ryan Roark, Bachelor of Arts, Criminology
AR, White, Searcy: Sydney Takeya Baker, Bachelor of Science, Health Studies
AR, White, Searcy: Clara A. Canter, Bachelor of Science, Health Studies, Magna Cum Laude
AR, White, Searcy: William Lee Chambers, Bachelor of Science, Wildlife, Fisheries and Conser
AR, White, Searcy: Ethan Ferren, Bachelor of Science, Creative Media Production
AR, White, Searcy: Sutton E. Gadberry, Bachelor of Science, Finance, Magna Cum Laude
AR, White, Searcy: Abby McKinley Heidelberg, Bachelor of Science, Communication Disorders
AR, White, Searcy: Zachary K. Powell, Bachelor of Science, Finance
AR, White, Searcy: Stephan Connor Puszewski, Bachelor of Science, Accounting
AR, White, Searcy: Alexandria E. Skouras, Bachelor of Science, Communication Disorders, Cum Laude
AR, White, Searcy: Austin B. Sutton, Bachelor of Science, Management
AR, White, Searcy: River Adelle Watson, Bachelor of Science, Wildlife, Fisheries and Conser
AR, White, Searcy: Preston Thomas Spencer, Bachelor of Science in Mechanical Engineering, Mechanical Engineering
AR, White, Searcy: Keressa L. Campbell, Bachelor of Science in Nursing, Nursing
AR, White, Searcy: Dayshanea Tiana-Lee Armstrong, Bachelor of Social Work, Social Work
AR, White, Searcy: Delaney Elizabeth Daniel, Bachelor of Science in Education, Special Education, Magna Cum Laude
AR, White, Searcy: Lindsey Michelle Haller, Bachelor of Science in Education, Elementary Education, Cum Laude
AR, White, Searcy: Brandi J. Holloman, Bachelor of Science in Education, Elementary Education
AR, White, Searcy: Jessica Leigh Murphy, Bachelor of Science in Education, Elementary Education
AR, White, Searcy: Kaylee N. Tharp, Bachelor of Science in Education, Mid Level Education, Magna Cum Laude
AR, Woodruff, Augusta: Wade R. McCabe, Bachelor of Science, Business Administration
AR, Woodruff, Augusta: Kasey Gabriella Orellana, Bachelor of Science in Education, Elementary Education
AR, Woodruff, McCrory: Dallas Renee Holland, Bachelor of Arts, Criminology
AR, Woodruff, McCrory: Charlie Nichole Johns, Bachelor of Fine Arts, Art
AR, Yell, Dardanelle: Dalton M. Craig, Doctor of Physical Therapy, Physical Therapy
Arizona
AZ, Graham, Thatcher: Richard Lloyd Woods, Master of Public Administration, Public Administration
AZ, Maricopa, Chandler: Courtney Noelle Moss, Master of Science in Education, Educational Leadership
AZ, Maricopa, Mesa: Lauren Ashley Whitby, Master of Public Administration, Public Administration
AZ, Maricopa, Peoria: Keith Jeremy Papsin, Master of Business Administration, Business Administration
AZ, Maricopa, Scottsdale: Lori Robinson, Specialist in Education, Educational Leadership
California
CA, Los Angeles, Burbank: Brian James Weden, Master Engineering Management, Engineering Management
CA, Los Angeles, Glendale: Yurik Mnatsakanyan, Master of Public Administration, Public Administration
CA, Los Angeles, Whittier: Elizabeth Tatiana Ortiz, Master of Science, Early Childhood Services
CA, Madera, Madera: Freddie Ronnie Yancy III, Master of Public Administration, Public Administration
CA, Mendocino, Redwood Valley: Jonathon Patrick Dewey, Specialist in Education, Educational Leadership
CA, Monterey, Salinas: Karissa Marie Lopez, Master of Public Administration, Public Administration
CA, Sacramento, Elk Grove: Abdullah Naji Al Mefleh, Master of Business Administration, Business Administration
CA, San Mateo, San Mateo: Sosefo Tukua Avana'a Ahoia, Bachelor of Science, Sport Management
CA, Santa Clara, Milpitas: Jennifer J. Ramirez, Master of Public Administration, Public Administration
CA, Solano, Rio Vista: Marissa Ann Medders, Master of Public Administration, Public Administration
CA, Ventura, Ventura: James Trenton Basta, Master of Science, Sport Administration
Colorado
CO, Arapahoe, Centennial: Amy Stewart Brownlee, Master of Science in Education, Reading
CO, Denver, Denver: Brooke Michelle Hiller, Master of Public Administration, Public Administration
CO, Denver, Denver: Alise Marie Farrell, Master of Science in Education, Reading
CO, El Paso, Colorado Springs: Nathaniel Heath, Master of Science, Sport Administration
CO, El Paso, Colorado Springs: Ariana Marie Banks Hall, Master of Science in Education, Special Ed GTC
CO, Jefferson, Lakewood: Taylor Ann Cook, Master of Business Administration, Business Administration
CO, Mesa, Grand Junction: Kristen June Seiff, Master of Science in Education, Reading
Connecticut
CT, New Haven, Bethany: Alyssa Marie Pereira, Master of Science, College Student Personnel Services
CT, New Haven, Bethany: Nicole J. Velardi, Master of Science, Disaster Preparedness and Emergency Management
CT, New Haven, Hamden: Michael Francis Migliore, Master of Science in Education, Curriculum and Instruction
CT, New Haven, Southbury: Susan M. Yammine, Specialist in Education, Educational Leadership
CT, New Haven, West Haven: Michael John Golinski, Master of Science in Education, Educational Leadership
Florida
FL, Alachua, Gainesville: Tami Suzanne Hixon, Master of Science, Early Childhood Services
FL, Brevard, Merritt Island: Brock Edmund Roper, Bachelor of Science, Business Administration
FL, Escambia, Century: Joshua Blake McCall, Bachelor of General Studies, General Studies
FL, Hillsborough, Lithia: Hayden Christopher Harkins, Master of Science, Sport Administration
FL, Lee, Cape Coral: Dana Lin Christopher, Master of Science in Education, Educational Leadership
FL, Miami-Dade, Hialeah: Sarah Elisabeth Rodriguez, Master of Science, Sport Administration
FL, Pinellas, Clearwater: Alan Maurice Lewis, Master of Science in Education, Educational Leadership
FL, Putnam, Palatka: Eron Michael Carter, Bachelor of Science, Accounting
Georgia
GA, Bartow, Cartersville: Melissa Renee Bates, Specialist in Education, Educational Leadership
GA, Catoosa, Ringgold: Stacy L. Dunfee, Master of Science in Education, Special Ed GTC
GA, Dekalb, Stone Mountain: David Anthony Villaroel, Bachelor of Arts, Political Science
GA, Effingham, Guyton: Samantha Eva Ott, Master of Science in Education, Early Childhood Education
GA, Effingham, Guyton: Blake H. Raley, Specialist in Education, Educational Leadership
GA, Fulton, Atlanta: Amir DaSean Howard, Bachelor of Arts, Communication Studies
GA, Gwinnett, Braselton: Brandon Paul Bowling, Bachelor of Science, Sport Management
GA, Gwinnett, Lilburn: Mia Andresa Marshall, Master of Science, Sport Administration
GA, Montgomery, Ailey: Julie Sasser Caraballo, Master of Science in Education, Special Ed GTC
GA, Murray, Chatsworth: Annabelle Céline McKie-Voerste, Doctor of Philosophy, Environmental Sciences
GA, Thomas, Thomasville: Rhea Duncan Brashear, Master of Science, Early Childhood Services
Hawaii
HI, Honolulu, Honolulu: Dominic Edward Drury, Master of Science, Sport Administration
HI, Honolulu, Honolulu: David Clarke Saunders, Bachelor of Arts, Criminology, Cum Laude
Iowa
IA, Polk, West Des Moines: Emily Joleen Mason, Master of Science, Early Childhood Services
Illinois
IL, Adams, Payson: Ryan J. Terstriep, Doctor of Physical Therapy, Physical Therapy
IL, Cook, Chicago: Brian Dodge, Master of Science, Sport Administration
IL, Cook, Orland Park: Michelle Sarna, Doctor of Physical Therapy, Physical Therapy
IL, Henry, Colona: Monica Christine Lieving, Bachelor of Science, Global Supply Chain Management, Magna Cum Laude
IL, McLean, Bloomington: Dawn LeeAnne Berry, Master of Science, College Student Personnel Services
IL, McLean, Bloomington: David Joseph Sutton, Master of Science, Media Management
IL, Monroe, Columbia: Kaitlyn Marie Gleason, Bachelor of Science, Accounting
IL, Saint Clair, O Fallon: Brennan Kyle Koester, Master of Science, Sport Administration
IL, Williamson, Marion: Jenna Elizabeth Herbst, Master of Science in Education, Curriculum and Instruction
IL, Williamson, Marion: Nikolas B. Fort, Bachelor of Science, Disaster Preparedness and Emergency Management
IL, Williamson, Marion: Madison Jo Shoukletovich, Bachelor of Science in Education, Elementary Education, Magna Cum Laude
Indiana
IN, Hamilton, Noblesville: Susan N. Carlson, Master of Science, Early Childhood Services
IN, Johnson, Franklin: Anthony M. Harris, Master of Science, Sport Administration
IN, Vanderburgh, Evansville: Corey Michael Sanners, Master of Science, Sport Administration
Kansas
KS, Sedgwick, Wichita: Dylan Matthew Biedron, Master of Science, Sport Administration
KS, Sedgwick, Wichita: Trevor Louis Biedron, Master of Science, Sport Administration
KS, Sedgwick, Wichita: Jacob J. Karst, Bachelor of General Studies, General Studies
KS, Sedgwick, Wichita: Jodi D. Waters, Bachelor of Social Work, Social Work
KS, Shawnee, Topeka: Kaylianne Mychele Weber, Master of Science, College Student Personnel Services
Kentucky
KY, Jefferson, Louisville: Robert Andrew Stephens, Master of Science, Media Management
Louisiana
LA, Ascension, Gonzales: Elaine Cherie Tidwell, Master of Science in Education, Educational Leadership
LA, Bossier, Bossier City: Pamela Chenier, Master of Science, Early Childhood Services
LA, Calcasieu, Lake Charles: Allison Maria Fields, Master of Science in Education, Educational Leadership
LA, East Baton Rouge, Baton Rouge: Benjamin Christopher Morgan, Master of Science, Sport Administration
LA, East Baton Rouge, Baton Rouge: William David Robicheaux, Master of Science in Education, Curriculum and Instruction
LA, Lafayette, Broussard: Dylan Paul DeRouen, Master of Arts, Biological Sciences
LA, Lafayette, Lafayette: Rollan Levi Moore, Specialist in Education, Reading
LA, Lincoln, Ruston: Dustin Lamar Serpas, Master of Science in Education, Educational Leadership
LA, Orleans, New Orleans: Samantha Leigh Cawyer, Doctor of Physical Therapy, Physical Therapy
LA, Orleans, New Orleans: Harmony Collette Baston, Master of Public Administration, Public Administration
LA, Orleans, New Orleans: Keldresha Shanice Simmons, Master of Public Administration, Public Administration
LA, Ouachita, Monroe: Tyler Blu Jackson-Brown, Bachelor of Science, Wildlife, Fisheries and Conser
LA, Rapides, Pineville: Jonathan Paul Landry, Master of Science in Education, Educational Leadership
LA, Sabine, Pleasant Hill: Patrick Lamar Boudreaux, Master of Science in Education, Educational Leadership
LA, Saint Tammany, Mandeville: Joshua Elliot Chausse, Master of Science in Education, Educational Leadership
LA, Tangipahoa, Kentwood: Kathryn Fussell Splane, Master of Science in Education, Reading
LA, Winn, Winnfield: Michelle Sharee Poisso, Master of Science in Education, Special Education K-12
Massachusetts
MA, Bristol, Taunton: Julie LeClair, Master of Science, College Student Personnel Services
MA, Plymouth, Wareham: Marissa Smith, Master of Science, Sport Administration
MA, Suffolk, Chelsea: Jennifer Leanne Cook, Bachelor of Science in Nursing, Nursing
Maryland
MD, Baltimore, Middle River: Darin Lamar Newson, Master of Public Administration, Public Administration
MD, Baltimore, White Hall: Bryan Knatz, Master of Science, Disaster Preparedness and Emergency Management
MD, Montgomery, North Bethesda: Check Rivara Seidnaly, Associate of Science, A.S. En Route
MD, Montgomery, Silver Spring: Lucas Lichtenberg, Master of Science, Sport Administration
MD, Montgomery, Silver Spring: Stefania Rubino, Master of Science, Early Childhood Services
Michigan
MI, Genesee, Flushing: Travis Ford Klooster, Master of Science in Education, Curriculum and Instruction
MI, Genesee, Linden: Stephen Thomas Ballew, Specialist in Education, Educational Leadership
MI, Kalamazoo, Schoolcraft: Hannah Danielle Johnson, Master of Public Administration, Public Administration
MI, Macomb, Macomb: Michelle Colleen King, Master of Science in Education, Educational Leadership
MI, Macomb, Macomb: Alyssa Emily Young, Master of Science in Education, Educational Leadership
MI, Macomb, Saint Clair Shores: Annette Eusebia Kominiarek, Master of Science in Education, Education Theory and Practice
MI, Midland, Shepherd: Emily C. Haelterman, Master of Science in Education, Early Childhood Education
MI, Oakland, Clarkston: Lauren Carlini, Master of Science in Education, Reading
MI, Oakland, Highland: Cheyenne Jane Chapman, Master of Science, College Student Personnel Services
MI, Oakland, Rochester: John Robert Kelley, Specialist in Education, Educational Leadership
MI, Oakland, Royal Oak: Nicholas Frank Cosenza, Master of Public Administration, Public Administration
MI, Wayne, Belleville: Paige Breanna Hughes, Bachelor of Science in Nursing, Nursing
MI, Wayne, Westland: Julia Marie Huren, Bachelor of Science, Global Supply Chain Management
Minnesota
MN, Hennepin, Minneapolis: Cody Sean Erickson, Master of Science, Sport Administration
MN, Hennepin, Minneapolis: Robert Taylor Howell, Master of Science, Sport Administration
MN, Rice, Northfield: Aletha Rose Duchene, Specialist in Education, Reading
Missouri
MO, Andrew, Amazonia: Brooke Ashley Lehman, Master of Science in Education, Educational Leadership
MO, Andrew, Saint Joseph: Angela Renee Bush, Master of Science in Education, Reading
MO, Butler, Poplar Bluff: Christopher B. White, Doctor of Education, Educational Leadership
MO, Butler, Poplar Bluff: Hilary Honda Taylor, Master of Science in Education, Special Ed GTC
MO, Butler, Poplar Bluff: Steven A. Moore, Bachelor of Applied Science, Applied Science
MO, Butler, Poplar Bluff: Joy Lenora Pelton, Bachelor of Fine Arts, Graphic Design
MO, Butler, Poplar Bluff: Brittany Ariel Walker, Bachelor of General Studies, General Studies
MO, Butler, Poplar Bluff: Bailey Michael Alford, Bachelor of Science, Accounting, Magna Cum Laude
MO, Butler, Poplar Bluff: Emily Claire Hoyt, Bachelor of Science, Health Studies
MO, Butler, Poplar Bluff: Brody Modglin, Bachelor of Science, Computer Science
MO, Butler, Poplar Bluff: Emily M. Popp, Bachelor of Science, Communication Disorders, Magna Cum Laude
MO, Butler, Qulin: Dakota Cain Adams, Bachelor of Science, Finance
MO, Butler, Qulin: Brayden Matthew Sentell, Bachelor of Science in Civil Engineering, Civil Engineering
MO, Callaway, Fulton: Jenna Laurel Ann Brown, Master of Science in Education, Educational Leadership
MO, Camden, Lake Ozark: David Dawson, Specialist in Education, Educational Leadership
MO, Cape Girardeau, Altenburg: Laura Ann Mueller, Associate of Arts, A.A. En Route
MO, Cape Girardeau, Cape Girardeau: Shelby Suzann Powers, Bachelor of Science, Mathematics, Cum Laude, Honors Program
MO, Cape Girardeau, Cape Girardeau: Hunter Joseph Kelpe, Bachelor of Science in Agriculture, Agricultural Business
MO, Cape Girardeau, Cape Girardeau: Hattie Shea Madsen, Bachelor of Science in Education, Elementary Education, Cum Laude
MO, Cape Girardeau, Jackson: Olivia Nicole Leible, Associate of Applied Science, Physical Therapist Assistant
MO, Cape Girardeau, Jackson: Molly Claire Parker, Associate of Science, A.S. En Route
MO, Cape Girardeau, Jackson: Macie Raye Borgfield, Bachelor of Science, Health Studies
MO, Carter, Ellsinore: Tiffany Raquel Persons, Master of Science in Nursing, Nursing
MO, Cass, Raymore: Rachel Nicole Henderson, Master of Science in Education, Special Ed GTC
MO, Cass, Raymore: Zachary Thomas Brady, Specialist in Education, Educational Leadership
MO, Cass, Raymore: Heather Nicole Hopkins, Specialist in Education, Educational Leadership
MO, Christian, Clever: Kerri Ann Wenger, Master of Science in Education, Early Childhood Education
MO, Christian, Clever: Grant David Youngsma, Master of Science in Education, Reading
MO, Christian, Clever: Katelyn Marie Youngsma, Master of Science in Education, Early Childhood Education
MO, Christian, Nixa: Caitlyn Rae Mercado, Specialist in Education, Educational Leadership
MO, Christian, Ozark: Dana Jo Johnson, Master of Science in Education, Early Childhood Education
MO, Clay, Kansas City: Cristina Armilio, Specialist in Education, Educational Leadership
MO, Clay, Kansas City: Katelyn Joy Hochard, Specialist in Education, Educational Leadership
MO, Clay, Kansas City: Jessie Fern Shepherd, Specialist in Education, Educational Leadership
MO, Clay, Kansas City: Hannah Rose Hefner, Bachelor of Science in Nursing, Nursing
MO, Clay, Liberty: Cali Rae Kliewer, Specialist in Education, Reading
MO, Clinton, Lathrop: Miranda Lynne Giger, Specialist in Education, Educational Leadership
MO, Clinton, Trimble: Rebecca E. Taylor, Master of Science in Education, Educational Leadership
MO, Clinton, Trimble: Kelsey Anne Colwell, Specialist in Education, Educational Leadership
MO, Cole, Jefferson City: Danyale Renee Bryant, Master of Public Administration, Public Administration
MO, Cooper, Boonville: Christopher Joseph Zeller, Specialist in Education, Educational Leadership
MO, Dent, Salem: Branden L. Piatt, Specialist in Education, Educational Leadership
MO, Dunklin, Campbell: Madison Parker Donaldson, Bachelor of Fine Arts, Art
MO, Dunklin, Campbell: Timothy Jon Bevill, Bachelor of Science, Business Economics
MO, Dunklin, Campbell: Amber Ann Malin, Bachelor of Science in Agriculture, Agricultural Business
MO, Dunklin, Hornersville: Emily Lizett Marroquin, Associate of Science, A.S. En Route
MO, Dunklin, Hornersville: Elissa Faith Crowder, Bachelor of Science in Nursing, Nursing
MO, Dunklin, Kennett: Tia Gayle Mitchell, Master of Science in Nursing, Nursing
MO, Dunklin, Kennett: Lindsey Brooke Marshall, Associate of Arts, A.A. En Route
MO, Dunklin, Kennett: Katelyn Camille White, Associate of Science, A.S. En Route
MO, Dunklin, Kennett: Chelsi JoAnn Masterson, Bachelor of Arts, Sociology
MO, Dunklin, Kennett: Sydney L. Patton, Bachelor of Arts, Criminology
MO, Dunklin, Kennett: Maleik Tre'Quan Thomas, Bachelor of Arts, Criminology
MO, Dunklin, Kennett: Jared Carter Butler, Bachelor of Science, Psychology, Cum Laude
MO, Dunklin, Kennett: Elizabeth Jane Cook, Bachelor of Science, Strategic Communications, Cum Laude
MO, Dunklin, Kennett: Courtney Lynn Haywood, Bachelor of Science in Nursing, Nursing, Cum Laude
MO, Dunklin, Kennett: Jared Carter Butler, Certificate of Proficiency, Neuropsychological Testing
MO, Dunklin, Malden: Nathan Lynn Pattillo, Bachelor of Science, Management
MO, Dunklin, Senath: Trenton K. Thompson, Associate of Arts, A.A. En Route
MO, Dunklin, Senath: Emilee Nichole Newman, Associate of Science, A.S. En Route
MO, Dunklin, Senath: Katelyn Scarlett Hunter, Bachelor of Science, Psychology
MO, Franklin, Eureka: Leah Celeste Brown, Master of Science in Education, Education Theory and Practice
MO, Franklin, Pacific: Erlene Donna Tweet, Master of Science in Education, Reading
MO, Franklin, Union: Kimberly Ann Blankenship, Specialist in Education, Educational Leadership
MO, Henry, Clinton: Melynne B. Jones, Specialist in Education, Reading
MO, Howell, Pomona: Robert Allen James, Specialist in Education, Educational Leadership
MO, Howell, West Plains: Logan Robert Miller, Doctor of Physical Therapy, Physical Therapy
MO, Howell, Willow Springs: Brett E. Henry, Specialist in Education, Educational Leadership
MO, Howell, Willow Springs: Lindsey Marie Schwalm, Specialist in Education, Educational Leadership
MO, Jackson, Grandview: Raquel Manabat Tolentino, Specialist in Education, Educational Leadership
MO, Jackson, Independence: Leslie Yvonne Cole, Specialist in Education, Educational Leadership
MO, Jackson, Independence: Melissa Suzanne Woodward, Specialist in Education, Reading
MO, Jackson, Independence: Joel Deringer Haynes, Bachelor of Science, Business Administration, University Honors
MO, Jackson, Kansas City: Kathrine Elizabeth Rowan, Specialist in Education, Educational Leadership
MO, Jackson, Kansas City: William L. Bradley-King, Bachelor of Arts, Communication Studies
MO, Jackson, Lees Summit: Alesha Nicole Roberson, Certificate Program, Building-Level Administration
MO, Jackson, Lees Summit: Aletha Teona Cassity, Specialist in Education, Educational Leadership
MO, Jackson, Raytown: Jason Greene, Specialist in Education, Educational Leadership
MO, Jackson, Raytown: Zahria A. Whiting, Bachelor of Science, Accounting
MO, Jasper, Alba: Brittany Paige Lane, Master of Science in Education, Reading
MO, Jasper, Carl Junction: Jackson Boyer, Master of Science in Education, Educational Leadership
MO, Jasper, Joplin: Carly A. Barwick, Master of Science, College Student Personnel Services
MO, Jasper, Webb City: Brady Grant Bridges, Master of Science in Education, Educational Leadership
MO, Johnson, Knob Noster: Deedrae R. Colliver, Master of Science in Education, Reading
MO, Johnson, Knob Noster: Jodie A. Thering, Master of Science in Education, Reading
MO, Johnson, Odessa: Deanna M. Rigdon, Bachelor of Science, Accounting, Cum Laude, Honors Program
MO, Johnson, Warrensburg: Barie Elizabeth Krewson, Specialist in Education, Educational Leadership
MO, Lafayette, Odessa: Trent Michael Pritchard, Master of Science in Education, Educational Leadership
MO, Lafayette, Odessa: Andrea Austin, Specialist in Education, Educational Leadership
MO, Lafayette, Odessa: Lindsay Denise Schambers, Specialist in Education, Educational Leadership
MO, Lincoln, Old Monroe: Patricia Bayne, Master of Science in Education, Education Theory and Practice
MO, Mississippi, East Prairie: Joseph Christopher Sanders, Master of Science, Disaster Preparedness and Emergency Management
MO, New Madrid, Gideon: Brooklyn Nicole Montgomery, Master of Social Work, Social Work
MO, New Madrid, New Madrid: Amanda Faith DeJournett, Specialist in Education, Educational Leadership
MO, New Madrid, New Madrid: Karlie Paige Frazier, Associate of Arts, A.A. En Route
MO, New Madrid, Portageville: Abby Dawn Johnston, Associate of Science, A.S. En Route
MO, New Madrid, Portageville: Caleb Michael Smith, Bachelor of Science in Agriculture, Plant and Soil Science
MO, Nodaway, Maryville: Holly Wilmarth, Doctor of Physical Therapy, Physical Therapy
MO, Oregon, Thayer: Courtney Lea Felton, Associate of Science, A.S. En Route
MO, Ozark, Gainesville: Joseph Paul Bogowith, Bachelor of Arts, Criminology, Summa Cum Laude
MO, Ozark, Udall: Sandra A. Winfree, Bachelor of Science, Management
MO, Pemiscot, Bragg City: Maria Nicole Blankenship, Bachelor of Science, Management, Cum Laude
MO, Pemiscot, Caruthersville: Khadijah Deanna Lamarkia Simmons, Associate of Science, A.S. En Route
MO, Pemiscot, Caruthersville: Austin Kyle Pendergrass, Bachelor of Science, Computer Science
MO, Pemiscot, Hayti: Mary Hannah Pierce, Master of Science in Nursing, Nursing
MO, Pemiscot, Hayti: Grace Elizabeth Lannie, Associate of Arts, A.A. En Route
MO, Pemiscot, Hayti: Ericka Natasha George, Bachelor of Science in Nursing, Nursing
MO, Pemiscot, Steele: Elizabeth Alexis Callens, Bachelor of Science in Nursing, Nursing
MO, Pemiscot, Steele: Brittney Kaitlyn Guthrie, Bachelor of Science in Education, Social Science
MO, Pemiscot, Wardell: Ethan Lane Elsworth, Bachelor of Science, Psychology
MO, Pettis, Sedalia: Sheila I. Shultz, Master of Science in Education, Reading
MO, Pettis, Sedalia: Blake Robert Grupe, Bachelor of Science, Business Administration
MO, Platte, Dearborn: Michelle Lynn Johnson, Specialist in Education, Educational Leadership
MO, Platte, Kansas City: Andrea L. Brooks, Specialist in Education, Reading
MO, Platte, Kansas City: Amy Lynn Elliott, Specialist in Education, Reading
MO, Platte, Kansas City: Sara Lucile Price, Specialist in Education, Educational Leadership
MO, Platte, Kansas City: Stephanie Rosiland Yuen, Specialist in Education, Educational Leadership
MO, Platte, Platte City: Coleen M. Johnson, Specialist in Education, Reading
MO, Ripley, Doniphan: Hattie Joan King, Certificate Program, Addiction Studies
MO, Ripley, Doniphan: Carson Tyler Priddle, Master of Science in Agriculture, General Agriculture
MO, Ripley, Doniphan: Hattie Joan King, Master of Social Work, Social Work
MO, Ripley, Doniphan: Rachel Lynn Webb, Associate of Science, A.S. En Route
MO, Ripley, Doniphan: Logan A. Wetzel, Bachelor of Science, Exercise Science
MO, Ripley, Doniphan: Colton Levi Smith, Bachelor of Science in Agriculture, Plant and Soil Science
MO, Ripley, Gatewood: Maggie L. Smith, Bachelor of Science in Education, English, Magna Cum Laude
MO, Saint Charles, Lake Saint Louis: Jill Nicole Bob-Nabena, Master of Science in Education, Special Ed GTC
MO, Saint Charles, O Fallon: Riley Michelle Ebenroth, Bachelor of Science in Nursing, Nursing, Magna Cum Laude
MO, Saint Charles, Saint Charles: Anthony Thomas Wiber, Master of Science in Education, Educational Leadership
MO, Saint Charles, Wentzville: Katie Marie Ladymon, Master of Science in Education, Education Theory and Practice
MO, Saint Charles, Wentzville: Kriste Lynn Mason, Master of Science in Education, Early Childhood Education
MO, Saint Charles, Wentzville: Nicole Marie Huffman, Specialist in Education, Educational Leadership
MO, Saint Francois, Farmington: Marla Kaye Sproat, Specialist in Education, Reading
MO, Saint Louis, Ballwin: Arthur James Shinabargar, Specialist in Education, Educational Leadership
MO, Saint Louis, Fenton: Sydney Kay Droppelmann, Associate of Science, A.S. En Route
MO, Saint Louis, Manchester: Sarah Ann Sodoma, Bachelor of Science, Accounting, Summa Cum Laude
MO, Saint Louis, Saint Louis: Shakendra Young, Master of Public Administration, Public Administration
MO, Saint Louis, Saint Louis: Melanie Alisa Hosty, Master of Science, Sport Administration
MO, Saint Louis City, Saint Louis: Sarah Colleen Hartmann, Specialist in Education, Educational Leadership
MO, Saint Louis City, Saint Louis: Ernest Perez Jr., Associate of Applied Science, Physical Therapist Assistant
MO, Scott, Sikeston: BriAnne Nicole Lacy, Master of Science in Education, Educational Leadership
MO, Scott, Sikeston: Darden Schell Apple, Associate of Applied Science, Physical Therapist Assistant
MO, Scott, Sikeston: Sarah Renee Clark-Thompson, Bachelor of Arts, Communication Studies
MO, Scott, Sikeston: Elizabeth Ann Hay, Bachelor of Science in Education, Elementary Education, Magna Cum Laude
MO, Stoddard, Bloomfield: Rachael Erin Murphy, Master of Science in Education, Special Education K-12
MO, Stoddard, Bloomfield: Breanna N. Bemister, Associate of Applied Science, Physical Therapist Assistant
MO, Stoddard, Dexter: Marc L. Thrower, Specialist in Education, Educational Leadership
MO, Stoddard, Dexter: Gina Marie Magarian, Bachelor of Music Education, Instrumental Music, Magna Cum Laude, Honors Program
MO, Stoddard, Dexter: Bryce Jarrett Farmer, Bachelor of Science, Business Administration
MO, Stoddard, Dexter: Kayla Jane Carter, Bachelor of Science in Education, Elementary Education, Cum Laude
MO, Stone, Galena: Christina Ann Hubbard, Master of Science in Education, Reading
MO, Taney, Kirbyville: Hayward K. Williamson, Master of Science in Education, Educational Leadership
MO, Warren, Warrenton: Elijah Levi Moehl, Bachelor of Applied Science, Applied Science, Magna Cum Laude
MO, Webster, Marshfield: Sarah Denise Hardin, Master of Science in Education, Reading
MO, Webster, Marshfield: Judson Dean Heppard, Specialist in Education, Educational Leadership
MO, Webster, Seymour: Christopher R. Hastings, Master of Science in Education, Educational Leadership
Mississippi
MS, Alcorn, Corinth: Jodi A. Koboldt Hajek, Specialist in Education, Educational Leadership
MS, Benton, Lamar: Angela Kay Mauney, Specialist in Education, Educational Leadership
MS, Bolivar, Cleveland: Jasalyn K. Lucas, Master of Science, Media Management
MS, Calhoun, Vardaman: Deanna Fleming Winter, Specialist in Education, Educational Leadership
MS, Coahoma, Clarksdale: April Michelle Campbell, Master of Science, Strategic Communications
MS, Coahoma, Clarksdale: Jessica Simone Johnson, Specialist in Education, Reading
MS, Coahoma, Clarksdale: Anthony Sumlin, Bachelor of Arts, Chemistry
MS, Coahoma, Clarksdale: Anthony Sumlin, Bachelor of Science, Biological Sciences
MS, Desoto, Hernando: Jennifer Greer, Master of Science in Education, Special Ed GTC
MS, Desoto, Hernando: Amanda Kathryn Roehm Edwards, Master of Science in Education, Reading
MS, Desoto, Hernando: Breanna Nicole Johnson, Master of Science in Education, Educational Leadership
MS, Desoto, Hernando: April Lee Satcher, Master of Science in Education, Educational Leadership
MS, Desoto, Hernando: Kelly Eve Sumners, Master of Science in Education, Educational Leadership
MS, Desoto, Hernando: Jessica J. Turner, Bachelor of Science, Health Studies
MS, Desoto, Horn Lake: Kayla Christine McClain, Master of Science in Education, Reading
MS, Desoto, Horn Lake: Sierra Randle, Master of Science in Nursing, Nurse Anesthesia
MS, Desoto, Horn Lake: Chris Stella Wallace, Associate of Science, A.S. En Route
MS, Desoto, Nesbit: Karla Kathleen Thompson, Master of Science in Education, Education Theory and Practice
MS, Desoto, Nesbit: Meredith Willis, Master of Science in Education, Special Ed GTC
MS, Desoto, Nesbit: Joy Lynne Shinault, Specialist in Education, Educational Leadership
MS, Desoto, Olive Branch: Britney Nicole Byars, Master of Public Administration, Public Administration
MS, Desoto, Olive Branch: Katie Alexandra Barnes, Master of Science in Education, Special Education K-12
MS, Desoto, Olive Branch: Allison Ann Kizer, Master of Science in Education, Special Education K-12
MS, Desoto, Olive Branch: Misty Prather Siadak, Master of Science in Education, Special Education K-12
MS, Desoto, Olive Branch: Chelsi Lockhart Strevel, Master of Science in Education, Educational Leadership
MS, Desoto, Olive Branch: Sarah Vienna Flanigan, Master of Science in Education, Educational Leadership
MS, Desoto, Olive Branch: Julia Reneé Jackson, Specialist in Education, Educational Leadership
MS, Desoto, Southaven: Toney Lee Banks, Doctor of Nursing Practice, Nursing Practice
MS, Desoto, Southaven: Myranda Bridges, Master of Science in Education, Educational Leadership
MS, Desoto, Southaven: Michael Richard Kinney, Master of Science in Education, Educational Leadership
MS, Desoto, Southaven: Schylon Rhodes Butler, Specialist in Education, Educational Leadership
MS, Desoto, Southaven: Alania A. Deshay, Specialist in Education, Educational Leadership
MS, Desoto, Southaven: Shakita Denise Palmer, Specialist in Education, Educational Leadership
MS, Desoto, Southaven: Jillian Michelle John, Bachelor of Science, Clinical Laboratory Science
MS, Desoto, Southaven: Kendall Lauren McMahon, Bachelor of Science, Psychology
MS, Forrest, Hattiesburg: Mollie Anne McCorkle-Warren, Master of Science in Education, Educational Leadership
MS, George, Lucedale: Kellie Reeves, Master of Science in Education, Special Ed GTC
MS, Harrison, Gulfport: Seandee Dearman Bennett, Specialist in Education, Educational Leadership
MS, Harrison, Long Beach: Shane Rutledge, Master of Science in Education, Educational Leadership
MS, Jackson, Ocean Springs: Dolores A. Bibb, Specialist in Education, Educational Leadership
MS, Jackson, Vancleave: Elizabeth Marie Bonilla, Master of Science in Education, Educational Leadership
MS, Jones, Soso: Robert Christopher White, Specialist in Education, Educational Leadership
MS, Lauderdale, Meridian: Mable LaVeta Moore, Specialist in Education, Educational Leadership
MS, Leake, Carthage: Trinity G. Morris, Master of Science in Education, Educational Leadership
MS, Lee, Mooreville: Betsy Madison Young, Master of Science in Education, Education Theory and Practice
MS, Lee, Saltillo: Zachary Michael Scott, Master of Science in Education, Educational Leadership
MS, Lee, Saltillo: Hannah Ruth Irby, Bachelor of Music Education, Instrumental Music, Cum Laude
MS, Lee, Tupelo: William Scott Gann, Master of Science in Education, Educational Leadership
MS, Leflore, Itta Bena: Latonya Quarnette Sanders, Master of Science in Education, Educational Leadership
MS, Lowndes, Columbus: Tarran King Baggett, Master of Science in Education, Reading
MS, Lowndes, Steens: Heather Nicole Ellis, Master of Science in Education, Education Theory and Practice
MS, Madison, Canton: DeWayne J. Profit, Specialist in Education, Educational Leadership
MS, Madison, Flora: Kyree Desteny Lynn Freeman, Specialist in Education, Educational Leadership
MS, Madison, Madison: Courtney Charmanye Luckett, Specialist in Education, Educational Leadership
MS, Madison, Madison: Kimberly-Erin Fears Ward, Specialist in Education, Educational Leadership
MS, Marshall, Byhalia: Sara Nicole Bailey, Master of Science in Education, Educational Leadership
MS, Marshall, Holly Springs: Terrica Twanna Crawford, Master of Science in Education, Educational Leadership
MS, Monroe, Amory: Mary Monica Allred Davis, Specialist in Education, Educational Leadership
MS, Newton, Newton: Holly J. Garvin, Master of Science in Education, Educational Leadership
MS, Newton, Union: Dustin Clint Mott, Master of Science in Education, Education Theory and Practice
MS, Newton, Union: Jody Morgan Chaney, Specialist in Education, Educational Leadership
MS, Noxubee, Macon: Iesha Cotton, Specialist in Education, Educational Leadership
MS, Oktibbeha, Starkville: Megan Camille Lyons, Master of Science in Education, Special Ed GTC
MS, Oktibbeha, Starkville: Megan Jean Bright, Bachelor of Science in Agriculture, Animal Science, Summa Cum Laude, Honors Program
MS, Panola, Batesville: Amy Woodhouse Richey, Specialist in Education, Educational Leadership
MS, Panola, Como: Natalie Paige Cook, Master of Science in Education, Special Education K-12
MS, Perry, Richton: Tiffany D. Hunt, Specialist in Education, Educational Leadership
MS, Pike, Mccomb: Tiffany Antionette Miller-Hopkins, Specialist in Education, Educational Leadership
MS, Pontotoc, Pontotoc: Justin Cory Hayles, Master of Science in Education, Educational Leadership
MS, Prentiss, Booneville: Jennifer Jacqueline Johnson, Specialist in Education, Educational Leadership
MS, Rankin, Brandon: Casandra Pettit Carnley, Master of Science in Education, Education Theory and Practice
MS, Rankin, Brandon: Marie Elizabeth Morgan, Master of Science in Education, Educational Leadership
MS, Rankin, Brandon: Kelby L. Bowman Sr., Specialist in Education, Educational Leadership
MS, Rankin, Brandon: Jenne Brown, Specialist in Education, Educational Leadership
MS, Rankin, Brandon: Tara H. Hall, Specialist in Education, Educational Leadership
MS, Rankin, Braxton: Kayla Vanderford, Specialist in Education, Educational Leadership
MS, Rankin, Flowood: Baqui S. Thomas, Master of Science in Education, Educational Leadership
MS, Rankin, Pearl: Lauren Dasher Worrell, Master of Science in Education, Educational Leadership
MS, Rankin, Pearl: Lemika Patrese McPhearson, Master of Science in Nursing, Nurse Anesthesia
MS, Rankin, Pelahatchie: Corinne Fraychineaud Mann, Master of Science in Education, Educational Leadership
MS, Rankin, Richland: Matthew Tyler Quick, Master of Science in Education, Educational Leadership
MS, Scott, Pelahatchie: Jessica Steele Thompson, Master of Science in Education, Education Theory and Practice
MS, Sunflower, Indianola: John Anthony Henderson, Specialist in Education, Educational Leadership
MS, Tate, Coldwater: Kevin L. Hill, Master of Science in Education, Educational Leadership
MS, Tate, Senatobia: Elaine Renee Brewer, Master of Science in Education, Educational Leadership
MS, Tate, Senatobia: Jennifer Alice Hendrix, Master of Science in Education, Educational Leadership
MS, Tate, Senatobia: Amber Dell Chambers, Master of Science in Nursing, Nurse Anesthesia
MS, Tate, Senatobia: Braden Glenn Greer, Master of Science in Nursing, Nurse Anesthesia
MS, Washington, Greenville: Brad Michael Andrews, Master of Science in Education, Educational Leadership
MS, Washington, Greenville: Shekia Dominique Brown, Specialist in Education, Educational Leadership
MS, Washington, Greenville: Deshanda Norwood Riley, Specialist in Education, Educational Leadership
Montana
MT, Yellowstone, Billings: Michelle D. Audet, Master of Science in Education, Educational Leadership
North Carolina
NC, Catawba, Conover: Tristan Scot Kirkpatrick, Master of Public Administration, Public Administration
NC, Harnett, Spring Lake: Angel Lynn Osman, Master of Science, College Student Personnel Services
NC, Mecklenburg, Charlotte: Malik Brevard, Bachelor of General Studies, General Studies
New Jersey
NJ, Atlantic, Ventnor City: Allie Pospisil, Master of Science in Education, Education Theory and Practice
NJ, Burlington, Delran: Lauren Ann Tomafsky, Master of Science in Education, Reading
NJ, Essex, Bloomfield: Allison M. Dombrowski, Specialist in Education, Educational Leadership
NJ, Hudson, Bayonne: Nicholas James Weimmer, Master of Science in Education, Educational Leadership
NJ, Middlesex, Old Bridge: Brittany Nicole Fuentes, Master of Science in Education, Reading
NJ, Monmouth, Eatontown: Dominique Marie LePore, Master of Science in Education, Reading
NJ, Monmouth, Morganville: Kristen Leigh Brewer, Master of Science in Education, Reading
NJ, Morris, Lincoln Park: James R. Vance, Master of Science in Education, Educational Leadership
NJ, Morris, Pequannock: Cynthia Jane Slootmaker, Master of Science in Education, Educational Leadership
NJ, Somerset, Hillsborough: Edward Joseph Knapp Jr., Master of Science in Education, Educational Leadership
Nevada
NV, Washoe, Sparks: Veronique Athena Meador, Specialist in Education, Educational Leadership
New York
NY, Monroe, Penfield: Seth Michael Cottengim, Bachelor of Science, Physics
Ohio
OH, Allen, Bluffton: Alyssa Dara Eby, Master of Science, Strategic Communications
OH, Athens, Athens: William Robert Salyer, Master of Science in Education, Special Ed GTC
OH, Delaware, Delaware: April Weese, Specialist in Education, Educational Leadership
OH, Geauga, Chagrin Falls: Shannon Elizabeth O'Brien, Bachelor of Science, Creative Media Production
OH, Lawrence, Ironton: Kristy Kay Stevens, Master of Science in Education, Reading
OH, Medina, Seville: Brandon Hayes Palidar, Master of Science, Sport Administration
OH, Trumbull, Cortland: Brian Michael Jones, Master of Science in Education, Educational Leadership
OH, Trumbull, Niles: Amanda Lynn Tricomi, Master of Science in Education, Educational Leadership
OH, Trumbull, Warren: Daniel Jay Gross, Master of Science in Education, Education Theory and Practice
Oklahoma
OK, Adair, Westville: Samuel A. Kingcade, Master of Science in Education, Educational Leadership
OK, Canadian, Yukon: Alan Wagner Cook, Master of Science in Education, Educational Leadership
OK, Canadian, Yukon: Lakimberly K. Butler, Bachelor of Arts, Sociology
OK, Cherokee, Park Hill: Gary Don Willis, Master of Science in Education, Educational Leadership
OK, Cleveland, Moore: Cara Cummings, Master of Science in Education, Early Childhood Education
OK, Custer, Weatherford: Ryan Sean Atkins, Master of Public Administration, Public Administration
OK, Delaware, Jay: Jesi Nicole Young, Master of Science in Education, Curriculum and Instruction
OK, Oklahoma, Choctaw: Dillan Taylor Brunk, Master of Science in Education, Educational Leadership
OK, Oklahoma, Oklahoma City: Christina Nichole Neller, Master of Science in Education, Educational Leadership
OK, Oklahoma, Oklahoma City: Rebecca E. Schoeb, Master of Science in Education, Curriculum and Instruction
OK, Oklahoma, Oklahoma City: Cassandra Courtney Cortez, Master of Science in Nursing, Nurse Anesthesia
OK, Tulsa, Owasso: Savannah Irene Hogan, Doctor of Physical Therapy, Physical Therapy
OK, Tulsa, Tulsa: Dorothy Ann Blakey, Master of Science in Education, Reading
Oregon
OR, Lane, Eugene: Zoe Elizabeth Merrill Keating, Master of Science, College Student Personnel Services
Pennsylvania
PA, Allegheny, Pittsburgh: Brady Isaiah Smith, Master of Public Administration, Public Administration
PA, Berks, Wernersville: Christopher Alexander Bustillos, Master of Science, Strategic Communications
PA, Bucks, Ivyland: Laura Onisk, Master of Public Administration, Public Administration
PA, Bucks, Langhorne: Audrey Lam, Master of Science in Education, Special Education K-12
PA, Bucks, Levittown: Devyn Lynne Dukes, Master of Science in Education, Special Education K-12
PA, Bucks, Levittown: Jillian Taylor, Master of Science in Education, Early Childhood Education
PA, Bucks, Trevose: Meghan Frederick, Master of Science in Education, Special Education K-12
PA, Erie, Erie: Nadezda Buntic, Bachelor of Science, Biological Sciences, Cum Laude
PA, Fulton, Harrisonville: Michael John Mele, Master of Science in Education, Educational Leadership
PA, Lackawanna, Moscow: Lucianne Marie Burner, Bachelor of Science in Education, Physical Education, Magna Cum Laude, University Honors
PA, Montgomery, Lansdale: Erin Elizabeth Bradley, Master of Science in Education, Education Theory and Practice
PA, York, Mount Wolf: Erica Lynn Main, Master of Science in Education, Education Theory and Practice
PA, York, Spring Grove: Sheena Alisha Abraham, Master of Science in Nursing, Nurse Anesthesia
Puerto Rico
PR, Toa Baja, Toa Baja: Luz Caridad Wright, Specialist in Education, Educational Leadership
South Carolina
SC, Anderson, Anderson: Michael Dale Noble, Specialist in Education, Educational Leadership
SC, Anderson, Easley: Mario Stanitzek, Master of Science in Education, Early Childhood Education
SC, Anderson, Williamston: Carl Bryce Nelson, Master of Science, Sport Administration
SC, Berkeley, Hanahan: Raegan Loftis, Master of Public Administration, Public Administration
SC, Florence, Florence: Samantha Alexa Johnson, Master of Science in Education, Educational Leadership
SC, Horry, Myrtle Beach: Melynda Anne Stoffa, Master of Science in Education, Reading
SC, Horry, Myrtle Beach: Marc Frechette, Master of Science in Education, Educational Leadership
SC, Horry, Myrtle Beach: Jeffmario Marchado Brown, Bachelor of Arts, Communication Studies
SC, Kershaw, Lugoff: Whitney Kathleen Benevides, Master of Science in Education, Early Childhood Education
SC, Lancaster, Fort Mill: Stephanie Camille Ellis, Master of Science in Education, Educational Leadership
SC, Lexington, Lexington: Dalton Allan Steele, Doctor of Physical Therapy, Physical Therapy
SC, Lexington, Lexington: Ronald J. Block, Master of Science in Education, Education Theory and Practice
SC, Orangeburg, Orangeburg: Dexter Terrell Jennings, Specialist in Education, Educational Leadership
SC, Richland, Columbia: Jennifer Leslie Leaphart, Master of Public Administration, Public Administration
SC, Spartanburg, Boiling Springs: Jovanda Patton Dickerson, Specialist in Education, Educational Leadership
SC, Spartanburg, Spartanburg: Jolene Lynn Madison, Certificate Program, Superintendent
SC, Spartanburg, Woodruff: Sara Beth Snyder, Specialist in Education, Educational Leadership
SC, Sumter, Sumter: James Diyonte' Sinkler, Specialist in Education, Educational Leadership
SC, York, York: Vanessa Kathrynne Miles, Master of Science, College Student Personnel Services
Tennessee
TN, Anderson, Norris: Joshua Patrick Reid, Specialist in Education, Educational Leadership
TN, Bradley, Cleveland: Marc Alexander Maxwell, Master of Science in Education, Educational Leadership
TN, Bradley, Cleveland: Joseph Ryan Weeks, Master of Science in Education, Educational Leadership
TN, Bradley, Cleveland: Joshua Michael Gregory, Specialist in Education, Educational Leadership
TN, Cannon, Liberty: Ken R. Overall, Master of Science in Education, Special Education K-12
TN, Carroll, Atwood: Ashlea Michelle Robinson, Master of Science in Education, Special Ed GTC
TN, Chester, Luray: Lisa Browder, Master of Science in Education, Educational Leadership
TN, Coffee, Hillsboro: Sarah Bryan, Master of Science in Education, Educational Leadership
TN, Cumberland, Rockwood: Kristina Newman Kelsey, Master of Science in Education, Special Ed GTC
TN, Davidson, Nashville: Teneice Renee Kirby, Master of Science in Education, Reading
TN, Davidson, Nashville: Anna Diane Wallace, Master of Science in Education, Reading
TN, Davidson, Nashville: Megan L. Fontenelle, Specialist in Education, Educational Leadership
TN, Decatur, Parsons: Alex Mitchell Whitwell, Master of Arts in Teaching, Teaching
TN, Dickson, Charlotte: Jennifer Diane Puckett, Master of Science in Education, Educational Leadership
TN, Dickson, Dickson: Michelle Marie Millet-Winstead, Specialist in Education, Educational Leadership
TN, Dickson, Dickson: LeJeanna Dawn Yates, Specialist in Education, Educational Leadership
TN, Dyer, Dyersburg: Katie D. Ricketts, Master of Science in Education, Educational Leadership
TN, Dyer, Dyersburg: Ginny Lynne Roper, Master of Science in Education, Educational Leadership
TN, Dyer, Dyersburg: Abbey L. Riggs, Specialist in Education, Educational Leadership
TN, Dyer, Dyersburg: Kayla Piskorski, Bachelor of Science, Marketing, Magna Cum Laude
TN, Dyer, Newbern: Jake Dalton Walker, Bachelor of Arts, Communication Studies
TN, Fayette, Collierville: Samantha Nicole Brainard, Bachelor of Arts, Chemistry, Magna Cum Laude, Honors Program
TN, Fayette, Collierville: Samantha Nicole Brainard, Bachelor of Science, Biological Sciences, Magna Cum Laude, Honors Program
TN, Fayette, Somerville: Sarah Dalby Burch, Master of Science in Education, Educational Leadership
TN, Franklin, Decherd: Rachel Alexandria Shields, Master of Science in Education, Educational Leadership
TN, Gibson, Dyer: Jamie M. Carr, Master of Science in Education, Educational Leadership
TN, Gibson, Humboldt: Lacy Marie Barnett, Specialist in Education, Educational Leadership
TN, Gibson, Humboldt: Katie L. Kulow, Specialist in Education, Educational Leadership
TN, Gibson, Medina: Jason Wayne Wiles, Master of Science in Education, Educational Leadership
TN, Gibson, Medina: Kevin Mackenzie Painter, Specialist in Education, Educational Leadership
TN, Hamilton, Soddy Daisy: Clark Biron Grady Boshers, Master Engineering Management, Engineering Management
TN, Hardin, Counce: Katrina N. Stevens, Specialist in Education, Educational Leadership
TN, Haywood, Brownsville: Amanda Rose Jones, Master of Science in Education, Reading
TN, Henderson, Lexington: F. Terry Clement, Jr., Specialist in Education, Educational Leadership
TN, Henderson, Lexington: Jacob Daniel Smith, Bachelor of Science, Accounting
TN, Hickman, Centerville: Benjamin Clay Chessor, Specialist in Education, Educational Leadership
TN, Hickman, Centerville: Brian Keith Qualls, Specialist in Education, Educational Leadership
TN, Hickman, Centerville: Craig R. Shelton, Specialist in Education, Educational Leadership
TN, Hickman, Duck River: Raven Nicole Davidson, Specialist in Education, Educational Leadership
TN, Jefferson, Dandridge: Lindsay Michele Collins, Specialist in Education, Reading
TN, Knox, Knoxville: Jacob Louis Wessels, Master of Science, Biology
TN, Lauderdale, Gates: Mary Gail Moore, Specialist in Education, Educational Leadership
TN, Lauderdale, Halls: Amy Patton Cates, Specialist in Education, Educational Leadership
TN, Madison, Humboldt: Emily Reeves Burleson, Specialist in Education, Educational Leadership
TN, Madison, Jackson: Hailey Carson Rogers, Associate in General Studies, General Studies
TN, Madison, Jackson: Kennedy Blaire Brookfield, Bachelor of Science, Psychology
TN, Madison, Jackson: Carter Brent Holt, Bachelor of Science, Business Administration
TN, Marshall, Lewisburg: Michael Clayton Riazzi, Master of Science, Sport Administration
TN, Maury, Columbia: Joshua G. Hardison, Master of Science in Education, Educational Leadership
TN, McMinn, Englewood: Jennifer Leigh King, Master of Science in Education, Early Childhood Education
TN, Meigs, Decatur: Joseph Scott Miller, Master of Science in Education, Educational Leadership
TN, Montgomery, Clarksville: Megan Elizabeth Groene, Master of Science in Education, Educational Leadership
TN, Montgomery, Clarksville: Mary Cornelia Banks, Specialist in Education, Reading
TN, Montgomery, Clarksville: Lexi Hellums Jobe, Specialist in Education, Educational Leadership
TN, Montgomery, Clarksville: Christie Sue Reed, Specialist in Education, Educational Leadership
TN, Montgomery, Clarksville: Jason Brent Rice, Specialist in Education, Educational Leadership
TN, Montgomery, Southside: Stacie Renee Dunn, Specialist in Education, Educational Leadership
TN, Robertson, Springfield: Stacey Salsman, Master of Science in Education, Educational Leadership
TN, Rutherford, Lascassas: Thomas Michael Rose, Master of Public Administration, Public Administration
TN, Rutherford, Murfreesboro: Kyla Mackenzie Cox, Master of Science in Education, Educational Leadership
TN, Rutherford, Murfreesboro: Kristen Leigh Lucas, Master of Science in Education, Curriculum and Instruction
TN, Rutherford, Murfreesboro: Keyta Bassham, Specialist in Education, Reading
TN, Shelby, Bartlett: Stephanie Ham, Master of Science in Nursing, Nursing
TN, Shelby, Bartlett: Kallie Kristine Alexander, Associate of Science, A.S. En Route
TN, Shelby, Bartlett: Jessica Lynn Dress, Bachelor of Science, Accounting
TN, Shelby, Bartlett: Lillie Ada-Jane Kinnane, Bachelor of Science in Education, Elementary Education
TN, Shelby, Collierville: Justin D. McAdoo, Doctor of Nursing Practice, Nursing Practice
TN, Shelby, Collierville: Ashley N. Featherston, Master of Science in Nursing, Nursing
TN, Shelby, Collierville: Angela Marie Elrod, Specialist in Education, Educational Leadership
TN, Shelby, Collierville: Courtney Layne Jones, Bachelor of Arts, English
TN, Shelby, Cordova: Matthew Howard Arnold, Master of Public Administration, Public Administration
TN, Shelby, Cordova: Lakeva Lasha' Bridgeforth, Master of Science in Education, Educational Leadership
TN, Shelby, Cordova: Virginia Pearl Ivey, Master of Science in Education, Reading
TN, Shelby, Cordova: Robert Brandon Doggett, Specialist in Education, Educational Leadership
TN, Shelby, Cordova: Nicole Elise Scott, Specialist in Education, Educational Leadership
TN, Shelby, Cordova: Alana Dione Smith, Specialist in Education, Educational Leadership
TN, Shelby, Cordova: Jessica Loren Krob, Bachelor of Science in Agriculture, Plant and Soil Science, Magna Cum Laude
TN, Shelby, Eads: Bryana Shayne Clancy, Bachelor of Science in Nursing, Nursing
TN, Shelby, Germantown: Jacob Alexander Still, Bachelor of Science, Business Administration
TN, Shelby, Lakeland: Dylan S. McDaniel, Bachelor of Science, Finance
TN, Shelby, Lakeland: Brayton Conner Mount, Bachelor of Science in Agriculture, Agricultural Business
TN, Shelby, Memphis: Toni Marie Taylor-Brice, Doctor of Nursing Practice, Nursing Practice
TN, Shelby, Memphis: Patricia Joyce Tharp, Doctor of Nursing Practice, Nursing Practice
TN, Shelby, Memphis: Georgia Harris Bohannon, Master of Public Administration, Public Administration
TN, Shelby, Memphis: Deidra Chism Hawkins, Master of Science, Media Management
TN, Shelby, Memphis: Moriah Danielle Powell, Master of Science, Media Management
TN, Shelby, Memphis: Adam Heath Brassfield, Master of Science in Education, Educational Leadership
TN, Shelby, Memphis: Kela LaShae Brown, Master of Science in Education, Educational Leadership
TN, Shelby, Memphis: Stephanie D. McFadden, Master of Science in Education, Educational Leadership
TN, Shelby, Memphis: LaFreedia Symone Rivers, Master of Science in Education, Educational Leadership
TN, Shelby, Memphis: William Arthur Tolbert, Master of Science in Education, Reading
TN, Shelby, Memphis: Kelly Tennile Dowden, Master of Science in Nursing, Nursing
TN, Shelby, Memphis: Marilyn Sharay Jackson, Master of Science in Nursing, Nurse Anesthesia
TN, Shelby, Memphis: Tyler Kirk Kilpatrick, Master of Science in Nursing, Nurse Anesthesia
TN, Shelby, Memphis: Tamario L. Walker, Master of Science in Nursing, Nursing
TN, Shelby, Memphis: Matthew L. Cowan, Specialist in Education, Educational Leadership
TN, Shelby, Memphis: Jasmyne Cheré Rucker, Specialist in Education, Educational Leadership
TN, Shelby, Memphis: Charisma Shelton, Specialist in Education, Educational Leadership
TN, Shelby, Memphis: Emily Hawthorne Stine, Specialist in Education, Educational Leadership
TN, Shelby, Memphis: Jacob Lacki, Associate of Applied Science, Physical Therapist Assistant
TN, Shelby, Memphis: Darrell Jerome Talley Jr., Associate of Science, A.S. En Route
TN, Shelby, Memphis: Jon'Pierre Thornton, Associate of Science, A.S. En Route
TN, Shelby, Memphis: Rhonda J. Adams, Bachelor of Science in Nursing, Nursing
TN, Shelby, Memphis: Jordan O'Neal, Bachelor of Science in Nursing, Nursing, Cum Laude
TN, Stewart, Dover: James Clayton Welch, Specialist in Education, Educational Leadership
TN, Stewart, Dover: Karan Lesley Welch, Specialist in Education, Reading
TN, Sumner, Gallatin: Justin Taylor Edmison, Master of Science in Education, Educational Leadership
TN, Sumner, Portland: Korey R. Heppeard, Specialist in Education, Educational Leadership
TN, Tipton, Brighton: Pamela Faye Garner, Master of Science in Nursing, Nursing
TN, Tipton, Covington: Jacquiline Kuykendall, Master of Science in Education, Reading
TN, Tipton, Covington: Kenneth K Simmons, Specialist in Education, Educational Leadership
TN, Tipton, Drummonds: Rebekah L. Harris, Master of Science in Education, Reading
TN, Tipton, Millington: Gavin Carter, Bachelor of General Studies, General Studies, Cum Laude
TN, Tipton, Munford: Madison Kaycee King, Master of Science in Education, Reading
TN, Weakley, Greenfield: Mikaela Anne Roberts, Master of Science in Education, Reading
TN, Weakley, Martin: Andrew Blakely Nipp, Master of Science in Education, Educational Leadership
TN, Weakley, Martin: Marilauren Elizabeth Rogers, Master of Science in Education, Educational Leadership
TN, Williamson, Franklin: Brittany E. Cabra, Master of Science in Education, Educational Leadership
TN, Williamson, Nolensville: Evan Ryan Linton, Master of Science in Education, Special Ed GTC
TN, Wilson, Lebanon: Caroline Kay Simpson, Master of Science in Education, Educational Leadership
Texas
TX, Bell, Harker Heights: Christopher L. Pruiett, Bachelor of Arts, Criminology
TX, Bell, Killeen: Justin Thomas Miller, Master of Science, Sport Administration
TX, Bowie, Texarkana: Brittany LeAnn Walter, Bachelor of Science, Disaster Preparedness and Emergency Management, Magna Cum Laude
TX, Collin, Celina: Justin Douglas Crosbie, Master of Science, Disaster Preparedness and Emergency Management
TX, Collin, Plano: Ebony Farver, Bachelor of Arts, Criminology
TX, Dallas, Addison: Deborah Kaye Morrison, Master of Science in Education, Educational Leadership
TX, Dallas, Dallas: Luis Felipe De La Piedra, Master Engineering Management, Engineering Management
TX, Dallas, Dallas: Matthew Carter Bien, Master of Science, Sport Administration
TX, Dallas, Dallas: Adam Gabrielsen, Master of Science in Nursing, Nurse Anesthesia
TX, Dallas, Garland: Chase Trester Davis, Master of Science, Sport Administration
TX, Dallas, Grand Prairie: Kendall Bryce Sanders, Master of Business Administration, Business Administration
TX, Denton, Flower Mound: Falyn Dodd, Master of Business Administration, Business Administration
TX, Denton, Flower Mound: Troy Jeffrey Elliott, Bachelor of Arts, Communication Studies
TX, Ector, Odessa: Stephanie Hurt Wright, Master of Science in Education, Educational Leadership
TX, El Paso, El Paso: Fernando A. Villalobos, Master of Science in Nursing, Nurse Anesthesia
TX, Hardin, Sour Lake: Ashley Lynn Billot, Master of Science in Nursing, Nurse Anesthesia
TX, Harris, Houston: Jovante Lenard Ham, Master Engineering Management, Engineering Management
TX, Harris, Houston: Deunte Jamal Chatman, Bachelor of General Studies, General Studies
TX, Harris, Spring: Diego A. Morales Scheihing, Master of Business Administration, Business Administration
TX, Harris, Spring: Shelley Wells, Master of Science in Education, Reading
TX, Howard, Big Spring: Sammy Robert Ruiz, Jr., Master of Science, Sport Administration
TX, Jefferson, Port Arthur: Diem Vo, Master of Science in Nursing, Nurse Anesthesia
TX, Johnson, Venus: Kenneth D. Nix, Master of Science in Education, Special Education K-12
TX, Montgomery, Magnolia: Angela Marie Armstrong, Master of Science in Education, Early Childhood Education
TX, Nueces, Corpus Christi: Amanda-Renee Juanita Reyes, Bachelor of Arts, Criminology
TX, Smith, Tyler: Michael Follis, Master of Science in Nursing, Nurse Anesthesia
TX, Smith, Tyler: Zachary Heath Jones, Master of Science in Nursing, Nurse Anesthesia
TX, Tarrant, Fort Worth: Julie Ann Halfaker, Master of Science in Education, Reading
TX, Tarrant, Keller: Sheridan Elaine Webb, Bachelor of Science, Biological Sciences
TX, Travis, Austin: Sean M. Corrigan, Master of Public Administration, Public Administration
TX, Wilson, La Vernia: Tiffany Kathleen Baer, Master of Business Administration, Business Administration
Utah
UT, Box Elder, Brigham City: Bryan Lincoln Homer, Master of Science, Disaster Preparedness and Emergency Management
Virginia
VA, Dickenson, Clintwood: Joshua Drew Reynolds, Master of Science in Education, Educational Leadership
VA, Fairfax, Reston: Ian Alexander Godwin, Master of Science, Environmental Sciences
VA, Henrico, Richmond: LaWanda S. Thrower, Master of Public Administration, Public Administration
VA, Norfolk City, Norfolk: Clayton Randall Wood, Master of Science, Disaster Preparedness and Emergency Management
VA, Radford, Radford: Jacob Andrew Hyler, Master of Science, Sport Administration
Vermont
VT, Washington, Barre: Jonathan Patrick Scott, Master of Science, Disaster Preparedness and Emergency Management
Washington
WA, King, Bothell: Tawish Naqvi, Master Engineering Management, Engineering Management
WA, King, Federal Way: Rebecca Anna Pomeroy, Master of Science in Education, Educational Leadership
WA, King, Maple Valley: Amanda Nicole Askren, Master of Public Administration, Public Administration
WA, Pierce, Puyallup: Leah Briana Smith, Master of Science, College Student Personnel Services
WA, Spokane, Spokane Valley: Todd Aaron Clark, Master of Science in Education, Reading
Wisconsin
WI, Columbia, Poynette: Ronald Dean Miller, Master of Science, Sport Administration
WI, Walworth, Elkhorn: Senta J. Holmes, Master of Science, College Student Personnel Services

INTERNATIONAL
Armed Forces Europe: Francis Hodonou Mitokpe, Master of Public Administration, Public Administration
Armed Forces Europe: Aaron Keith Gray, Master of Science, Disaster Preparedness and Emergency Management
Canada, Gatineau, Qc: Julien-Alexandre Sale, Bachelor of General Studies, General Studies
Canada, Sooke, Bc: Tyler Robert Duncan, Bachelor of General Studies, General Studies
China, Beijing: Wenpei Shen, Master of Science, Computer Science
China, Dali: Yaran Yang, Bachelor of Science, Finance, Cum Laude
China, Foshan: Zhuoyan Yao, Bachelor of Fine Arts, Art
China, Guangzhou: Wenhao Zhou, Bachelor of Arts, Computer Science
China, Guangzhou: Zhiquan Tang, Bachelor of Science, Computer Science
China, Guizhou: Changqi Yang, Bachelor of Science, Business Economics
China, Hefei: Yuxi Li, Bachelor of Science, Clinical Laboratory Science
China, Nanchang: Mengjiao Hong, Master of Science, Computer Science
China, Shanghai: Yue Pan, Master of Business Administration, Business Administration
China, Weihai Shandong: Jialu Ma, Master of Science, Computer Science
China, Wuhu: Wenjie Hu, Bachelor of Science, Clinical Laboratory Science
China, Zhejiang, Hangzhou: Ruiwen Shan, Certificate Program, High Performance Computing
China, Zhejiang, Hangzhou: Ruiwen Shan, Master of Science, Computer Science
China, Zhuhai: Qi Xu, Master of Business Administration, Business Administration
France, Marly La Ville: Anaelle Emeline Charles, Master of Science, Exercise Science
Germany, Goetinngen: Aaron Lukas Donkor, Bachelor of Science, International Business, Cum Laude
Guangzhou, Guangzhou: Kaijue Fang, Master of Science, Sport Administration
India, Hyderabad: Swetha Gandla, Master of Science, Computer Science
India, Mahabubnagar: Dinesh Reddy Marri, Master of Science, Computer Science
India, Miryalaguda: Harika Gunda, Master of Science, Computer Science
India, Nagpur: Sankalp Rajkumar Dekate, Master of Science, Computer Science
India, Nellore: Jagadish Krishna Pilla, Master of Science, Computer Science
India, Prakasam: Akhil Kommalapati, Master of Science, Computer Science
India, Rangareddy: Raveena Kondasani, Master of Science, Computer Science
India, Tirupati: Divakar Chowdary Kamma, Master of Science, Computer Science
India, Vijayawada, A.P: Madhavi Durga Nalluri, Master of Science, Computer Science
India, Vikaspuri: Anjala Jiji, Bachelor of Science, Biotechnology
India, Warangal: Kirit Kumar Pendyala, Master of Science, Computer Science
Japan, Chuo-Ku, Tokyo: Hikaru Umeuchi, Bachelor of Science, Marketing
Japan, Fujisawa-Shi, Kanaga: Takehiro Shinokawa, Bachelor of Science, International Business
Japan, Hiratsuka, Kanagawa: Daiki Itoh, Bachelor of Arts, Computer Science, Magna Cum Laude
Japan, Kariya: Natsu Sato, Bachelor of Science, Accounting
Japan, Okinawa-Shi, Okinawa: Moeko Takahashi, Bachelor of Science in Nursing, Nursing, Magna Cum Laude, Honors Program
Japan, Shiga: Hiroki Matsuo, Specialist in Education, Psychology and Counseling
Japan, Toyonaka-Shi, Osaka: Daisuke Takagi, Bachelor of Science, International Business, Magna Cum Laude
Japan, Yokohama-Shi, Kanaga: Naoki Tagawa, Bachelor of Arts, Computer Science
Malaysia, Kuching: Jonathan Koh, Bachelor of Science, Health Studies
Mali, Hamdallaye: Salif Boudie, Bachelor of General Studies, General Studies
Morocco, Casablanca: Ahlam Safouhi, Bachelor of Science in Mechanical Engineering, Mechanical Engineering, Magna Cum Laude, Honors Program
Nepal, Guangzhuo: Benyin Fu, Bachelor of Science, Creative Media Production
Nepal, Kathmandu: Samiksha Adhikari, Master of Business Administration, Business Administration
Nepal, Kathmandu: Anish Ghimire, Master of Business Administration, Business Administration
Oman, Muscat: Mazin Mohamed Khamis Al Araimi, Bachelor of Science in Civil Engineering, Civil Engineering
Saudi Arabia, Abha: Maram Ali Ali, Master of Science, Mathematics
Saudi Arabia, Dammam: Abdulrahman Fahad Bu Ayshah, Bachelor of Science in Mechanical Engineering, Mechanical Engineering
Saudi Arabia, Dhahran: Wael Ali Alqahtani, Bachelor of Science in Mechanical Engineering, Mechanical Engineering
Saudi Arabia, Jeddah: Shorog Mohammed Alnakhalah, Associate of Science, A.S. En Route
Saudi Arabia, Jeddah: Talal Abdullah A Alzahrani, Bachelor of Science in Mechanical Engineering, Mechanical Engineering
Saudi Arabia, Madina El Monawara: Mesfer Mohammed Alharethi, Master of Science in Mass Communications, Journalism
Saudi Arabia, Makkah: Rawan Saleh Alnufaie, Master of Science, Chemistry
Saudi Arabia, Qatif: Kamal Faisal Al Khulaif, Bachelor of Science, Finance
Saudi Arabia, Riyadh: Mohamed Ibrahim Awad Elsayed Adawi, Bachelor of Science in Mechanical Engineering, Mechanical Engineering, Cum Laude
Saudi Arabia, Saihat: Ali Saleh Al Radhwan, Bachelor of Science, Physics
Saudi Arabia, Sakaka Aljouf: Hind Sami Almarshad, Master of Business Administration, Business Administration
Slovenia, Kranj: Zan Luka Stirn, Bachelor of General Studies, General Studies
South Africa, Alberton: Heinrich Coetzee Herbst, Bachelor of Science, Accounting, Magna Cum Laude
South Africa, Benoni: Joshua Raymond Goldsmith, Master of Business Administration, Business Administration
South Korea (Rep. of Korea), Anyang: Su Min Chae, Bachelor of Science, Creative Media Production, Cum Laude
South Korea (Rep. of Korea), Busan: Heiran Moon, Bachelor of Science in Nursing, Nursing, Magna Cum Laude
South Korea (Rep. of Korea), Seoul: Yunkyong Hwang, Bachelor of Science in Nursing, Nursing
Spain, Amposta: Viorel Cristian Ravar Ladislau, Master of Science, Sport Administration
Spain, Teia, Barcelona: Berta Masdevall Masip, Bachelor of Science, Management
Sri Lanka, Kotte: Ayanthi Sandamali Cresentia Samarakone, Bachelor of Science, Biological Sciences
Sri Lanka, Matara: Hasara Nethma Abeygunaratne, Bachelor of Science, Biotechnology
Sri Lanka, Matara: Rasali Pabasara Abeywickrama Gunawardana, Bachelor of Science, Biological Sciences
Sri Lanka, Nittambuwa: Sachini Lakshika Kamburugala Kankanamalage, Bachelor of Science, Biological Sciences
Sri Lanka, Wattala: Janith Nilmika Halpage, Bachelor of Science, Biotechnology
Vietnam, Ho Chi Minh: Giang Hoang Trinh, Bachelor of Science, Management
Vietnam, Hoan Kiem, Ha Noi: Dung Anh Dang, Bachelor of Science in Mechanical Engineering, Mechanical Engineering
Vietnam, Hung Yen: Tung Thanh Le, Bachelor of Science in Civil Engineering, Civil Engineering
# # #

contact@AState.edu
Phone: 870-972-3820
Fax: 870-972-3693
Postal Address:
PO Box 2220
State University, AR 72467